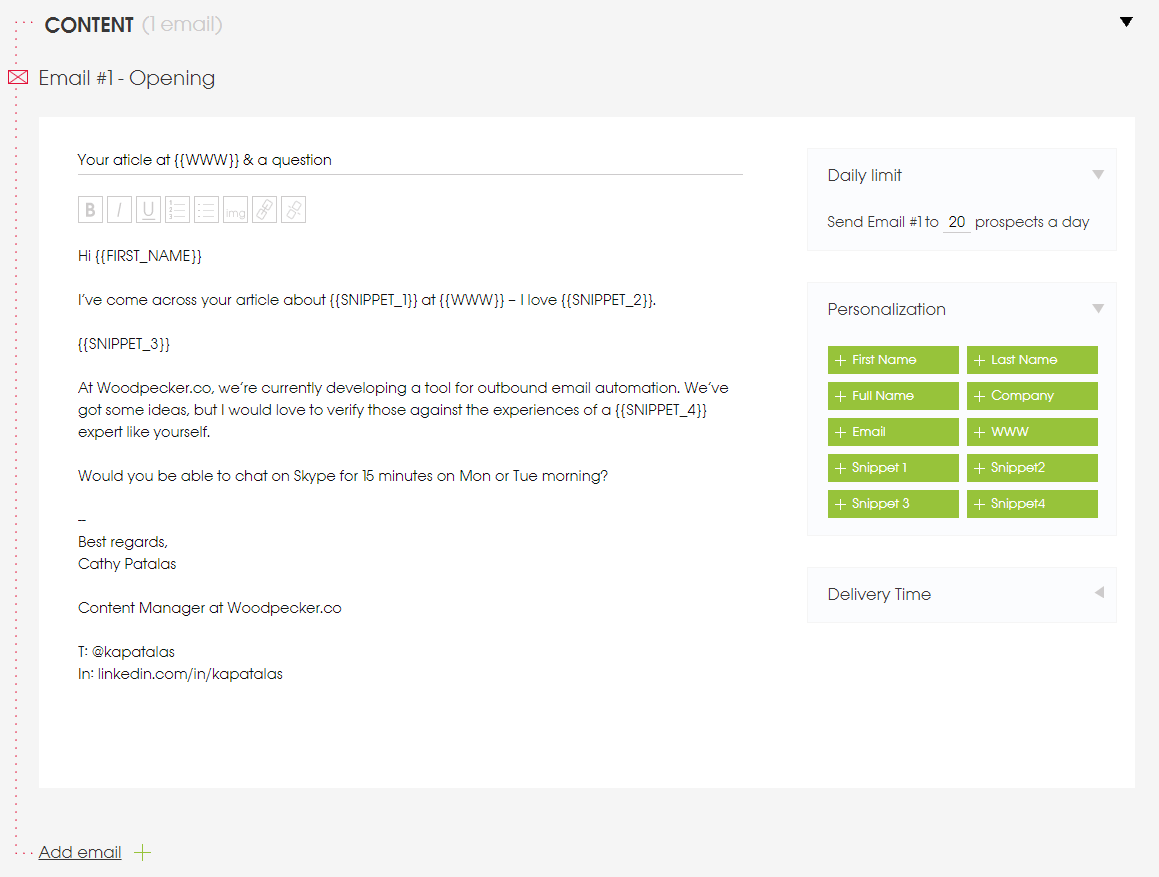 ---
Similar Tools
---
Woodpecker Features
Woodpecker is a cold email and follow-up automation tool designed to mimic manual message sending. The platform offers a number of tools for cold email automation, follow-up automation, tracking, testing, collaboration and more.
Woodpecker is used by more than 2,500 companies, including Content Insights, Authority Advantage, Code Addict, Look4app and more. The platform is geared towards several industries, including LeadGen, Saas, platforms, consultants, recruitment, digital agencies and more.
Three key features that Woodpecker offers includes:
Pros
Scale up your sales outreach
Setup rules, a/b tests and other automations
Agency features
Cold Email Automation
Woodpecker simplifies cold email automation. Messages are sent automatically, but only one email is sent at a time to mimic manual sending. The platform's email throttling algorithm spaces out email sending to steer clear of anti-spam filters. The timing makes it look like you're sending messages automatically, increasing your deliverability in the process.
All emails sent through Woodpecker are personalized with names and other parameters, including custom fields and snippets, phone numbers, titles, web addresses, email addresses, company names, addresses and more.
Woodpecker integrates with most major email clients, including Gmail, Microsoft Exchange and Office 365. Integration is quick and easy. You also have the option of adding your own custom email address. Feel free to add as many email addresses as you need, and if you want, you can also set aliases.
Along with email integration, Woodpecker also works with your favorite tools, see all integrations:
Woodpecker integrations
Along with cold emailing, Woodpecker can also be used for other types of email campaigns, including:
Leads reactivation
Webinar ROI boosting
Nurturing campaigns
Upselling and cross selling
Trial to paid
Onboarding
Reading tip: Convert clients using cold emails
Follow-Ups Automation
Follow-up messages play an important role in the email marketing process. Woodpecker automates the process to save you valuable time.
The platform allows you to create two follow-up paths, which are two versions of a follow-up message. One version will be sent when a certain condition is met, and the other will be sent when the condition is not met.
Woodpecker allows you to automate your follow-ups within the same email thread, so prospects have complete context of the conversation.
Sequence scheduling allows for up to seven follow-up messages. You can choose the times for email sending, and there's an option to use the prospect's time zone if it's available.
Replies are detected automatically and halt all future follow-ups that are scheduled – even if the reply is sent from another email address. And when an autoreply is detected, you can choose when to resume your follow-up sequence.
Pro tip: How to create a Sales Cadence
Tracking and Testing
Woodpecker provides tracking and testing tools to help you measure and tweak your strategy to maximize results.
At a glance, you can view:
Your total prospects
Open rate percentage
Reply rate percentage
Number of optouts
Bounced email percentage
Invalid percentage
Number of sent messages
Delivered percentage
With open rate tracking, you can see how many people opened your messages and when to optimize your send times. Woodpecker also allows you to track clicks to your links, bounce rates and invalid email addresses.
Reply tracking allows you to see how many prospects responded to your messages. This provides insight into how well your email copy is performing. A poor reply rate may mean that you have to make some adjustments.
Along with tracking the number of replies, you can also check to the tone of your reply messages: positive, neutral or negative. High numbers of negative responses are yet another indication that your email copy needs some tweaking.
When it comes time to change your email copy, A/B split testing will help you determine which messages are most effective. With Woodpecker's testing tools, you can experiment with different subject lines and email copy and compare the results to see which one performs the best.
Woodpecker offers a 14-day free trial to new users, so you can test out the platform and see if it's a good fit for your brand. During the free trial, all of the platform's features can be used until you reach the 150-email limit. No credit card is required for the free trial.
Different packages are available for different sized teams, from small to enterprise level. Special pricing is available for B2B lead generation agencies.  Subscriptions can be paid monthly or annually. When you buy annually, you get two months free.
Woodpecker empowers teams with tools to grow their business through email marketing. The responsive, friendly and helpful customer support team is happy to answer any questions you may have about their service and getting started is easy. You can request and schedule a demo right from the platform's website.