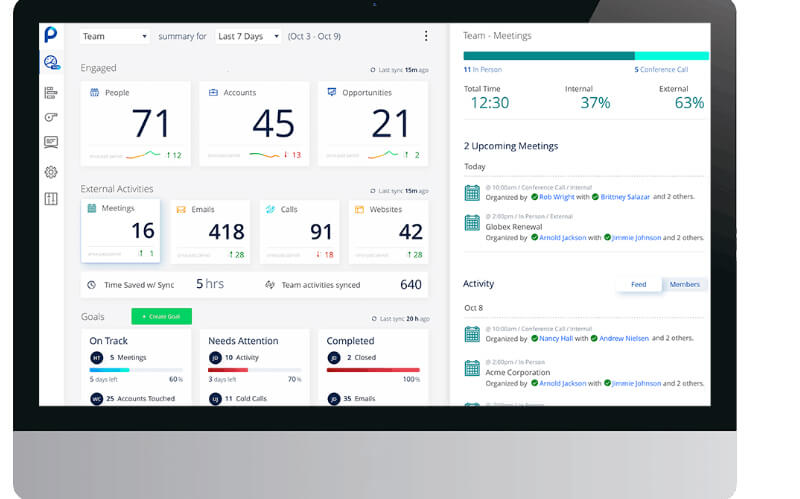 ---
Similar Tools
---
People.ai
People.ai is described as an 'Enterprise-Grade Revenue Operations Intelligence Platform. It is one of many tools designed to enhance the growth of a business by enabling contact gathering and sales automation, as well as data collection and analysis. We will explain it in more detail below and also look at each of the separate features of the People.ai tool.
Pros
 All-in-one Enterprise tool
Use of AI
24/7 live customer support
Training options for beginners
Cons
Only web-supported software
Not for freelancers
What is People.ai?
There are many tools available that enable data gathering, automate lead generation or help with sales growth. People.ai promises to help with all three. It is a popular product that uses Artificial Intelligence (AI) to great effect in automating the simple parts of the process, and provides valuable insights into relevant potential prospects, as well as into customer behaviour and performance. It covers three main areas: Sales, Marketing and RevOps. Following is a description of each. 
Sales 
The Sales element of People.ai uses clever AI technology and algorithms to run in the background with no input from reps required. It uses historical and current data to assess and analyse each lead for relevance. 
It also keeps an eye on the performance of teams and individual reps. This gives the opportunity to see where improvements can be made for greater efficiency and where teams are running well and smoothly. Where individuals are concerned People.ai may track each one and notify where targets are not met, so you can administer the help required. 
By using AI powered playbooks People.ai can help score leads for potential custom and engage with the consumer for better conversion rates, using tools embedded in the Salesforce package you more than likely already use.
Marketing
By automating the generation of contact data, taking information from email and meetings data, People.ai can create and manage a useful and lucrative database of potential leads and keep the information archived and also compliant with regulations. 
People.ai uses SmartMatch™ which is a clever tool within the package to drive leads to your CRM automatically, updating them with no need for manual input. It can also automate the analysis of successful or other leads and in the case of those that do not convert, pinpoints and reports on the point where the transaction failed. 
People.ai monitors leads and conversions and is able to spot those that need to gain more attention to become a customer, and also monitors the individuals who are the decision makers in potential conversions for greater efficiency. Analysis of marketing to sales data is comprehensive and will help with targeting future campaigns.
RevOps
The RevOps feature of People.ai – or Revenue Operations – is a clever tool that helps identify the accounts that are not getting attention or need more work. By combining this with data analysis of reps' performance an account needing more attention can be transferred to a rep who has shown the ability to boost accounts of this sort.
People.ai can also run an assessment to ascertain the optimal number of accounts each rep should be handling based on performance and historical evidence, allowing managers to ensure they have the right people on the right accounts.
People.ai RevOps is also aimed at keeping on top of predicted sales and targets by integrating the comprehensive data gathered with the forecast models and tools you use. It scores the predictions by risk allowing for greater allocation of resources to those most likely to be successful.
Marketing leads and sales opportunities are combined by the People.ai tool presenting accurate predictions and potential sales, ensuring that your next quarter revenue predictions can be met.
People.ai is designed to be fully scalable so will perform for smaller companies that are growing and stay with them throughout. It can be integrated with tools such as Zoom, Slack and others for greater flexibility, is easy to use and has many satisfied users in a wide range of industry and commerce sectors.
Pricing and Final Word
The comprehensive nature of People.ai makes it one for the shortlist if you are looking for an integrated marketing and sales automation solution that has good analysis and data collection capability. The AI used in People.ai is usable and neatly designed and works in the background so does not impact on the reps' time, and takes data from available info such as emails, meetings and other contact.
Pricing of the People.ai package is by individual customer. If you are interested you should run the demos available on the website to get a better idea of how it works and what it can do for you, then contact the People.ai team and they will put together a price based on your individual company needs and size.