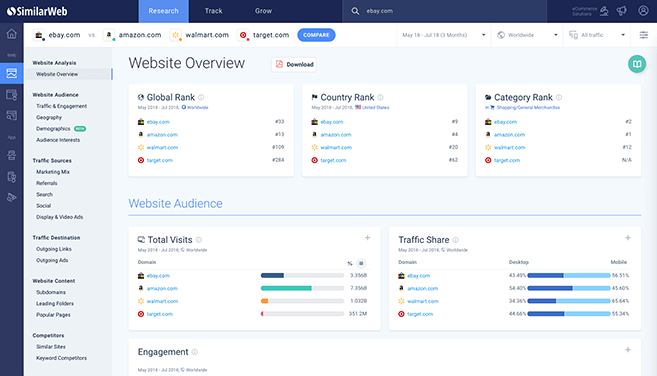 ---
Similar Tools
---
SimilarWeb Features
SimilarWeb allows for marketing intelligence solutions that can boost your company's sales and empower your decision-making. You can sign up for free, but there are multiple pricing tiers that allow you to leverage even more tools and features.
The main features of SimilarWeb include:
Website analysis
Industry analysis
API and integration
Related Reading; 11 Ahrefs Alternatives for SEO
Pros
Get intel on competitors traffic
Free version on the site
Breakdown of traffic and lots more
Cons
You quickly have to go to paid if you want more
It probably will give you lots to do
Website Analysis
Website and app analysis are built into the platform, offering you intelligence at your fingertips. You can use a variety of different tools to amplify your website's performance, including:
Traffic and engagement metrics: How well does your website compare to your competitors? You can benchmark your website against competitors to understand how your website is doing in terms of overall visits, bounce rate, pageviews and time on site.
SEO and PPC keywords: Organic and paid keywords can be found inside of this tool. You can find trending keywords, view how much traffic these keywords generate, and discover any ads that are already associated with them to help you build up a stronger PPC campaign.
Audience interests: Powerful insights can be provided so that you understand which websites your visitors browse during the same session they were on when visiting your site. This will allow you to create potential retargeting campaigns, discover new audiences and use your audience's interests to boost your websites marketing and content.
Traffic sources: Traffic can come from a variety of sources. Discover which sources generate traffic for any website on the Internet. You can find if these sites are getting traffic from social, search, display or referrals. You can leverage your competitor's acquisition strategy to help grow your business.
Popular pages: What pages of a website are most popular? You can track your competitor's campaigns and reveal what pages and inner pages are most popular on their site. You'll also discover what content you can also recreate that can generate a lot of interest and traffic in your industry.
Industry Analysis
Industry analysis allows you to understand the industry they are either getting into or are already in. There are three main features of the industry analysis portion of this tool and may include:
Traffic and engagement metrics: Every industry has a different level and standard of traffic volume and engagement. You'll be able to analyze your industry to understand what the standards are for traffic, volume, engagements, bounce rate, pageviews and time on site. You can also benchmark your site against the competition to build a marketing campaign that is successful from the start.
SEO and PPC: Traffic can be either organic or paid. You can use the analysis tool to get inspiration on keyword ideas from the industry's leaders.
Industry leaders: If you want to be able to find the websites in your industry that are leaders with the most traffic, you can use the industry leaders tool. This tool allows you to understand how your industry leaders received their traffic, whether it be from social, search, display ads, mail or referrals.
Industry analysis is an important way for you to base your marketing campaign using data. If you use the industry analysis tool properly, you can start generating traffic the same way that the leaders in your industry are.
Analysis removes trial and error from your marketing, and can also help you save money in the long term by doing more of the marketing that generates leads and less that comes up empty handed.
API and Integration
API integration allows you to build tools that connect directly to the similar web platform. These tools can help you integrate your tools with the power of SimilarWeb. You can use API for:
Rank and reach
Engagement
Traffic
Similar site
Also visited
Website tags
Website categorization
Category rank
Adult websites
Social referrals
Search keywords
Destinations
Referrals
Keyword competitors
Mobile app information
Google Play installs
Site-related apps
Recommended Reading: How to do Keyword Research
Multiple industries are already using these APIs to their advantage. You'll find that the SimilarWeb API has been used in the following industries, and the number continues to grow:
Ad-tech
E-commerce
Online services
Finance and consulting
Security
A few of the many ways that companies are using this API to integrate into their platforms includes:
Trend detection
Dashboards
Lead generation
Data integration
Custom reports
Fraud detection
SimilarWeb is a tool that is used across multiple different niches. You'll find that the platform is robust, and there are nice dashboards that make it easy for users to begin using the analysis tools available on SimilarWeb.
Use these tools to discover new opportunities, partners, leads and even affiliates that can join your program and help you generate new sales.
Similarweb alternatives: