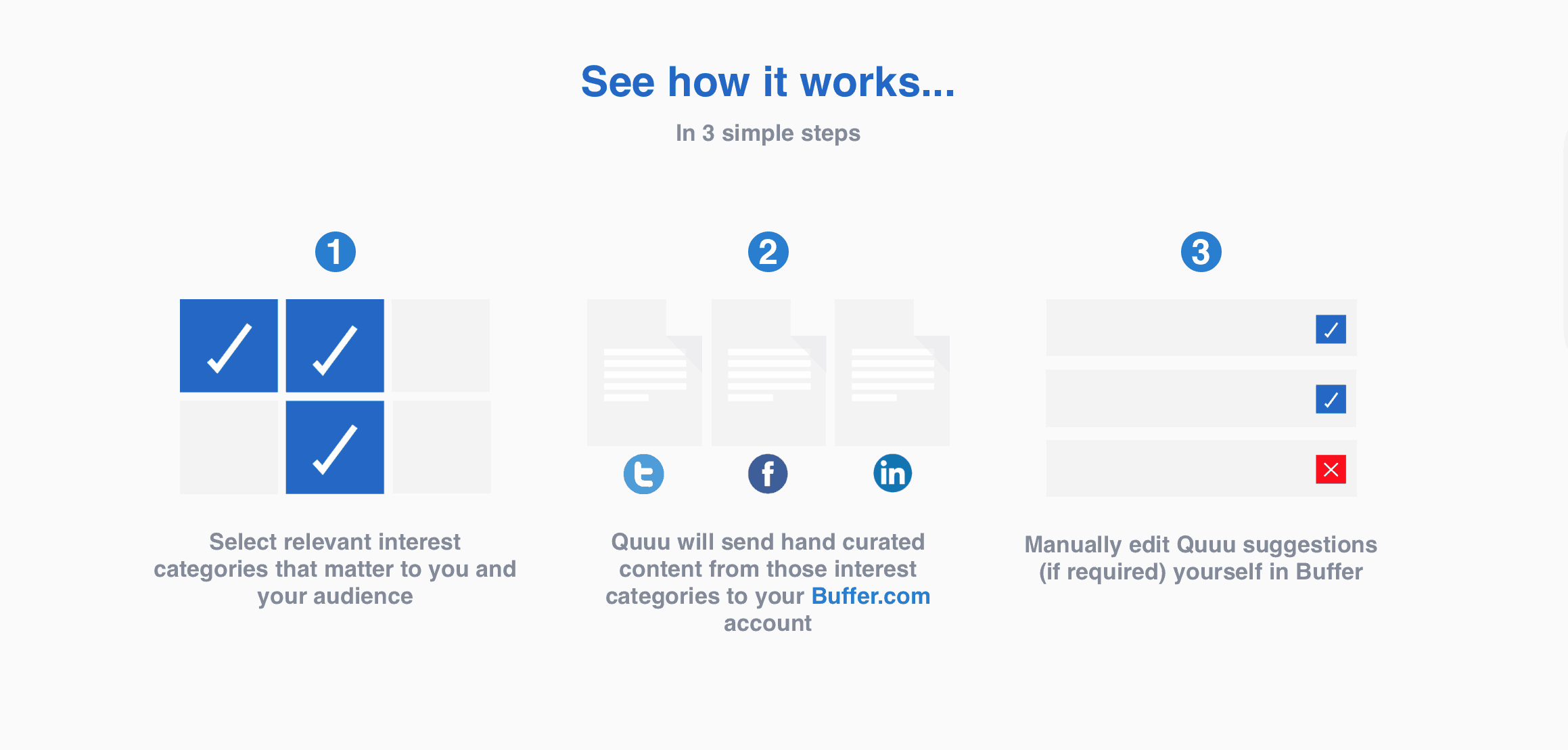 ---
Similar Tools
---
Quuu Features
Quuu is a content curation tool designed for social media sharing. The platform offers hand-curated content from more than 500 categories. What makes this platform unique is that each and every piece of content is hand-reviewed by Quuu's own staff. This ensures that you share only quality content that's valuable and relevant to your followers.
Quuu saves you time by finding content for you to share. The tool is regularly featured in major publications, including Inc, Forbes, Entrepreneur, Outbrain, Shopify and more.
Three prominent features of Quuu include:
Social integrations
Content promotion
Content curation automation
Pros
Free version & trial
Great if you need more/better content on social media
lots on categories they can help in
Cons
Not connections with all the social media tools
Social Integrations
Quuu's integrations make it easy to share your content on social media platforms. One key integration is SocialChief, a free social media scheduling tool created by Quuu.
SocialChief allows you to choose the best posting times, add your content and then start posting. Quuu can be integrated into the platform for easy posting and sharing on your social media accounts.
SocialChief isn't the only integration option. You can connect your Quuu account to HubSpot, Hootsuite, Buffer, SocialBee and more.
Quick integration into your preferred social scheduling platforms makes it easy to add Quuu to your workflow without additional training. Just choose your preferred scheduler and interests for each profile, and you're ready to start sharing content.
Quuu can share your curated content on Facebook, LinkedIn or Twitter. These are the only social networks the platform supports at this time.
Content Promotion
Quuu Promote amplifies your content by promoting the content you share on your social media accounts. Promote can help you grow your following and brand by acquiring mentions, traffic and the opportunity to reach and engage your audience.
Quuu Promote has generated more than 50 million shares for customers, including:
More than 100 million clicks to content
More than 50 million shares to LinkedIn, Twitter and Facebook
More than 120,000 daily shares on social platforms
Shares play a crucial role in expanding your reach, building your brand and establishing your credibility.
Quuu Promote allows you to promote your content and blog to real people using real people. Optimizing promotions can help you achieve hundreds of shares and clicks on your social networks.
Quuu guides you through the promotion process to ensure that your audience is genuinely interested in your brand.
More than 20,000 people share content every day through Quuu Promote and in more than 500 interest categories. The platforms offers a wealth of opportunities to engage with your audience on social media.
Pro tip: read also our blogs on how to growth hack your Instagram account or how to use Linkedin as a Salesperson.
Content Curation Automation
Each day, Quuu will send hand-curated content to your scheduler automatically, or you can choose to select your content manually through the Quuu dashboard. This sets your content sharing on auto pilot, so you can focus on other things, like building your social media following.
Quuu gets its content from a number of sources. Each day, their team manually scours the Internet for content, and they also review content to ensure that the quality meets their standards. Every post is hand-reviewed. Content is also curated by Quuuurators and promoted by Quuu Promote users.
Right now, Quuu only accepts English content to ensure that quality meets their standards.
What are Quuu's content standards? Here's a brief look at their criteria.
Quuu excludes content that:
Contains explicit content or inappropriate language
Is promotional or sales-focused
Focuses on a single service, product or brand
Is written in any language other than English
Is difficult to understand, read or view
Will be outdated in the near future
Too specific for its intended category
Contains obvious grammar, spelling or punctuation errors
Is an index page, home page or a link to a social media platform
Contains dead links
Is already being promoted
Is too strongly biased or opinionated
Comes from a brand that is already heavily promoted by Quuu
Does not provide sufficient value or interest
Is offensive, inappropriate or shocking
Quuu's goal is to make sure that all content is appropriate for professionals and companies to share on their social media accounts.
Quuu makes it easy to get started with their tool. Users can sign up for a free account, but paid subscriptions are also available. Once you've created an account, it's as simple as connecting your preferred social media scheduler, choosing interests and sharing.
The free account allows you to give the platform a try, risk-free. You can integrate with one social profile, receive up to six content suggestions per day and one social media sharing pod. If you want to use Quuu with more social profiles, there are two paid subscriptions available.