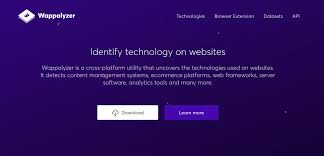 ---
Similar Tools
---
Wappalyzer Features
Wappalyzer helps users discover the technologies websites are using and compile lists based on this data. The platform is an open-source project that's MIT-licensed and written in JavaScript. Anyone can contribute to the project.
Wappalyzer is trusted by some of the biggest brands in the world, including PayPal, Amazon, Google, Stripe, Adobe, Microsoft, eBay, Oracle, IBM, Shopify and more. The platform has a number of installation options available, including Windows, Linux and Mac. You can also choose to install browser extensions for Firefox or Chrome.
Three standout features of the Wappalyzer platform include:
Pros
Great way for finding prospects
Get alerts by changes
Bulk features
Cons
Some users reporting issue while uploading CSV files
Technology Lookup
Wappalyzer allows you to view any website's technology stack with the click of a button. The platform tracks 1,295 technologies across 61 different categories, including:
Advertising
Analytics
Editors
CRM
Containers
Ecommerce
SaaS
SEO
Widgets
JavaScript graphics
Live chat
Maps, and more
Whether you want to see which sites are using jQuery, MailChimp or something in between, Wappalyzer can help.
When possible, Wappalyzer provides detailed information on languages, version numbers and hits. You will receive a free sample with every quote, and you can filter datasets by:
Language
IP country
Top-level domain
Wappalyzer collects its data from web crawlers and browser extensions, so only information from actively visited websites is provided. The platform's data is corroborated across several different sources to verify accuracy.
Data is never more than three months old. Wappalyzer can determine a site's traffic through its browser extension.
Wappalyzer allows you to look up any URL and get instant results. They track more than 5.4 million websites and 12 technologies in their category databases.
Dataset Creation
With Wappalyzer, you can organize your data by creating lists of websites that use certain technologies. These lists are valuable tools when performing competitor analysis and market research.
Having the ability to create and export lists will help you stay on top of competitors and changes in the industry. Lists are provided in a CSV file that's easy to read and sort. Each dataset includes the following information:
URL
IP country
IP region
Language
Version Number
Hits (how much traffic the site receives)
If a site has multiple languages, they will all be listed and separated by commas. Both the traffic data and the version numbers are surprisingly accurate.
Having all of this information on hand will help you make smarter decisions when it comes to the technologies that you implement.
Users can also make use of Wappalyzer's APIs to gain instant access to site technology stacks. With this feature, you can track the technology choices your prospects make, analyze websites in bulk and improve your datasets. You will receive real-time analysis and can perform instant lookups using Wappalyzer.
It's easy to create datasets using this platform, so you don't have to waste time compiling this data manually or learning how to use this tool. The user-friendly design allows you to jump right in and start creating your datasets right away.
Bulk Lookup and Alerts
Wappalyzer allows you to look up a customized list of websites to save you time and resources. The bulk lookup option is ideal for competitive analysis and researching your target market.
The tool allows you to effortlessly perform up to 5,000 lookups at one time. There's no need to worry about integrations, and data is always fresh and accurate.
To use the bulk lookup feature, simply upload a .txt file with your URLs (each one on a separate line). All URLs must start with "http://" or "https://." The file can have no more than 5,000 URLs. Once uploaded, you will receive your dataset in CSV or JSON format.
In addition to being able to look up thousands of websites at once, Wappalyzer will also keep track of your competitor's technologies and alert when you whenever they change. Keeping tabs on their technologies will help you stay competitive and ensure that you don't get left behind.
The platform allows you to create up to 500 alerts, and you will receive notifications the same day Wappalyzer picks up on a change.
Wappalyzer offers three plan options for users, including a Free Forever account that doesn't require a credit card. The free plan provides you with 50 credits per month that you can use for technology lookups, datasets, website alerts, API access and more. You won't get support with the free account. Paid plans offer more credits and support through email and/or phone. Users can also purchase additional credits independently.
Wappalyzer offers a free instant quote using a convenient online form.