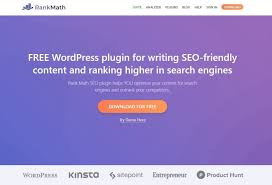 ---
Similar Tools
---
Rank Math Features
Rank Math is a powerful, free WordPress plugin aimed at simplifying SEO. The plugin offers a suite of SEO tools that can be accessed and used right from the WordPress platform.
The plugin has been recommended by some of the top SEOs in the industry, including HubSpot, Moz, ahrefs, SEMRush and even WordPress.
Rank Math has a multitude of features, but three of the most important include:
Schema support
SEO analysis
Focus keywords and content analysis
Pros
FREE TOOL
Completely Free WordPress plugin
Covers lots of SEO aspects
RankMath has an AI-based keyword suggestion tool
Cons
Lots of features get unnoticed and unused
Schema Support
Rank Math has extensive schema support, including:
Article schema, which increases the chance of your post appearing in a rich card in the search results.
Product schema, including product name, SKU, description, inventory and other details.
Recipe schema to make it easier for your recipe to show up in rich card results.
Events schema to get your event seen in the SERPs.
Video schema to ensure your video shows up as a rich card.
Local business schema to display your business details.
Schema types can be added to posts with a single click and increase the chances of having your content displayed as a snippet or rich card.
SEO Analysis
Rank Math's WordPress plugin offers site-wide SEO analysis that's lightning fast. Rank Math will give your site an overall score. You will also see how many tests your site passed and failed as well as how many warnings it found.
These tests include:
Basic SEO
Checks for the basics. If you fail these tests, there are serious issues with your site that you need to resolve as quickly as possible. These tests will look at:
Common keywords
H1 and H2 headings
SEO description
Image ALT attributes
Keywords in your description and titles
SEO titles
Link ratios
Site tagline
Whether your site can be crawled by search engines
Your site's permalink structure
Post titles to check for keywords
Focus keywords
The goal is to pass all of these tests to ensure that you have a good foundation for your site.
Advanced SEO
The Advanced SEO analysis will look at:
Mobile search previews
Search previews
Canonical tag
Mobile snapshot
Noindex Meta (checks to make sure that search engine can crawl your site)
WWW canonicalization
OpenGraph Meta
Robots.txt
Schema meta data
Search console
Sitemaps
Performance
Rank Math will check to see how quickly your site loads, which is now an important factor in SEO.
Along with checking the speed of your site, the plugin will also suggest ways to improve your load speed, including:
Minifying JavaScript and CSS
Checking for image headers expire
Analyzing the page size, page objects and response time
Security
Today, security is a crucial component of any successful website. Rank Math will perform several security tests, including:
Visible plugins
Theme visibility
Directory listing
Secure connection
Google safe browsing
Social SEO
Social media has become an integral part of today's society. Rank Math's SEO analysis tool will check to make sure that you are active on social media platforms, including:
Facebook
Twitter
Instagram
LinkedIn
YouTube
Focus Keyword and Content Analysis
Your site's content and keywords play a significant role in your SEO efforts and are the lifeblood of on-page SEO.
Rank Math's WordPress plugin will analyze your posts and find keyword opportunities to help you drive more traffic to your site.
Optimization and content analysis tools allow you to create highly optimized content that drives traffic and improves rankings. The tool will give you recommendations on how to improve your content, and it does it all right from WordPress.
Just create a post, enter your focus keyword, and Rank Math will take care of the rest. You can choose up to five focus keywords for each post. The analysis tool will score your post.
There are four categories posts are scored on:
Basic SEO: Checks to see if your focus keyword is in your SEO Title, meta description, URL, at the beginning of the content and it it's sprinkled throughout the content. It also analyzes the length of the post.
Title Readability: Checks to see if your focus keyword is at the start of your SEO Title and whether the title evokes emotion, uses a power word or a number.
Content Readability: Checks to see if you're using a table of contents, short paragraphs, and media (such as images or video).
Additional: Provides actionable tips to improve your post, such as adding your keyword in a subheading and image ALT attributes. It may also recommend adding external links, or adjusting your keyword density and URL length.
After running each test, the plugin will give you a score and even tell you how many errors it found, so you can take actionable steps to improve your content. The goal is to achieve a perfect score.