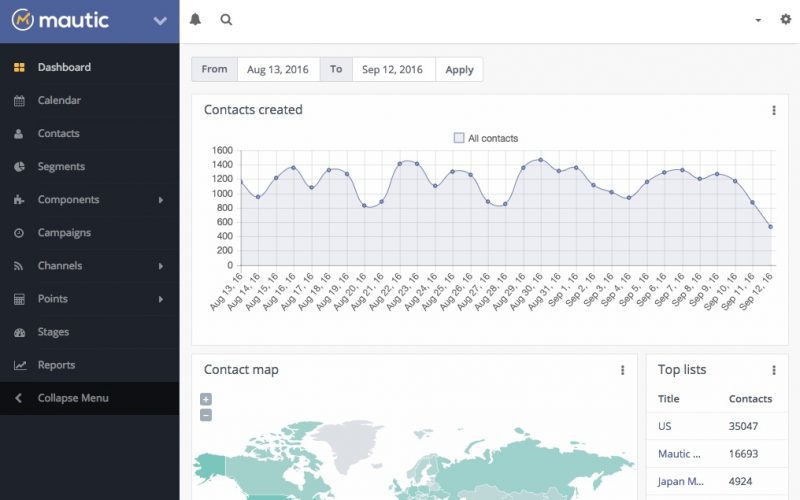 ---
Similar Tools
---
Mautic Features
Mautic is a growing platform that is an open-source marketing automation project. The project has over 200,000 users participating and over 1,000 contributors that keep it going. The benefit of the open-source project is that there's a large community expanding the code and adding their own extensions.
Mixins, the name of the tools that help extend Mautic, can be downloaded, browsed and added to your platform.
Three of the most powerful features of Mautic are:
Pros
Free Marketing Automation tool
Open Source Marketing Automation
Lots of integrations & new development
Cons
Need more technical knowledge
Long term version support
Contact and Tracking
Mautic's contact and tracking features are powerful and robust, allowing you to keep track of customers and new leads. You can track event-based actions or triggers that are set in the campaign.
Custom fields can be added to customize each profile and persona.
When marketing teams want to connect with potential customers on social media, they can through the social media integration features. Integrate with Facebook, Instagram, Twitter and other social media platforms.
Inside of Mautic, you're able to follow the entire conversation so that you know what was discussed and what was not discussed with the lead. The ability to filter through conversations makes tracking easier.
When you have all of your marketing in place, you have the option of customizing your dashboard, too. You can drag and drop graphs, charts and other data on the dashboard in a way that makes logical sense for you.
With a complete overview of how your campaigns are running, you'll be able to make rapid decisions on which steps you should taking next. Whether it be changing a landing page or opting to scale-down your email marketing – you're in complete control.
Automated Campaigns
Campaigns are where the real power of Mautic resides and all of the fun happens. You can create cross-channel campaigns that are fully automated. The campaigns can be created using a visual builder that is intuitive and easy to use. When you create cross-channel campaigns, they can be created on:
Email, allowing you to run effective email marketing campaigns. The marketing tools for email include robust templates that enable you to get started with emails that are known to work well and are highly optimized.
Text messages that allow you to send texts to consumers. These messages are highly engaging and work best for millennials and younger generations that are often glued to their phones.
Mobile marketing is the way of the future, but really, it's the leading channel to focus on now. More people are using mobile as smartphones and tablets start to slowly erode the number of personal computer users. Rapidly create mobile marketing campaigns that have the power to bring to reach more consumers.
Web message campaigns can also be created. Consumers are still using desktops to make purchases and stay connected with their favorite brands. Run web campaigns seamlessly through the platform and track every aspect of your campaign, too.
Landing pages are part of the marketing process, whether you're on mobile, email or the web. The powerful landing page builder allows you to create individual, custom landing pages with content that is tailed around your target audience.
You don't have to be a developer to use the page builder.
Use the built-in editor to quickly make changes to pages, add or remove elements, and find the right layout for your demographic.
Dynamic content can also be added into your marketing efforts. This content offers real-time engagement and allows for a truly personalized experience when sending emails to your audience. With the dynamic content option, you're able to create content that is relevant to your audience and offers the high level of personalization to increase open rates and clicks.
Integrations
Integrations with the world's leading marketing tools makes Mautic a powerful tool that goes beyond all of the features listed here or on the platform. Since third-party developers can also create their own integration, you'll enjoy a lot of mainstream and new tool integrations.
The list of integrations will only continue to grow in the coming years as the platform expands.
Multiple integration options are available:
The open APIs give you the ability to integrate the data you want into the platform of your choosing. You can manage all of the channels through Mautic and even add this data to the robust dashboard.
Mautic is one of the marketing tools that allows you to take full control of the automation process. You'll be able to setup everything, from your dashboard to landing pages, in less time when you have all of the data you need to amplify your marketing at your fingertips.