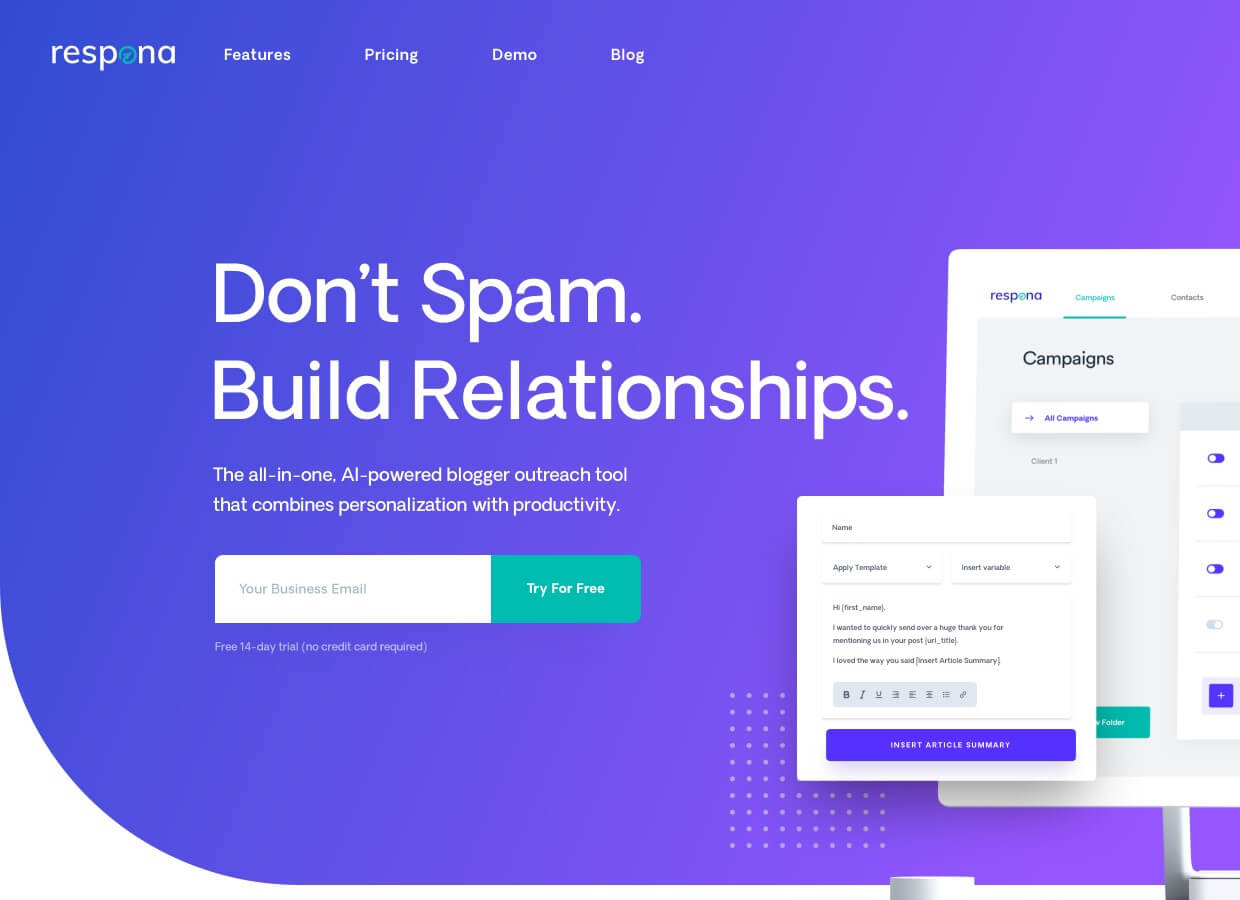 ---
Similar Tools
---
Respona Features
Respona is a PR and link building tool designed to help you build brand awareness. The platform helps you find outreach opportunities, create automated email sequences and deliver customized pitches to your contacts.
What sets this tool apart from others is that you can find journalists and bloggers and reach out to them from one single platform. There's no need to use multiple tools to carry out these tasks.
Respona's three key functions include:
Pros
Link building & PR within one app
Personalization options
HARO and Contact Finding Automations
Cons
No free trial
Too expensive for smaller companies
Link Building
Respona can boost your link-building efforts by helping you:
Find opportunities for outreach
Create email campaigns
Automate finding email addresses
Deliver personalized pitches
The platform uses high-quality data providers to help users find the best opportunities for link building and outreach. Their database includes more than 400 million professionals and influencers.
Respona's AI-powered automation finds verified email addresses for you so that you can save time on prospecting and finding contact information.
Once you have found or imported a list of opportunities, you can create an automated email sequence that's personalized. Respona also allows you to automate follow-up emails. Bounce detection, auto-reply detection and email analysis are all included.
If you struggle with creating effective pitches, Respona can help. The platform's AI assistant will study your contacts and suggest things to include in your email. It will also help you connect with the contact on other channels for more authentic outreach.
Safety checkpoints are in place to make sure that you don't reach out to the same people more than once.
With Respona, you can also keep track of all of your link building conversions right on the platform with a specialized inbox for each campaign.
The platform is very user-friendly, making it easy to create a campaign in just four steps.
Digital PR
Respona gives you the tools to boost your PR efforts right from one single platform. Users get access to the platform's live search engine and can search through news articles that are relevant to your industry. This allows you to contact the right journalists from publications all over the world.
With HARO and article automation, Respona also looks for new PR opportunities to make sure that you can take advantage of them as they arise.
Using the platform, you can also send customized email pitches to journalists, bloggers and influencers. If you don't receive a reply, you can use an automated email drip sequence to follow up and nurture relationships with contacts.
With Respona, you can choose to create a new search campaign or import one. Import-based campaigns incorporate data from other apps, like SEMRush, Ahrefs, Moz or other similar tools, through a CSV file.
When creating a campaign from scratch, you can use the platform's live search engine. Just input your desired keywords and search for different types of content across the Internet. Filters allow you to narrow your search to only the most relevant results.
Sample templates are available for all types of outreach, including PR, promotion and link building. You also have the option of creating your own personalized templates for your own desired purposes.
When creating emails, Respona will analyze the content of your messages to help you craft the perfect, personalized outreach email.
Streamline Outreach
Respona allows you to manage all of your outreach from one convenient platform, whether it be pitching, prospecting, analytics or reporting. The goal is to simplify the process so that you can focus on building relationships.
The platform automatically locates authors and finds the most recent email addresses for you to use. Respona's sources are GDPR-compliant.
A live search engine allows you to search for and find engaging content using Respona's proprietary algorithm and based on your campaign objectives.
The platform also allows you to import CSV files from other apps to complete your outreach process. With Respona, you can keep track of all of your performance metrics from one convenient platform.
Blogger outreach is streamlined with Respona and its AI-driven functionality. There's no need to use multiple tools for outreach when you can use Respona to take care of this important process.
Respona does not have a free trial, but they do offer a 30-day money back guarantee. If you are not happy with the service within the first month, you can get your money back – no questions asked. You can cancel your subscription at any time without penalty, and there are no contracts involved.
There are a few plans to choose from, which you can pay annually or monthly. The standard plan is ideal for freelancers and small agencies, while the custom plan is ideal for larger agencies and enterprises.