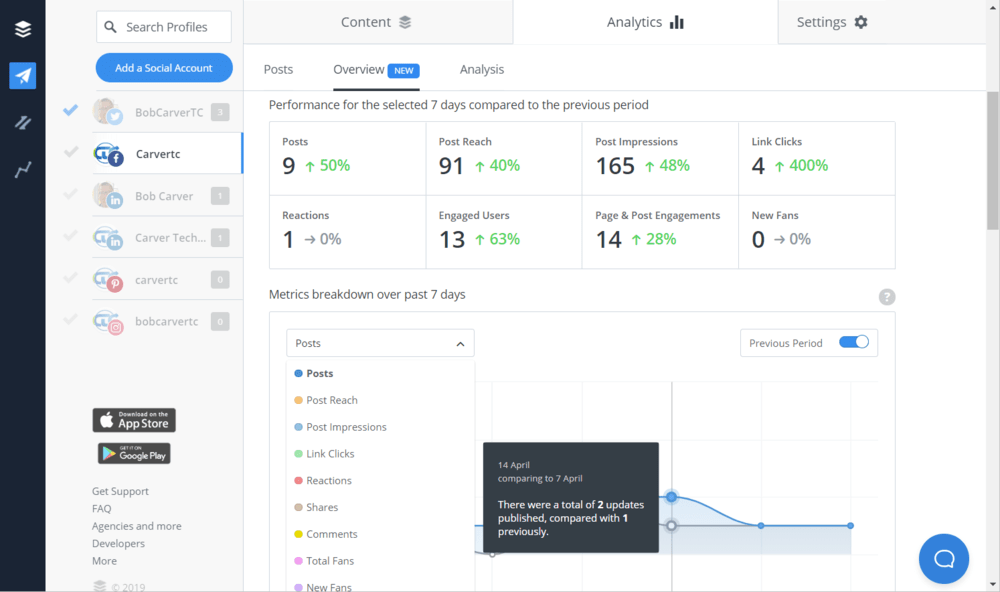 ---
Similar Tools
---
Buffer Features
Buffer is one of the most transparent companies that offers social media scheduling. The platform offers three different tiers of service, and each tier has a free 14-day trial that allows you to test out the platform for yourself.
When your free trial is over, the free plan allows you to manage three social media accounts and schedule 10 posts across these accounts.
Key features include:
Planning and scheduling
Instagram management
Apps and integration
Pros
Scheduling social media posts will save you a lot of time
 Get more consistent on social media
 Connections with the biggest social media platforms
Cons
No free plan (analyze)
 Lite version is very restrictive
 No TikTok integration
Planning and Scheduling
Planning and scheduling are the cornerstone of your social media marketing campaign. Whether you use the pro or business platforms, you can add multiple users and schedule between 100 and 2,000 posts, depending on the plan you're currently subscribed to on Buffer.
You can schedule posts across multiple social accounts, with the pro and premium plans offering eight social accounts, while the business plan offers 25, two higher tiers
When you begin to schedule your posts, you'll be able to enjoy:
Direct scheduling posts that allow you to create and schedule posts right through Buffer
Posting schedules that allow you to post over the course of a month or longer
Tailored posts that are great for each social network
Custom video thumbnails
Calendar view that allows for a neat way to schedule your posts and visualize them
You'll also be able to track trends within your industry and schedule posts from your favorite online platforms and blogs. This allows you to keep your social media accounts content fresh, and also helps boost your reputation
Instagram Management
Instagram has been the most popular, fastest growing photo social media network. The platform revolves around photos and videos, and a lot of social media scheduling tools do not integrate well into the Instagram platform.
This tool allows you to be the first comment on Instagram, tag on Instagram, use the hashtag manager to boost your exposure, add to your Instagram stories and use the Instagram shop grid.
Buffer's two higher tiers of service offer more Instagram functionality. These two tiers offer:
Hashtag manager
Instagram stories
Shop grid
Create and manage draft posts
First comment is one of the most powerful features available. What this allows is for you to take control of the first comment of your post. You'll make the first comment, and this allows you to add other less relevant information to your posts that you couldn't fit in your post or caption section.
This means that you can add new hashtags or other information.
Buffer allows you to add your location and user tags with inside your post. Through the hashtag manager, you'll be able to narrow down the hashtags that you use to find options that may bring more traffic to your social media profile. If you're a business using this product, this could mean the difference between gaining traction on social media or having a single follower.
You can also create a group of hashtags, or you can experiment with different variations to see which hashtags work best for you.
Pro tip: read our blog on how you can growth hack your Instagram account.
Apps and Integration
Managing your social media profiles should be possible on multiple different platforms. You may want to manage it on your iOS or Android device, or you may want to stick to your desktop where you do most of your work and can quickly post to social media accounts.
When you use Buffer, you're able to:
Install a browser extension that allows you to post or repost different content from around the web on your social media platforms
Use iOS or Android apps that have been fully integrated into buffer to make your posts and manage your account.
Integrate with over 60 third party applications to use the tools that you love right alongside Buffer
You can integrate with some of the most popular platforms, including Pocket, Feedly, Zapier and many others. These platforms allow you to supercharge your social media campaign in ways that are not possible otherwise.
Since you are connecting to multiple social media platforms, it's important to use your publish account with two factor authentication. This is built into the platform, and it adds an extra layer of security to your account.
What this allows is for you to use a Google authenticator or SMS message to verify that you are in fact the person trying to log into your account.
Since all their social media accounts are linked to Buffer, this simple authentication process can mean the difference between a hacker being able to access all of your accounts and ruin your reputation or not.
Buffer is one of the most advanced social media management platforms that empowers you to build your social media presence and engage with your followers.
Pro tip: read our blog on the best social media tools