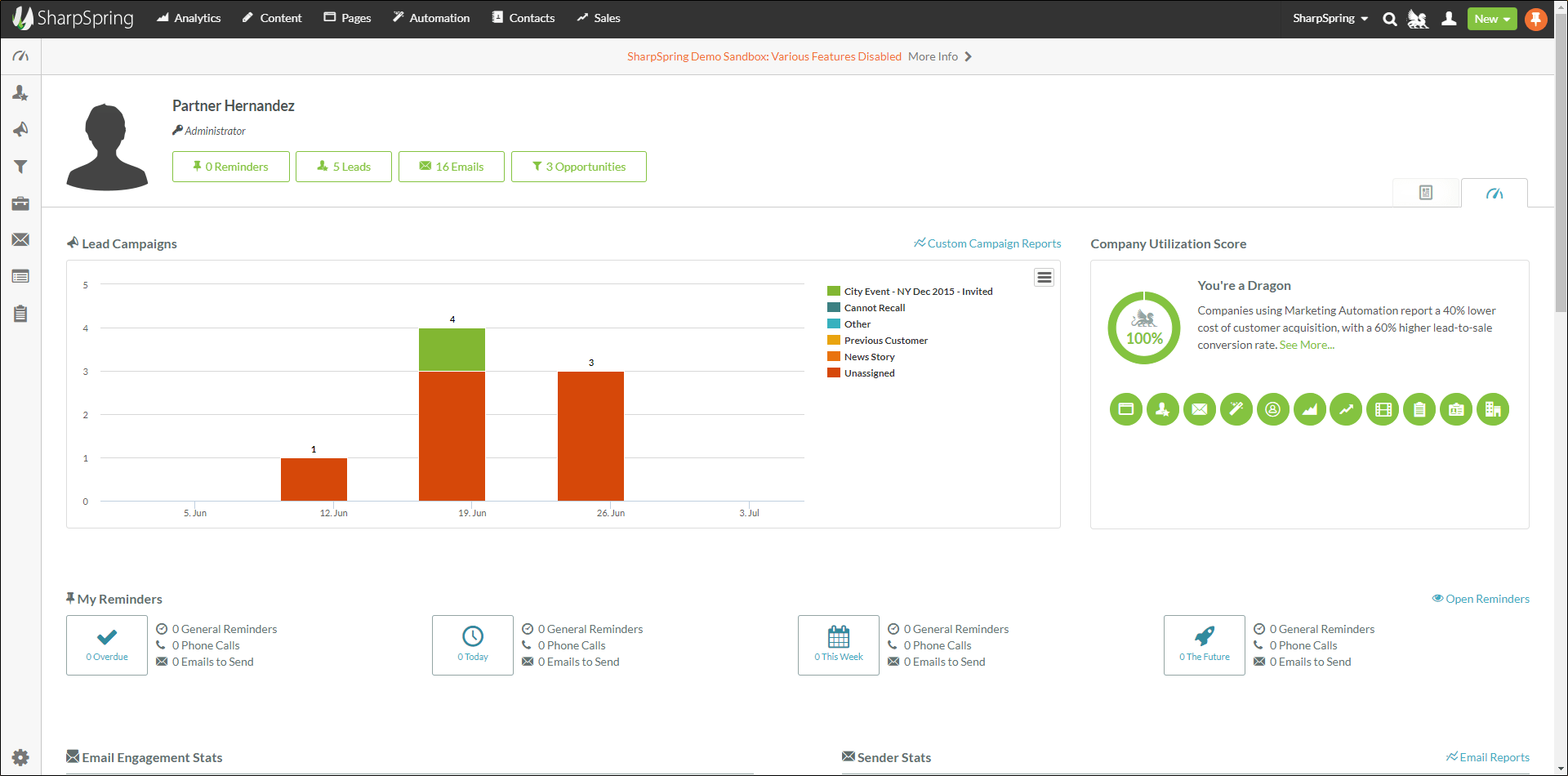 ---
Similar Tools
---
SharpSpring Features
Keeping abreast of the latest trends, tools and apps in digital marketing is part of modern business. As a marketer or agency, you always want to get the most out of your marketing budget. This means you have to be on top of your game and always to look for the available options.
SharpSpring is a package offering innovative and original automated marketing solutions that are easy to use and have been highly praised by many users. Used widely in agencies and by a wide variety of companies, it is one of the leading brands on the market.
What SharpSpring offers is a set of tools and solutions that are aimed at direct marketing and target specific audiences, as well as providing accurate analytical tools for further streamlining of the marketing routine, so let's have a look at how it works.
Pros
Costs vs features
Great for agencies
UX is easy to navigate
Cons
Training and certification is a little chunky
How SharpSpring Works
SharpSpring aims to help with personalisation of marketing, so rather than mass emails, you can tailor them suit the relevant reader. It is a typical CRM tool in some ways but does have some innovative features. You will find the dashboard features easy to utilise, and it is a fully integrated package.
Used in a wide variety of different areas of commerce and industry, SharpSpring is not designed for one specific user but can be tailored for many. Let's have a closer look at the most exciting features and functions of the SharpSpring package.
Dynamic Forms
The easy to customise Dynamic Forms that are part of the SharpSpring package mean you can tailor fields to your specific requirements. This is important for targeting information as you require and allows you to gather data more effectively. Forms can be integrated directly with other CRM platforms, and there is an autofill function for customers that have visited before, and it's all quickly done using a simple drag and drop system. This is a feature that will undoubtedly help in converting leads.
Key Leads and Moments
Efficient marketing automation requires a system that can engage a customer at a specific point, and SharpSpring is geared to do this by using workflow analysis. You can create a persona for each product and service that you provide, which can be used to actively match with consumers, and catch them when they are at a point where they are most likely to purchase. This is a highly automated direct marketing tool that will come in especially useful, especially as it analyses the most likely leads and sends them directly to you.
Behaviour Tracking
SharpSpring includes a very neat feature called VisitorID. This function tracks the behaviour of visitors in detail, allocating them a lead rank and optimising your website continuously for further efficiency. It brings you the most prominent leads to your inbox directly, so that you can get hold of conversions more easily. VisitorID claims to be twice as effective as other tools that aim to do the same thing and is a main selling point for the SharpSpring package.
Custom Landing Pages
Where SharpSpring stands out from the crowd is in its easy to use custom landing pages feature. The package comes with a selection of templates – or you can use the simple point and click editor to design your own – so that you can set up linked pages and design your own marketing funnel. You don't need to be able to code to set up impressive landing pages that drive traffic and increase conversions, but if you need to you can at HTML and CSS code easily for more significant optimisation.
Marketing Blog Automation
SharpSpring comes with its own blog building and editing function, and it's amazingly easy to use as well as enabling fast publishing as well as RSS feed. Use the simple editor to set up your blog quickly and effortlessly and set up your permissions to allow guest bloggers. The feature comes with a range of social media widgets that you can use to increase and encourage engagement, and every marketer knows the power of a well-written and engaging blog.
Conclusion
In providing a wide range of useful and effective automated marketing tools, along with an impressive editing suite and blog creation feature, SharpSpring is a worthwhile contender if you are in the market for a usable, sensibly priced and effective marketing package that is fully integrated and will keep you in touch with the best leads. The above features are just some of those that come with the SharpSpring package so it is best to have a closer look and see how it can be used for your business.