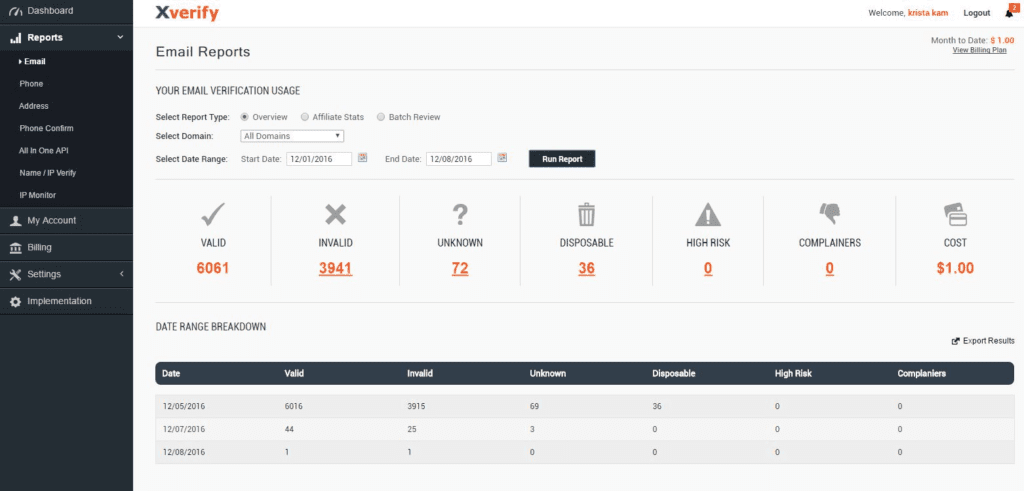 ---
Similar Tools
---
Xverify Features
Xverify's services aim to put your emails in a recipient's inbox without the risk of spam complaints or high hard-bounces. Xverify does a lot of the preliminary work your email campaign needs to be a success.
Intelligent email verification is the backbone of Xverify.
Digital marketers need a trusted solution to send emails that have high conversion rates. Xverify uses built-in intelligence with three main features:
Accurate email verification
Spam complaint detection
Easy to read reports
Pros
Build in spam blocker
Robust whitelisting / blacklisting of emails
Cons
No shared inboxes
No email archiving
No signature management
Accurate Email Verification
Powerful and intelligent, Xverify's main feature is email validation. Sending emails to the wrong email address costs you time and money. The tool works in real-time to verify and check individual mail servers.
The goal is simple:
Verify that usernames exist
Accuracy is done without data caching, so every time an email is added to a list, a unique transaction is made to verify the email address. Data caching is great for speed purposes and for reducing reliance on process-heavy queries to a mail server, but a lot can occur between data caching and refreshing.
Eliminating the cache allows Xverify to increase their accuracy rate.
When someone is added to your mailing list, verifying the mailing address will save you a lot of time and wasted resources trying to communicate with a lead that doesn't exist.
If you're buying traffic to your new landing page, you may be the victim of fraud. Traffic may be fraudulent, and those that sign up to the campaign can be bots. The end result? A lot of lost money.
Xverify will detect fraud and automatically block emails that come from:
Temporary email providers
Disposable email providers
Affiliate marketers that are buying traffic to a landing page can use Xverify to ensure that all of the email addresses added to their sites' mailing lists are verified and legitimate.
Spam Complaint Detection
Sending mails too fast, hard bounces and complaints of spam will cause your reputation to decline. It's not uncommon for many email providers to have strict filters in place that will put your email address into someone's spam box.
If your email is marked as spam, the chances of anyone reading it drops drastically.
An email address that is associated with spam is an address that will cause you to lose money. Lists convert well, and a spam-marked email address can put an end to a healthy email marketing campaign.
Xverify will take the risk of spam and turn it into a quick and easy way to determine when and where spam complaints are being generated.
The built-in spam complaint detection tool will:
Pinpoint spam complainers
Alert you to complainers before mailing them
Since Xverify takes a proactive approach to helping you filter through email addresses and ensures that you're not sending an email to a routine spam complainer, you're able to maintain a better relationship.
Emailing every prospect, lead or subscriber requires a lot of diligence, and Xverify takes care of the entire verification process for you.
Easy to Read Reports
When you need to verify emails, you need an easy way to find out how your data performs. If you're purchasing traffic and 90% of the traffic is from temporary email addresses, you need to bring the issue up with the traffic provider.
You need a way to make sense of the data, and you can with the advanced reports built into your Xverify account. You can use the Email Verification on one or multiple domains, with reports separated for each platform.
The report will include key information you can use to understand your mailing list and recent additions, including:
Valid data
Invalid data
Why email addresses were blocked
You'll have a complete overview of why some email addresses were blocked so that you can further understand why certain addresses were flagged as "bad."
Reports can go a step further for affiliate marketing by providing a way to validate affiliate leads that are being sent. If an affiliate is sending bad leads, these reports will alert you to an issue that can lead to terminating your agreement with the affiliate.
When running an affiliate campaign and working with affiliates, it's important that fake leads are detected and eliminated promptly. Xverify allows you to catch these fake leads so that you never send a payout for fake leads.
Being proactive can help weed out fraudulent affiliates and attract high-end affiliates that drive high-quality traffic to your offer.
Multiple implementation options allow you to use Xverify alongside other email tools. You can use a JavaScript email validation, API, uploads or implement Xverify into your form builder.