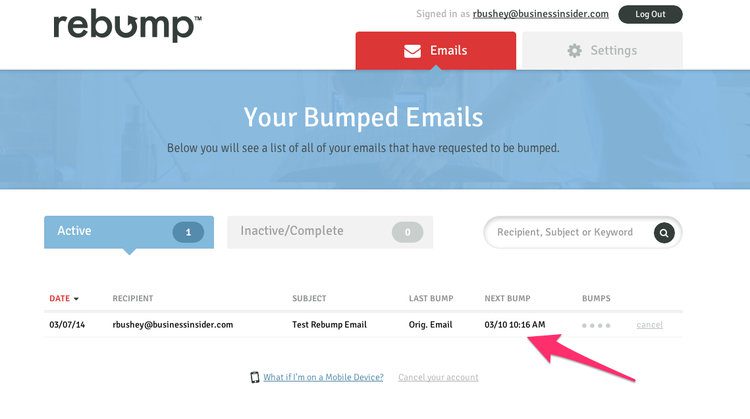 ---
Similar Tools
---
Rebump Features
Rebump is a Gmail extension that sends follow-up emails to your recipients automatically. Use it to "bump" your messages back to the top of your recipients' inboxes. Messages can be personalized, and multiple follow-ups can be sent until the recipient responds or opens the message.
Rebump users claim to get a 30% average response rate with this platform. A 30-day free trial is available, and there are two affordable paid plans to choose from.
There are three features that make Rebump an effective and attractive email tool:
Track emails
Send follow-ups automatically
Personalize follow-up messages
Pros
Easy to setup and lives in your browser
Reporting to keep track of performance
Scheduling available
Cons
Could be irritating for prospects
Track Emails
With Rebump's Unlimited Plus plan, you can track and analyze your "bump" emails. See how many times recipients received follow-up messages and how long it took to respond to or open messages.
If a recipient responds to one of Rebump's follow-up messages, this is known as a "rescued message." Through Rebump's platform, you can view your active campaigns, analyze your follow-up data and see how many rescued messages you achieved. You can even stop message deliveries with the click of a button.
When looking at your active campaigns, you can view:
Timing of the most recent bump
Timing of the next bump
How many bumps have been delivered
Adjustments can be made to the timing of the message deliveries, and there's a convenient cancel button to stop future bumps. If recipients reply or open your messages, you may want to avoid sending additional follow-ups.
Rebump sends daily, weekly or monthly reports of your activity, so you can take a closer look at your campaign's performance. Reports also give you more insight into the platform and how you can use Rebump.
The track function helps you keep tabs on your campaign and analyze whether it's delivering the results you desired. If your emails aren't getting the response you want, it may be time to tweak your campaign.
Pro tip: check out our blog on how to write cold emails which convert.
Send Follow-Ups Automatically
Your recipients receive hundreds of emails a day. Just as quickly as your messages land in their inboxes, it's pushed down to the bottom of the pile and overlooked. Follow-up messages are an effective way to get your message back to the top of the inbox list and to the forefront of the recipient's mind.
With Rebump, you can send follow-up emails automatically and right from your Gmail. Just click the Rebump checkbox when you send an email, and follow-ups will be sent automatically. Customization allows you to send engaging messages, and up to ten "bump" emails can be sent to recipients.
Follow-up messages increase the chance of response and improves open rates. But who has the time to send messages manually? Automated follow-ups allow you to touch base with recipients at just the right time, and without having to lift a finger. Rebump will do all of the work for you, so you can stay focused on more important tasks.
Personalize Follow-Up Messages
Personalization is the name of the game in digital marketing. Sending generic follow-up messages won't cut it today. Rebump knows and understands this, so customization has been incorporated into their email follow-up tool.
Rebump allows you to personalize the follow-up messages you send to recipients. The customization process is simple and straightforward.
Add personalization variables, like first names, to make emails more engaging. Because Rebump is a Gmail extension, it can automatically pull name information from your list of contacts. You can also use your imported list of recipients to pull information that can be imported into your follow-up responses. The more personalized details you can add, the better.
You can add as many personalization variables as you like, and they can be saved into your sequences to be sent out with your follow-ups. Rebump also allows you to create multiple, customized bump sequences, each with their own reporting and analytics. These sequences can help you achieve different outcomes, whether it's a phone call, demo request or even a purchase. Individual reports and analytics allow you to see which messages are performing well, and which ones aren't.
When sending emails, just choose the sequence you'd like to include, and your messages will be sent automatically. You can even choose the day and time your messages will be sent.
Rebump makes it easy to send follow-ups right through Gmail, a platform you're already using. Although messages are automated, they can be personalized, tracked and analyzed. There are two plans to choose from, and both have unlimited messages. A 30-day free trial will give you the opportunity to test out the service and see if it's a good fit for you.
Pro tip: check out our blog on everything you need to know about Drip Marketing.
Rebump Alternatives