It's hard to deny the massive potential and traffic that lies within Instagram to help you grow your audience and establish your brand online. Instagram is one of the most powerful social media platforms available for brands and influencers alike. 
With over a billion active users on the platform, small businesses and brands have a massive opportunity to grow their audience on Instagram. In this article, we will explore some of the best IG tools to help you grow your audience and following and help your brand gain the necessary exposure it needs to be successful. 
Let's dive right in
Different Types of IG Tools
Before we dive into the many available apps and tools to help you manage your Instagram following and improve your growth, it's important that we describe some of the different IG tools that are available to you. 
Instagram tools are third-party apps and software which are installed alongside Instagram to help you gain more followers, engagements, and growth on the platform as a brand or influencer. 
IG tools are meant to help you automate some of the time-consuming tasks that are needed to help you grow your following. 
Some of the different types of IG tools include:
These are just a few of the many Instagram marketing tools that are currently available for you to use to grow your following on Instagram. 
Increase your Sales with: Growth Hacking Suite
Instagram Photo and Video Editing Tools
Boomerang
Boomerang is perhaps one of the most popular Instagram photo and video editing tools on the market. It helps users add cool looping effects to photos and videos that can give your videos and photos their own unique spin.
Prequel is a great app to use to help you customize filters and special effects that keep you trendy on Instagram. The app offers a free and paid version. With the paid version you more get flexibility to customize the appearance of your photos and videos. 
Adobe is well known not only for Photoshop, but also Premier Rush. The Adobe Premier Rush App allows you to shoot your videos and photos on your phone and then professionally edit them with custom features, subtitles, music and then directly push to IG. Adobe Premier Rush has a steeper learning curve, but more options and features than any other tool.
Instagram Tools for Automation
‍When you are looking for a tool to automate everything for you, likes, posts, follows etc. than Instacaptain is the way to go. Be aware that is it most likely against the guidelines of Instagram.
Mentionlytics is a great tool for IG to help you access mentions of your company, specific keywords, competitors, hashtags and so much more. You can also use Mentionlytics to find targeted influencers and improve your sales leads. 
Another great thing about Mentionlytics is that the tool can be used with Twitter, Facebook, Pinterest and even Youtube. This way you can track your brand mentions across different platforms and gain an idea of the most effective outlet outside of Instagram. 
Recommended reading: The Best Instagram Tools for Automation
Hootsuite is a great IG scheduling tool that can help you automate your posting schedule and control it all in one central location. You can completely customize how you want to schedule your IG posts and they also give you plenty of ability to edit and customize your images and videos directly inside their platform. https://www.youtube.com/embed/zSwG72IYDRw  
‍SocialPilot is another great app to help you automate and schedule your Instagram posts. They have a ton of options to help you not only schedule Instagram posts, but also options for content curation. Check out the following video below to get an idea of how to set up SocialPilot with your Instagram account.  
Do you want to share highly relevant content on your Instagram profile without lifting a finger?
Vista Social's Smart publishing feature lets you do that.
The social media management platform scours the web for relevant content then shares them automatically on your Instagram profiles. (You can also download and filter content straight from your blog's RSS.)
Vista Social users can add plenty of parameters and filters to ensure only highly relevant posts are shared.
Some parameters users can add are keywords, categories, country, etc.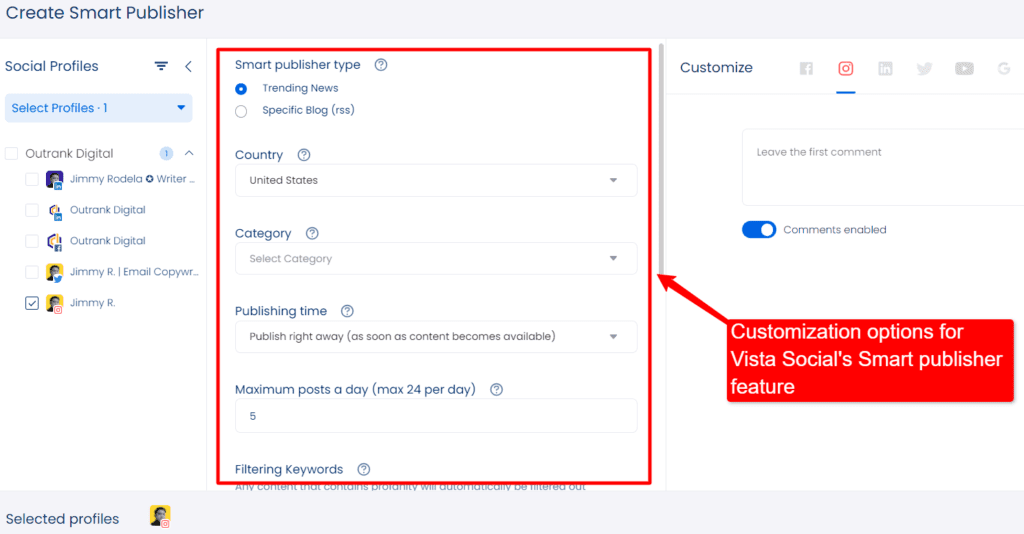 With Vista Social's Smart publishing feature, Instagram users can share highly relevant content day in, day out on autopilot.
Instagram Analytics Tools
Instagram Insights
Individual creators and Instagram business accounts have access to analytics through Instagram Insights. You can see some basic level analytics data that can provide you with some performance data about your followers and performance.
Instagram Insights is a great way to start getting more involved with your engagement data so you can see what's working and what is helping you get more followers. 
‍
HootSuite Analytics offers analytics that are much more in depth than the standard data and analytics that are directly available through Instagram Insights. 
You can run historical reports that can give you comprehensive data about your audience, post engagement, social sentiment, and more. It's geared towards businesses and influencers who are serious about growing on IG.
Iconosquare is a bit different from the other Instagram analytics tools. This is because it's meant to provide a full scale audit for your IG account and it's performance.
The audit is 100% free and it offers some very valuable information regarding your performance metrics and how you can improve them. Iconosquare also offers analytics tools and scheduling tools to help you grow on Instagram.
Sponsored Social Media Tools:
Instagram Hashtag Tools #
‍Keyhole is an Instagram tool which is meant to help you get an accurate performance measure behind the use of your hashtags. Certain hashtags may perform better than others and Keyholes features and functionalities can help you discover the most effective hashtags you should be using for the niche you are in. 
Panoramiq
Panaramiq is a tool which is offered by Hootsuite and helps to add Instagram analytics to your dashboard. It can help you discover hashtags which have high ROI potential in order to help your account grow organically. 
Some of its key features include:
Hashtag and competitor monitoring
Hashtag and competitor post analytics 
IGTV video and hashtag discovery
Custom keyword searches to help you discover new audiences 
Below is a friendly user guide of Panoramiq and how you can get the most out of the tool. It's simple and effective and can help you discover untapped potential on Instagram. 
https://youtube.com/watch?v=nsJUte2tLdI%2520
ShortStack is a great tool to show you popular trending hashtags that are being used by people in order to help you come with content that will fit current trends and interests. One of their best features is helping marketers track the results of social media hashtag contests. It also allows you to track your own hashtags and compare them against the performance of others.
Instagram Tools for Bio Links

Linktree is perhaps the most popular tool for bio links for Instagram users. It's used by celebrities and other popular influencers in order to direct traffic to their preferred online destination.
Linktree offers plenty of different integrations to other software tools and analytics to help you analyze where the majority of your clicks are coming from and how many of those clicks are resulting in purchases. 
Milkshake is a free app which let's users customize their own mobile style landing pages which are similar to how stories look. They also give you the ability to customize your links and create your own virtual storefront that can help you build an online store that fits your brand and style.
‍
Sked Link is very powerful when it comes to helping you manage your bio links. It can help you create different button styles and a series of different buttons for full customization. You can also integrate it to Sked Social so when people read your posts that are published they can immediately click through your bio link and go to your website to make purchases.
Recommended Reading: Best AI Marketing Tools
Instagram Stories Tools
‍
Canva is a great app to use to help you create amazing and creative Instagram stories. They are massive graphic design software and apps that can help you create much more than just Instagram stories. They feature a rich content library and custom templates that gives you the power to create amazing graphic designs and Instagram stories.
‍
Impresso is another great app to help you craft amazing Instagram stories. It gives you access to quick and easy templates to use and they also boast a massive library of templates and graphics that you can use at your disposal. 
‍
Unfold is also another app that can help you create amazing Instagram stories but with a different twist. They also have options to help you create small scale mobile sites with SquareSpace. They are a great option if you are looking to create your own Instagram stories and also build a storefront in the meantime. 
Instagram Scheduling Tools
‍
IconoSquare not only has options for Instagram scheduling but they also provide full scale Instagram performance analytics that can help you gain an edge. They allow you to automate both single-image posts and videos. 
‍
Buffer is a great tool to use for scheduling, analyzing the performance of your content and much more. They also have options for you to create custom Instagram campaigns and set reminders to plan posts in advance and get notifications to post natively. They are a great starter app to use for Instagram that can help you automate your post scheduling.
Sprout Social gives you the ability to integrate not only Instagram for post scheduling but also other platforms like Twitter, Facebook and Pinterest. They give you the ability to create a publishing schedule and strategy that can help you organize your posts across different profiles, neworks through their visual calendar. 
‍
This can be a huge timesaver when it comes to managing your social media marketing and also creating a future publishing schedule for your brand.
Instagram Tools for Finding Influencers
Awario is a powerful Instagram tool to help you find influencers to work with. It works by crawling Instagram pages and locating Instagram users who mention specific hashtags, brands, keywords and more. It calculates an estimate of how many people have the potential to see the content. 
Once it's done crawling it will give you a list of Instagram Influencers that are in your niche who you can reach out to for collaboration.
They can be a great resource to help you find influencers in your niche. These influencers can help your brand gain exposure.
‍
Klear is a premium tool to help you get in touch with influencers. They have a carefully designed platform to help you locate influencers who are directly in your niche. 
It's a great platform to use to find influencers and see what kind of audience size they have along with and how much they charge for a shoutout or sponsored post. On top of that they help you identify your audiences' interests, geographic location, age groups, gender and much more.
Ninja outreach is a great tool to use to help you find Instagram Influencers based on different categories. They feature amazing influencers categories which you can check out and narrow down the type of influencers you are looking for. 
‍Recommended Reading: Benefits and Drawbacks of Influencer Marketing
Find an influencer who fits your niche you can click on their profile card and see their Instagram Bio section. Once you are there you can contact the influencer directly.
Instagram Ad Management Tools
Most people are aware of the fact that Instagram is owned by Facebook. Ads manager is the ad platform that is shared between IG and Facebook and it's responsible for helping users to create different types of advertising campaigns.
The Ads manager is a full scale advertising solution for your Instagram account. It can help you run powerful pay per click advertising campaigns. The campaigns can help you to target new audiences, customers, and people who have a genuine interest in your content.
The ads manager allows you to:
Track and manage your ad budget
Track and manage your conversions
Drive leads and products sales
Grow your audience and following
It's an effective tool to use if you have some money to spend to grow your audience quickly, rather than waiting for organic growth practices. 
Conclusion
These are just a few of the many different IG tools that are available for you to use in order to help you grow your audience. Start with one tool and explore the different functionalities it has and use it in order to help you grow your audience. 
Related Reading:
The Best Snapchat Apps to Save Photos/Videos/Stories
The Best IG Scheduling Apps to Help You Manage Your Time in 2022
Instagram Marketing Strategies to Help Drive Traffic
The Best Instagram Tools For Automation