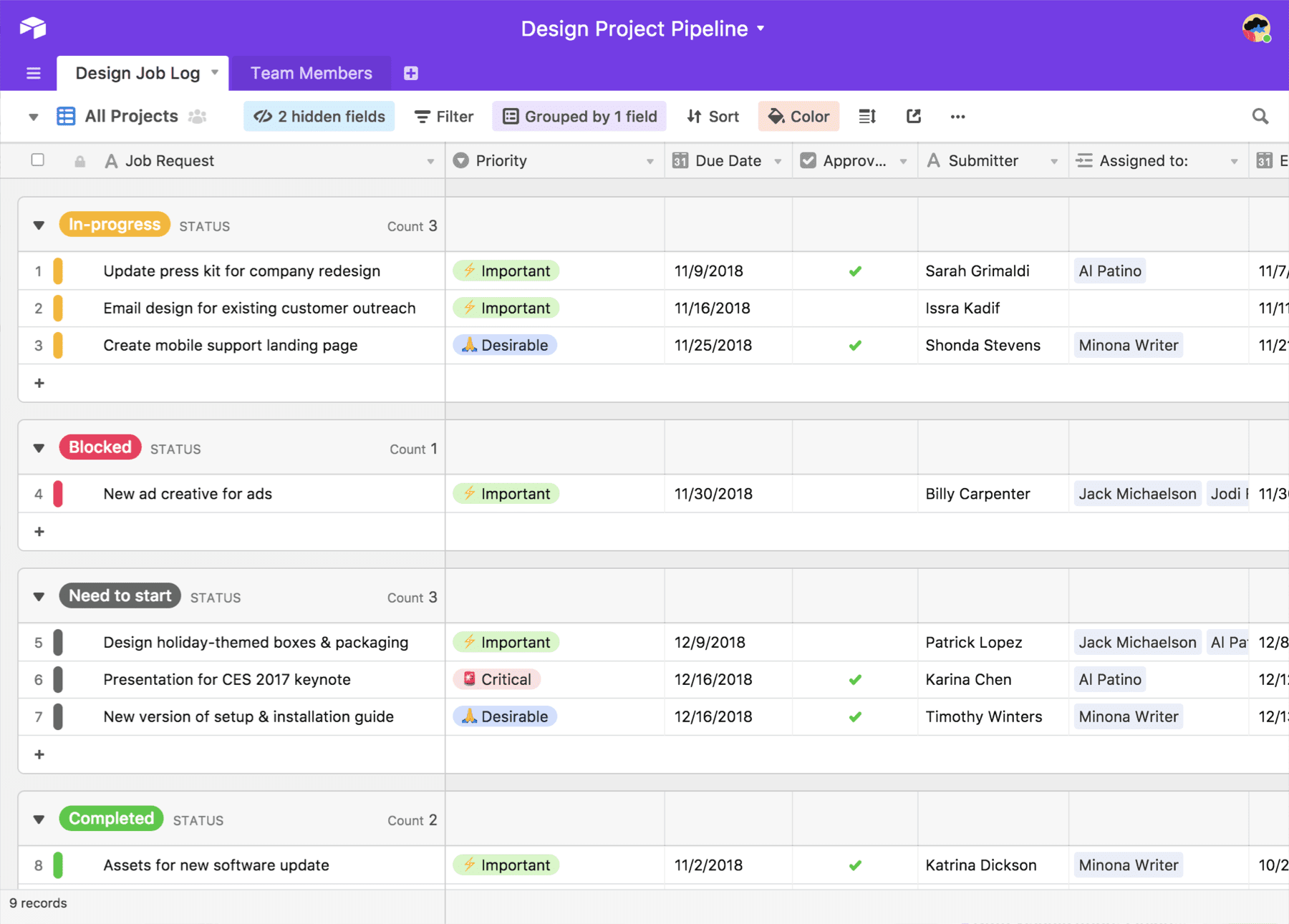 ---
Similar Tools
---
Airtable Features
AIrtable combines the ease of use of spreadsheets with databases. When it comes to organization, you can use a mobile or desktop app that allows you to collaborate in real-time, comment and edit seamlessly while syncing across multiple devices.
Multiple tiers of service are available, including a free tier that allows you to create unlimited bases, but each base can only have 1,200 records.
The key features of Airtable are:
Unique field types
Advanced views
App integration
Pros
Great customisation options
Get better data into a spreadsheet view
Easy to visualize data
Cons
Can be complicated when you start with the app
No reporting
Unique Field Types
Your business needs are unique, so your spreadsheet also needs to be unique. Airtable allows you to handle fields differently for the different types of content that you need most. You're allowed to add multiple different types of fields, depending on the content that you choose, so that you can stay organized.
There are multiple types of fields that you can choose from, and this number is always growing,
Single text line
Attachments
Currency
Checkbox
Date
Long text
Link to record
Multiple select
Bar codes
Genre
Photos
Samples
Much more
When you need to bring structure to your working environment, this is the tool you want to use. With the ability to use unique field types, you're able to keep all of your information as neat as possible.
You're also able to use drag-and-drop functionality when creating views, so that you can always see the information you need quickly and easily.
Advanced Views
Configuring the perfect view is difficult with a regular spreadsheet. But, with Airtable, you're able to break out of the grid that you normally have in a spreadsheet with full customization. Airtable allows for the configuration of the perfect view for your data.
You can create multiple views, including:
Grid view
Calendar view
Gallery view
Kanban view
When you customize your views, you can choose to sort them in a variety of different ways. For example, you can use grid view and sort by priority so that you always know which information and contacts are most important.
You can also sort calendar view by deadline date so that you have a firm grasp of when deadlines need to be met for different clients.
Grid views can be sorted by department, so you can see which department you should be contacting and which department a lead works in.
With full control over your views, you're able to take all of your data and make it into information that has multiple levels of priority. You can use priority settings to find out which leads should be contacted, which meetings are most important or which tasks you'll need to complete first.
When it comes time to view all of your information, you can drag and drop information in a way that makes sense for you and your team. You can drag and drop pictures, different fields and customize your views to be exactly to you are liking.
Since you're turning your spreadsheet into a database, you also benefit from no duplicate data entry. You can link content together intelligently, so that you can have multiple records between tables that share relationships viewed at the same time.
An example would be to create a book table. If you click on the name of a book, it can link up to the book's author and then you can see more information about the author and the multiple books that they have written.
Of course, you can use link related content in a manner that makes sense for your team.
App Integration
Integrating your spreadsheets can be difficult because you have to manually enter your information. With Airtable, you're able to connect to hundreds of your favorite apps and services through a robust API system.
This allows you to integrate directly into your favorite programs, including:
You can also create Blocks which allow you to create a creative palette with app-like functions so that your team can find the perfect workflow time and time again.
There are templates to help you get started. These templates are created by industry experts and  they include templates for a variety of different fields, including:
Creative teams and agencies
Marketing and communications
Product and user experience
Project management
AIrtable comes with the web, desktop and mobile apps to help your team always stay connected. Real time collaboration and commenting allow teams to stay connected and work on Airtable.
The top tier comes with advanced features, such as payment by invoice, enterprise–wide admin panel, deletion recovery and unlimited workspaces.
Airtable Alternatives: