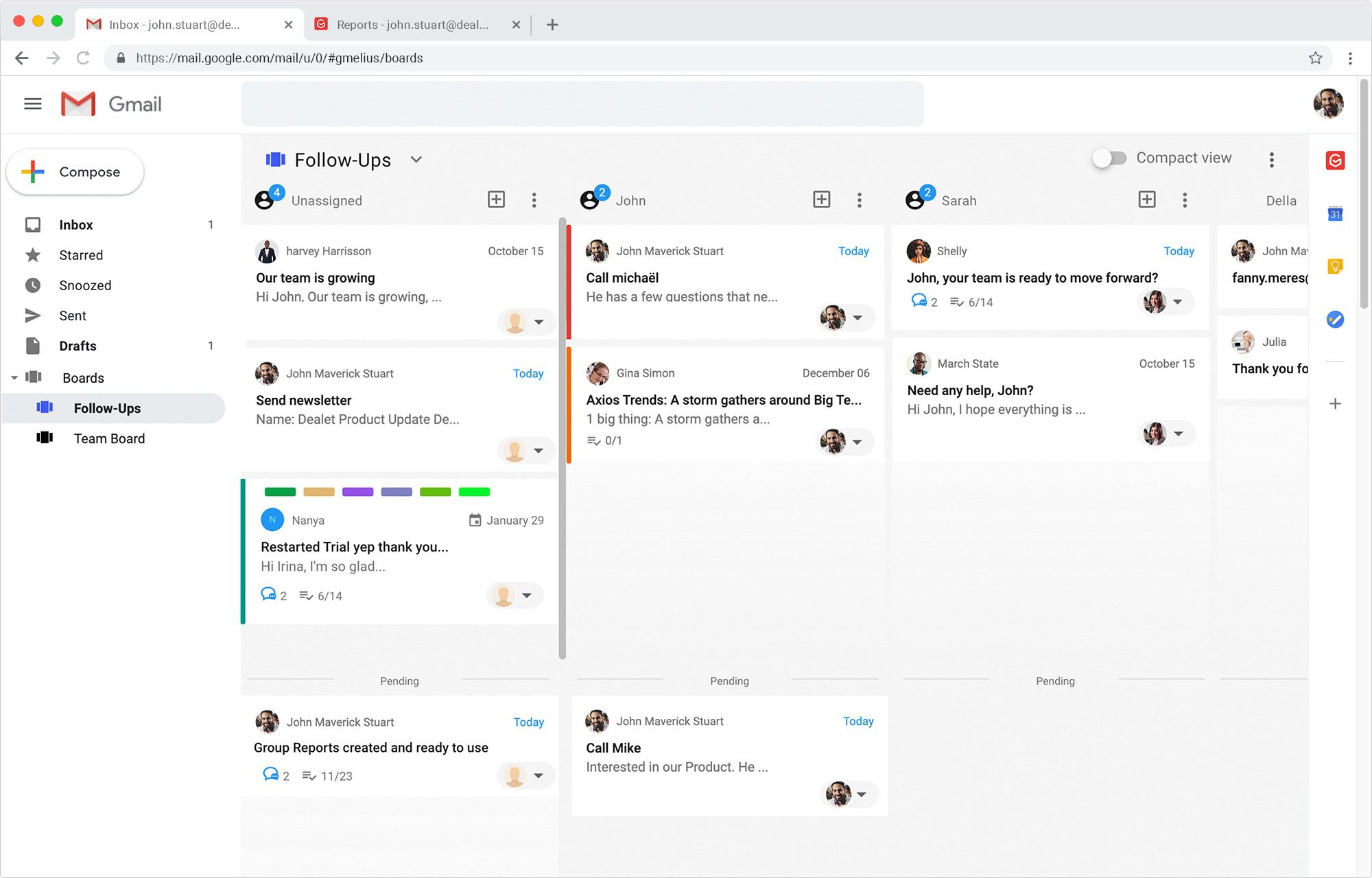 ---
Similar Tools
---
Gmelius Features
Gmelius lets teams work together from multiple tools, including Gmail, Trello and Slack, in a single collaboration platform. Connect your teams in seconds to make working on projects easier and more streamline.
The platform is free to try, and there's an option to request a demo.
Email is central to the Gmelius platform, with a lot of powerful tools:
Shared inbox
Email tracking suite
CRM for Gmail
Pros
Have a dedicated free plan
Works on top of your current tool stack
Helps you to automate your work
Cons
Can be a bit 'buggy'
You will need a Google Account to get started
Shared Email Inbox
Gmelius works to make sharing email as easy as possible. You can quickly share emails with your team right inside of your Gmail account. The function includes a drop-down list that allows you to share an entire lead conversation with team members.
Once shared, the conversation will automatically be synced to the team member you shared your contact with.
The goal of a shared inbox is to enable you to have a fast, easy way share your conversations with integral members of the team. Perhaps you need to delegate tasks with other members of your team.
If you're out of the office, team members can use the shared inbox to work on client projects even when you're not there.
But a shared inbox takes collaboration to a new level with:
De-cluttering your team's email
Delegating emails to team members
Automating the collaboration process
You can create "if this, then that" flows inside of Gmelius to automate the collaboration process. Workflows and sequences will allow you to assign certain team members to an email or add the email to a board automatically.
Sequences allow you to automate tedious tasks in a way that works best for your workflow.
A complete flow builder allows for single click flow creation. With filters and labels, you can automate the tasks you do daily inside of Gmelius.
The shared inbox also provides insight into a recipient, with powerful tools that offer:
Add information to a recipient's email so that the entire team is on the same page when following up on a lead
Add notes and mentions inside of the platform
Keep all notes and information private so that it's only shared with the users you choose
Gmelius provides the tools and notes you need to be able to amplify your sales.
Email Tracking Suite
Email tracking with Gmelius allows you and your team to understand what's occurring long after you send off an email. You'll be able to adjust notifications inside of Gmelius to be able to know when:
Messages are opened
Links are clicked
You'll receive full notification so that you can see which leads are engaged. In the activity report, you'll be able to track:
Last opened emails
Unopened emails
Teams
You'll see the number of opens, clicks and location of all recipients. When a lead has engaged with your email, it's time to send out a follow-up email to close more deals. Gmelius uses per-recipient tracking that provides insights for every individual user on your list.
BCC and CC mails also have metrics provided.
Detailed reports and an in-depth view allow you to supercharge your marketing campaign with valuable insights.
CRM for Gmail
Teams are versatile and mobile in today's technology-first environment. Gmelius is designed for teams that work in email and incorporates a Gmail-friendly CRM. Gmelius allows you to:
Manage your company pipeline
Automate outreach
Send emails to an entire CSV list including the date and time that every recipient will receive their email. Full personalization is possible and will allow you to use custom variables right inside of Gmail.
Potential variables in your uploaded spreadsheet will be parsed by Gmelius, allowing you to quickly plug in new variables into your email.
Fallback options can also be included that will use the fallback if certain information was not included when the contact was added to your list.
Full report can be seen inside of the platform, with a campaign report newsletter available, too.
Monitor all of your performance and connect with Gmail in one powerful platform.
Optimize and manage your teams right inside of Gmelius. You can also use alerts that will allow you to see when an email hasn't been viewed so that you can choose the right action to take. Personalize follow-ups or turn the lead over to a member of your team who is better suited to close the lead.
You can also create and share templates with your entire team. When you have an email that converts well, share it without spending hours copying and pasting or editing mails to add templates.
Conclusion
Gmelius merges that power of a CRM and collaboration tool right inside of Gmail.
Gmelius Alternatives