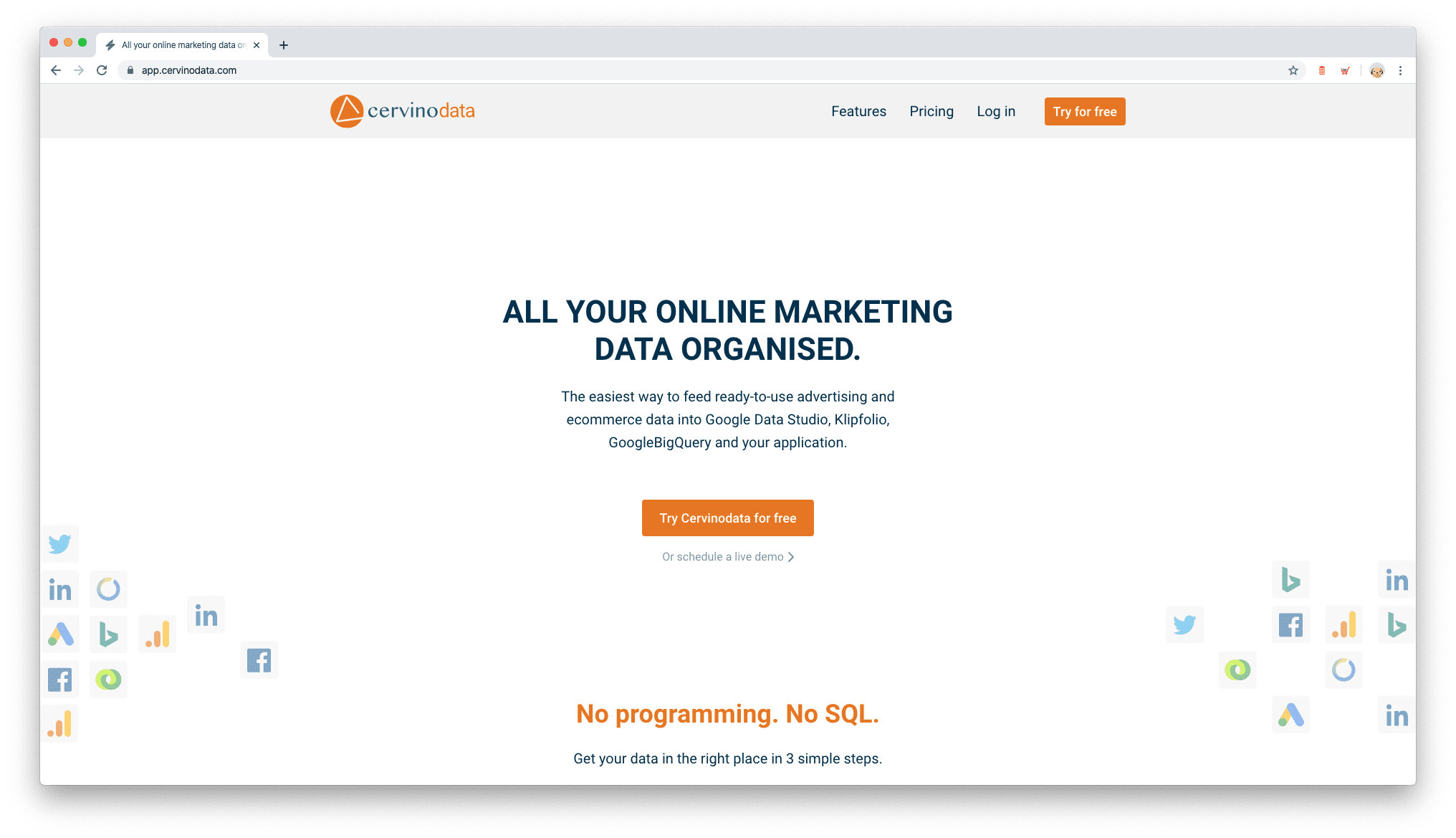 ---
Similar Tools
---
Cervinodata Features
Data collection and analysis is a massive part of any digital marketing campaign. You need to know where your money is being spent and time dedicated with results, and where it is underperforming. The digital age has not just changed the way we do business but the way we live, with people accessing information of various types while on the move as well as at home or in the office.
Your website is your first port of call. You need to know how it is performing and in detail. Furthermore, your social media channels are also vital in finding leads and bringing them onboard. You will also have ad campaigns the are part of your budget – how are they doing, and could that budget be better spent in other areas?
There are tools that can gather information for you that come for free – Google Analytics is the obvious one and you should be using it – but in conjunction with that we'd like to introduce you to Cervinodata. What is Cervinodata and why should you be using it? We'll tell you a bit about how it works, then look at some of the features it offers in more detail.
Pros
No coding required; drag and drop interface
Combine your GA and your advertising data
High reliability of data delivery
Cons
No free plan
Some integrations start at higher packages
How Cervinodata Works
Cervinodata is a data-gathering tool that is designed to help business of all kinds and sizes streamline their digital marketing. It works by bringing in data from a variety of sources and is easy to integrate with many existing platforms. The data can be stored where the user wishes and is able to be analysed via various metrics.
Cervinodata comes with templates for the popular data sources and is simple to set up and easy to use, so let's have a look at some of the features and functions of Cervinodata and see if it will be useful for you and your business.
Multiple Data Sources
One of the advantages of using Cervinodata is that it can draw information from a wide range of data sources. This allows users to analyse their performance on various social media platforms, ad portals and more, and gives great insight into where a marketing budget should be dedicated. It can also help with improving ads and ad copy where this is seen to be underperforming. The platforms you can bring performance data from include Facebook and Twitter Ads, Instagram and Snapchat ads – indeed, all the major social media platforms.
It can also integrate with Bing and LinkedIn, Google Ads and Google Analytics, with the latter being of particular use for website analysis. Data can be imported into the Cervinodata system and displayed as required for reporting and analysis purposes.
Data Studio
Cervinodata calls its central processing point the 'Data Studio'. Here, you can access templates for displaying specific data from Facebook Ads, for example, or bring it all together in a Multiple Ad Platform template so that all your performance information for adverts is presented in one easy to read report. There are many templates that are designed for certain uses, and you can tailor them to suit your business.
The information displayed is up to you, and it is very strong when you use Cervinodata with Google Analytics. It's easy to see where website pages and ads are not getting the leads they should be, and to decide whether to rewrite those pages or turn your attention to other ads that are showing better results.
Cervinodata is heavily optimized towards working with Google tools, and this is a sensible way to go. Google is the web search tool that practically everyone uses, and the one that is the most powerful in the digital world, so any information that can help you with your performance re Googles is certainly worth looking at.
Send data in Cervinodata to Multiple destinations
Once you pulled the data in from the different sources into Cervinodata you can send it to multiple destinations. You can send your data to Google Data Studio, Klipfolio or GoogleBigQuery. Getting your marketing data to other platforms is very easy and comes with extra benefits. Cervinodata will store your marketing data so you will not lose anything if something goes wrong. Send your marketing data with ease to other platform with extra benefits.
Drag-drop interface
Building advanced queries for Google BigQuery made simple. With Cervinodata you are able to use an easy drag-drop system to combine all the data you want. You can group specific campaigns together so you can report on all your campaigns separately.
What normally was available with the help of developer (or your own coding skills) is not accessible to all marketers. Get more out of your marketing data.
Conclusion
Data acquisition and analysis is a vital part of digital marketing, and you need to be using the very basics at least to keep an eye on the performance of ads, websites and your social media marketing performance. It's easy to set up ads and leave them, and then find that one or two are doing the job while the rest get no response.
A tool such as Cervinodata – when used in conjunction with the likes of Google Analytics – can help see where the holes are in your online marketing campaign and plug them satisfactorily. It's not expensive for what it can do, and it is certainly worth your while investigating further.
Easy tool to get your advertisement and e-commerce data into into Google Data Studio, Klipfolio, GoogleBigQuery and your application. A true no coding experience. Combine different Google Analytics views or any other views into one dashboard.