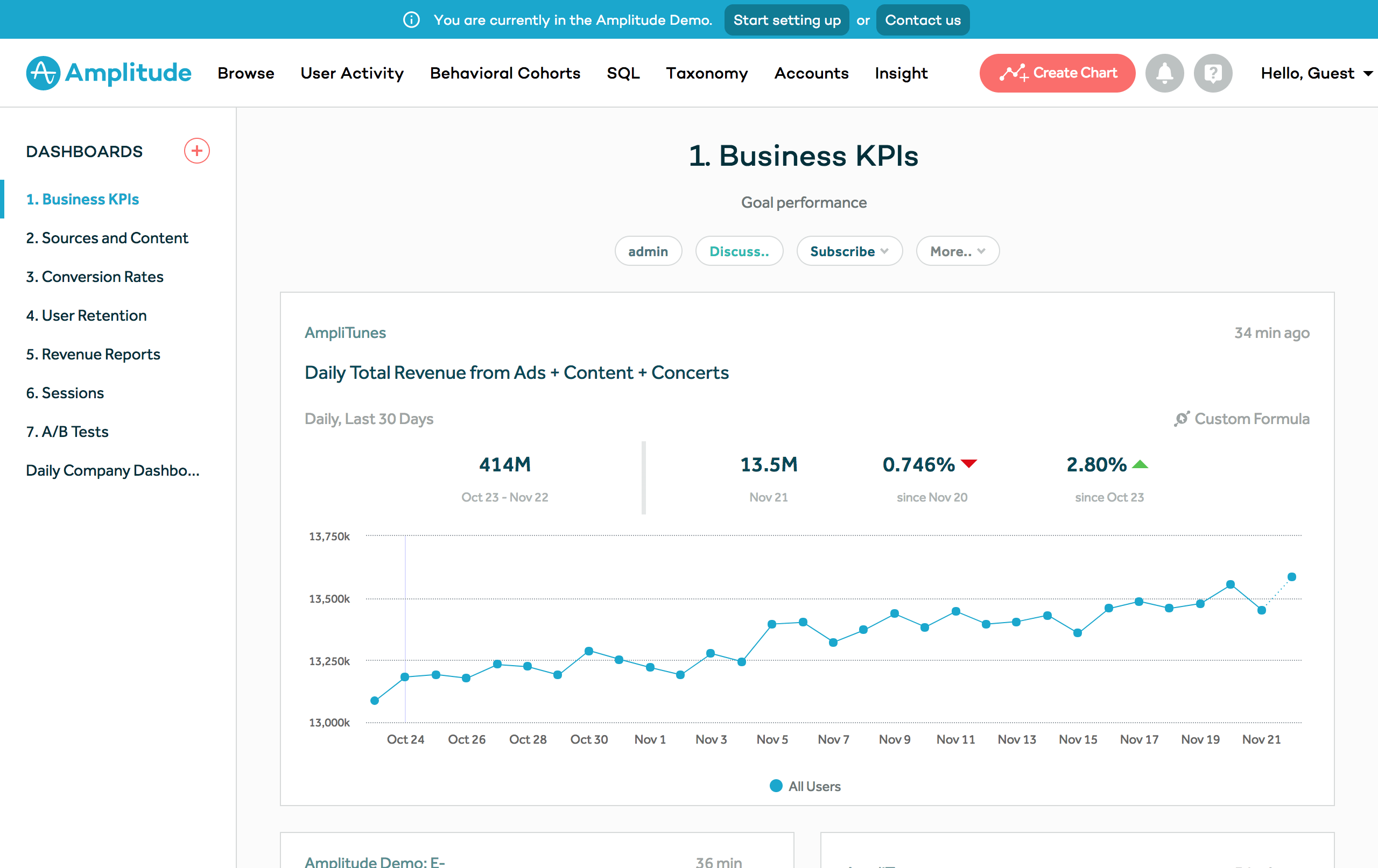 ---
Similar Tools
---
Amplitude features
Digital marketing is an essential part of promoting any business whether it's online, on the high street or in any market. One area that is important is that of data analysis and lead generation, and the right software can make a lot of difference in terms of converting leads into customers and keeping your existing clients on board.
Amplitude is a product analytics platform that helps companies understand user behaviour, ship the right features fast, and drive business outcomes. Whether you want to know how users are navigating through your product, which features are engaging them the most, or know how to improve long-term user retention; Amplitude helps you answer questions important to your product development strategy. Their aim is to help businesses get more leads while saving time and effort. It does so by way of some clever and innovative tools that come as part of a sensibly priced product.
Amplitude provides features including the ability to set product strategy, improve user engagement, optimize conversion and drive retention. These solutions help in measuring the impact of experiments and new releases. Additionally, it benchmarks new features against old ones.
Pros
Great for visualize your data
Providing a lot of analytics from the data
Intuitive environment
Cons
Can be expensive
Simple things can be sometimes complicated
Implementing the code on the app
‍How Amplitude Works
Amplitude offers the benefits of a CRM as well as having features designed to engage new custom, and it is also aimed at helping build brand loyalty in terms of keeping existing customers happy. This is not an easy task, yet Amplitude does have the ability to help.
The Amplitude package is highly rated for being easy to use and not expensive and can be used in many different industries and commercial settings, as well as by agencies looking for a simple and effective tool for marketing. Here are some of the features that come with Amplitude.
Set Product Strategy
Setting a clear North Star metric on the product is essential to align the team on strategy. It will also help you in communicating the products organizations impact and hold product Managers accountable for growing the business outcome. With Amplitude, you can understand how users behave in your product, which features they use and why are they coming back. It will help you to measure the impact of experiments and new ideas, all to help you grow.
Understand behaviour
Measure impact experiments
Accelerate the pace of iteration
Behavioural Analytics
In the main, Amplitude is geared towards gathering accurate data regards the behaviour of visitors to your website, app, blog, or ads and dissecting that information for your usage. You can tell who visits and why, where they are from and their overall demographics, as well as being given a full view of what they looked at and the numbers of clicks, taps, scrolls and more – all info that should help you build a picture of where your website is performing and where it needs help.
A new feature named Amplitude Engage is designed to use the data gathered to produce target information and create targeted campaigns across your product or service range, with greater return on investment thanks to more direct and efficient spending on your marketing budget. All of this is top level data usage, and will appeal to small businesses as well as those already established.
Improve User Engagement
To decrease churn, it is crucial to increase user engagement and time spent within your product. With Amplitude, you can discover your product's user persona's based on their behaviour patterns. It shows you also their conversion and retention rates. When launching new features, you can benchmark new features against existing ones. This way, you will never add features again, which reduces user engagement. Based on usage you can personalize your product content and messaging to increase the engagement. In short, here are the three steps Amplitude offers to increase user engagement:
Identify user persona's based on behaviour patterns
Benchmark new product features against existing ones
Personalize product content on user engagement
Insight for Product Monitoring
If a business has products or a product they want to monitor closely, Amplitude can be given the details and will follow that product and report on how visitors respond to it. Users will be notified when there is activity around the product so that action can be taken quickly when necessary.
All products can also be listed in one single portfolio for ease of access, and another useful feature is the ability to scale requested insights across a few or many customers as required. This sort of data analysis and on the spot information gathering is of great use and is what we would expect from a tool of this type.
Improve Engagement and Optimize Retention
Amplitude not only includes tools such a chat and communication streamlining for encouraging engagement with potential customers, but also offers help in keeping your existing customers on board. Often overlooked in marketing terms, this is an important part of any business, especially in a fast-moving online environment.
By gathering data on what all visitors do when on your site – both new and existing – you can quickly update areas of the website or app that are not performing in terms of engagement, perhaps by adding new content or refreshing ads or descriptions. Being able to act quickly on such information is important and Amplitude enables this.
Increasing conversion is something you want to do in the entire funnel. Amplitude can help you to do with understanding and optimizing your funnels for better onboarding, activation, trial and purchase. They will map out the path your users are taking in your product. It will help you to identify the steps with the highest drop-off, which will allow you to make product changes to increase the conversion rates.
Map out user paths
Identify steps with high drop-off
Redesign product to increase conversion
Drive Retention
Amplitude's features include insights into customer experience, growth engine (beta) for product iteration, creating product portfolios, and SQL access for custom queries. The behavioural platform helps in creating a 360-degree view across the customers' journey. Its growth engine generates hypotheses data by observing customer behaviour while also amplifying winning features and campaign ideas.
Discover return rate users
Identify actions which correlate with retention
Leverage insights to increase user retention
What do we think of Amplitude overall?
Conclusion
For smaller to medium-sized businesses, and especially those who are online ecommerce outfits, Amplitude makes an interesting choice of data analysis tool. It may be of interest to larger businesses, although there could be better options for those with more complex inventories.
With more than ample data gathering automation and excellent communication streamlining, Amplitude is certainly a package that you would want to look at if you need to keep up to date with how your website or app is performing and rectify problems quickly. It's not expensive, is easy to set up and use and it's good to see they are adding new features to it regularly.