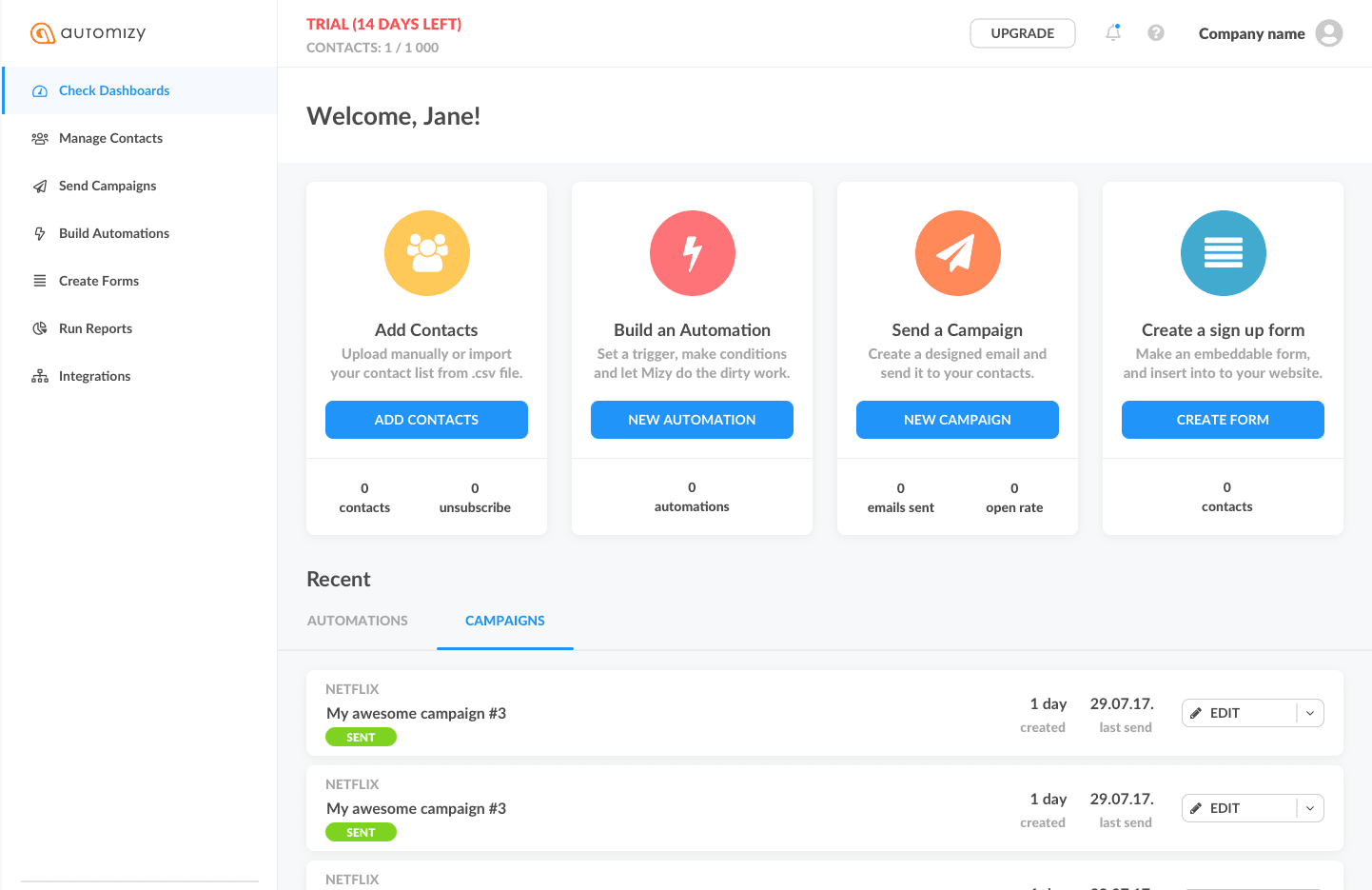 ---
Similar Tools
---
Automizy Features
Automizy's email marketing platform can improve your open rate by as much as 34%. The platform offers a free trial, with no credit card needed, and multiple tiers of pricing based on the number of subscribers on your list.
There are also free tools available that can help you with your email marketing campaign.
Three standout tools include:
Email Automation Builder
Predictive AI
Analytics Tracking
Pros
Easy Visual Automation Builder
A/B test automated emails
Email templates & automation blueprints
Cons
No landing pages feature
No free version
Email Automation Builder
Automizy as a powerful platform that helps you from start to finish with your email marketing campaigns. You can grow your list with several different features, including:
Mobile-friendly sign up forms
CSV import
Contacts profiles
Subscriber management
Segmentation
When you want to create your emails, there is a visual automation builder that allows you to drag and drop all of your email elements and start creating highly converting emails with no HTML background.
There is a simple email editor plus the ability to add custom column HTML if you want further customization. If you don't know HTML, no problem. There are email templates that you can use to get started with your campaign today. All emails are mobile-friendly so that your users will be able to view them on their smartphones.
You also have a robust scheduling feature that allows you to send emails at a time that makes sense for your subscribers.
Visual builders allow you to use already proven tactics to quickly leverage your subscribers.
A form builder also allows you to add email sign up forms directly to your website, and you can also add custom fields to track where subscribers are coming from. This allows you to know which pages or content assets are performing best for email subscribers.
Pro tip: see here everything you need to know about drip marketing.
Predictive AI
Artificial intelligence is weaved into this product to allow you to use big data to your advantage. Automizy allows you to access their data to better understand what works and what doesn't work in email marketing.
Data from over 1 million campaigns is provided and will allow you to automate you're A/B tests so that you can write four subject line variations. The algorithm will optimize the subject line for you.
AI eliminates the need to A/B test over a long period of time so that you can immediately enjoy higher click through rates with better subject lines.
You can send emails based on website behavior. This allows you to provide a better experience for customers and increases conversion rates. What behavior sending allows is for you to customize each email in a timely manner that makes sense for your audience. If your audience is asleep and you send an email, it is likely to get buried under a variety of other emails before they wake up.
Timing is everything when you want to send emails and have them opened.
Along with the power of AI, you can collaborate and cooperate with multiple users on the same account. Work with your team without any kind of restrictions or restraints so you can collaborate in a way that makes sense for you.
Collaboration allows you to get more out of your email marketing in less time.
Analytics Tracking
Email campaigns can only be improved when you're able to track and improve your results. Inside of Automizy, you can track your emails every step of the way. A few of the analytics that you'll be able to leverage are:
Automation analytics
Campaign analytics
Email performance metrics
Form analytics
You can follow analytics on overall campaigns, forms and for key metric reports. There's also a built-in click map function that allows you to understand where users are clicking on your emails so that you can change positions of buttons or CTAs to improve click-through rates.
Analytics come with beautiful graphs and refinement options that allow you to choose by date and narrow down your current progress.
Over time, analytics will allow you to refine not only your email campaign but also your website so that you can generate more subscribers and increase your list's reach.
A/B testing is available for your subject lines and includes a full report so that you know which subjects get the most clicks and which are less profitable.
When you have all this information available to you, plus all the other tools including integration with multiple different platforms, you can expand your email campaigns drastically. There are unlimited users, unlimited subaccounts, customizable unsubscribe pages and premium support available to users.
Automizy does offer a 14-day free trial so that you can give this platform a try.
Automizy Alternatives