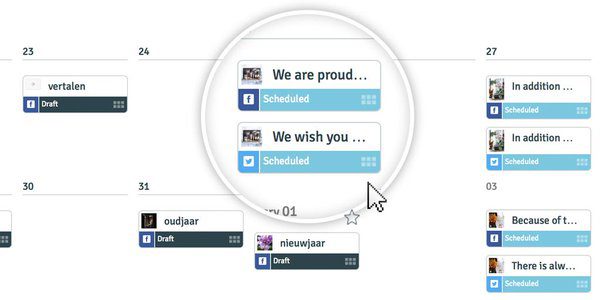 ---
Similar Tools
---
ContentPulse Features
ContentPulse is designed to help you streamline the content you and your team produces. You can use the platform to create, approve and discuss your content using a platform that streamlines the content process.
There are two main platforms: ContentPulse Social and ContentPulse Enterprise.
Key features in the ContentPulse Social platform include:
Social media content management
Multiple social media platform integration
Built-in collaboration and discussion
Pros
Free version available
Manage all you content in one place
Streamline your content process
Cons
No video features in free version
Social Media Content Management
Social media management is at the heart of ContentPulse. Management allows you to work all in one place to handle all of your content. You can use these tools and features as a team to collaborate across channels and keep your social media strategy in motion.
The platform offers a robust calendar, with:
Views of your content using a simple, easy-to-read list
Overview for your entire week of posting
Overview for your entire month
Comprehensive views allow managers to stay on top of their social media accounts with greater ease. The calendar view is flexible, allowing you to reschedule your content when necessary. The rescheduling has a drag n' drop feature that allows you to:
Copy your planned schedule
Reschedule content when necessary
When you create content, there are instances when timely content must be rescheduled. The content may not fit the narrative of the day or current political climate, but that doesn't mean that the hard work and effort put into the content goes to waste.
Instead, you can copy the content to place it on other social media channels or simply reschedule it to a time in the future.
With the drag n' drop functionality, anyone can make rapid changes to the content calendar.
If you're working with large scale campaigns, the ability to make changes to your calendar will arise. Thanks to the built-in functionality, you never have to spend excess time on making these unforeseen changes.
Multiple Social Media Platform Integration
When it comes to social media, you need to leverage multiple platforms to get your message across. A lot of the social media tools available will now collect some of the most important platforms on the market today. When you sign up for the service, you're able to choose between three different tiers of service, with the middle and top tier offering full integration for:
Twitter connections
Facebook posts
Facebook videos
LinkedIn connections
YouTube videos
Being able to add all of these different social media platforms to your calendar and add posts allows you and your team to schedule a month or two worth of posts in a single sitting. You're able to have 2 to 10 users active on your platform at once, and you can schedule unlimited posts.
The tool also incorporates team roles and free support so that you can always schedule out your posts in advance.
If you have any questions, the support team is always available to help you, and you can even archive your content for more than a month at a time.
Along with the collaboration and team tools available, you'll be up and running, posting on your preferred social media platform within minutes of creating an account.
Built-in Collaboration and Discussion
As your social media and business grows, you will want to add team members that will help you with the discussion and collaboration of your soul social media posting. ContentPulse allows you to collaborate with teams in several different ways.
You can incorporate email alerts so that you can quickly email different team members. This ensures that everyone is always on the same page.
Team roles allow different team members the ability to take control of different social media platforms for their posting. You may create a team role for a specific individual that allows them to take full control over the Facebook posting of your company. Along with this, you can have between 2 and 10+ different members as part of your project.
These members can collaborate and discuss the current social media plan directly inside of the platform.
Whenever there are actions required by a team member who may not be online or currently collaborating with you, email alerts can be sent out immediately to get these people on the same page.
Over time, you'll have an entire team working on your social media marketing and content.
You can sign up for a free account that allows for small teams, just two users, to start taking control of your social media. The one drawback of the free version is that it does not allow you to access LinkedIn, YouTube or Facebook video features.