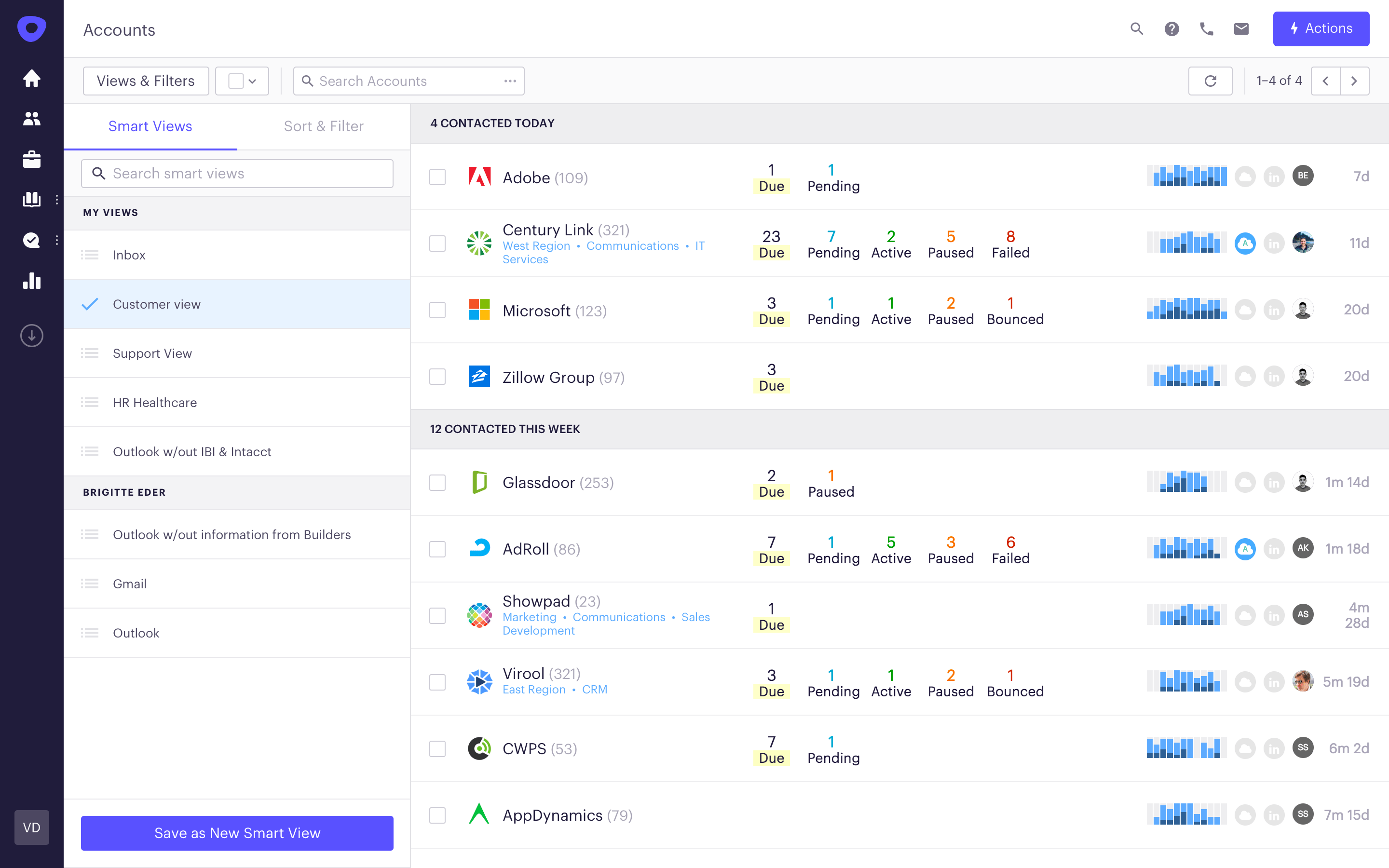 ---
Similar Tools
---
Outreach.io Features
Outreach is a sales automation platform that offers email tools to help you craft effective messages, track your emails and schedule message deliveries. The platform is trusted by Amazon Web Services, Zoom, DocuSign, Adobe, AdRoll and other well-known brands.
Outreach offers a wealth of features, but there are three email tools that will take your email campaigns to the next level:
Email Tracking
Blueprints
Email Scheduling
Pros
Easy to use & support provided
Increases the amount of touchpoints & conversion of your sales reps
Makes your sales reps more consistent
Cons
No transparent pricing on the site
Integrations could be a bit better
Email Tracking
Outreach's email tracking software gives you all of the information you need to make quick and informed sales decisions.
The tracking features offered by Outreach allow you to see where prospects are in the buying cycle, so you can tweak messages as needed for effective timing. You also gain insight into your customers' preferences.
Of course, you also enjoy the more obvious benefits of email tracking, such as seeing who opened your emails. Important data such as this allows you to offer a timely response and connect with customers at the perfect time.
When you use Outreach, you have the option of placing emails using a variety of categories. These categories help classify prospects for even more targeted outreach and effective responses. For example, you can attach lists and tags to prioritize and categorize your prospects.
Outreach also provides other valuable metrics, like bounce rate and delivery rate, which can help you further tweak your email campaigns. A high bounce rate and low delivery rate may indicate that your messages aren't being opened for technical reasons. Emails may no longer exist, or there may be other boundaries keeping your messages from landing in your prospects' inboxes.
Email tracking is a valuable tool that helps you gauge the success of your campaign. Outreach offers these tools right from their platform, making it quick and easy to access them.
Blueprints
Creating successful emails can be a challenge. The right words can compel users to open your message and take the next steps. The wrong words will push users to hit the "delete" button and ignore communication from your brand.
Outreach's Content Blueprints is a powerful tool designed to help your sales team use the best practices when sending emails. Their content templates are tried and tested to provide you with effective guidelines for your messages.
For example, Outreach's "Reply Follow Up" blueprint will send a short-but-sweet follow-up email to your original message, bumping your email back to the top of the recipient's inbox.
Content Blueprints are just a starting point for your sales emails. They are the foundation for your messages, but you have the ability to customize and personalize every email you send. Outreach even indicates where you should add custom notes to your recipients, such as explaining what your brand does.
Outreach's Content Blueprints are easy to access and use right through the platform. Any time you create a sequence, snippet or template, you have the option of using a Content Blueprint. All content can be previewed before using it. You can even view the content created by your team, so you always have a starting point for your messages.
Pro tip: Read our blog on how to create cold emails which convert.
Email Scheduling
With Outreach, you can schedule email deliveries quickly and easily. Before sending messages, the platform will check account throttles (rules that determine when emails can be sent and how many can be delivered) to figure out which messages can be sent immediately.
Outreach's Sequence Scheduling determines when emails can be sent to prospects. This feature ensures that emails hit prospect inboxes when you want them to – instead of during off hours when they will be less effective.
The scheduling tool is especially effective if you have prospects across multiple time zones.
Schedules are simply time blocks that you can set up for certain days of the week. These blocks indicate the times when emails can be delivered, so they are delivered on-time and at just the right time.
For example, let's say that you have step emails. You may schedule Step 1 to be sent on day one, and Step 2 may be sent three days later, or the next available time block.
Sequence Scheduling is just one piece of the puzzle when scheduling email deliveries. Other factors include:
Daily Max Domain, which controls how many emails can be sent through a specific domain, and
Daily Sending Limits, which control how many messages can be sent from Outreach each day.
Outreach offers a robust collection of email tools to help you craft effective messages and ensure that your emails reach your prospects' inboxes. If you're interested in using Outreach, you can request a demo to get started or request pricing through their online form.
Outreach Alternatives