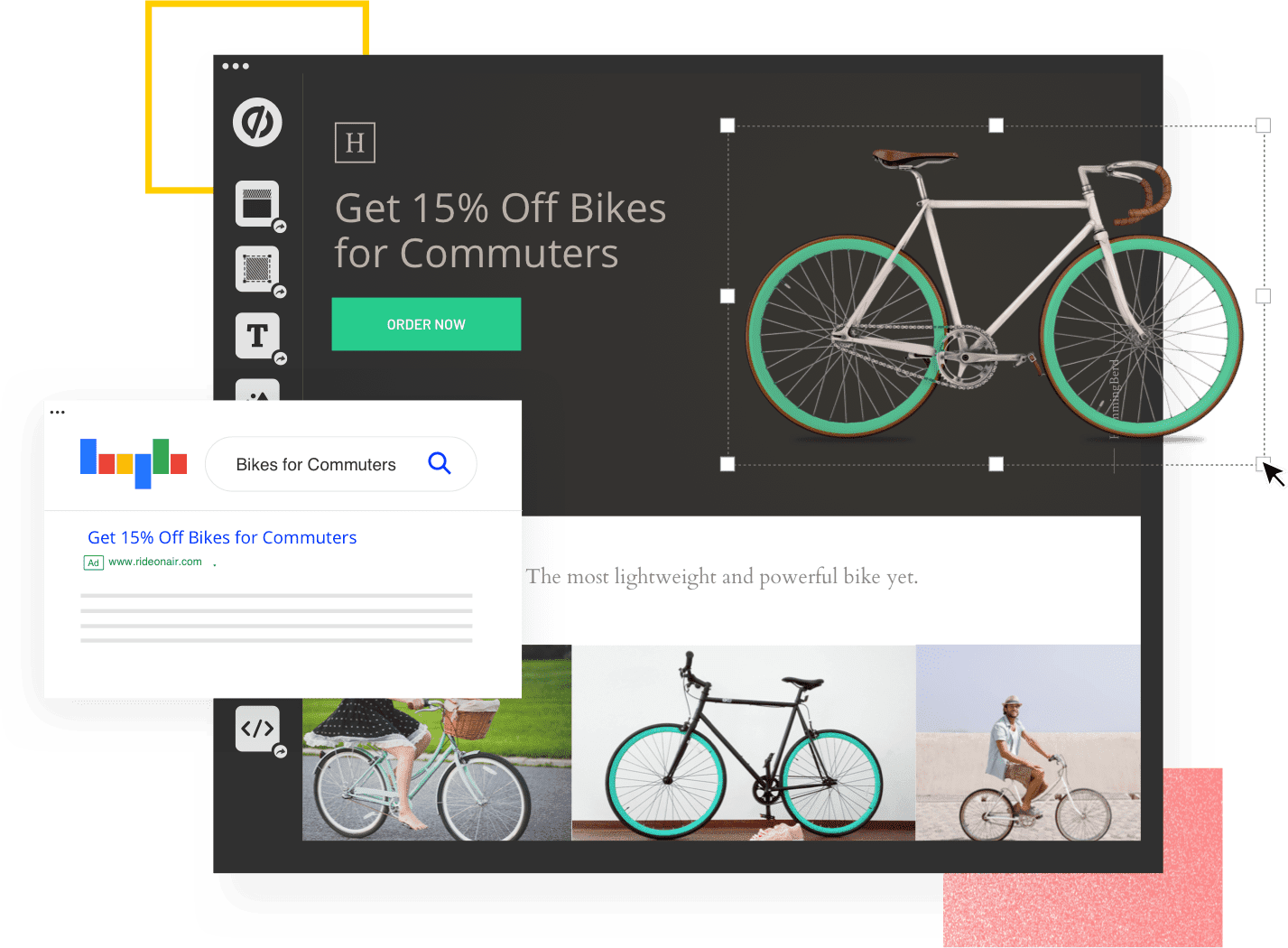 ---
Similar Tools
---
Unbounce Features
Unbounce is a leading landing page creator that requires no coding, and it's designed to provide the highest converting campaigns with the introduction of conversion intelligence. The company offers a 14-day free trial, and it is trusted by 15,000 brands.
The leading features of Unbounce include:
Landing pages
Popups and sticky bars
Conversion intelligence
Pros
Great reviews & scores on all comparison sites
Lots of examples & templates to get started quickly
Easy drag-and-drop system
Cons
Price point, more targeted for the bigger companies
Landing Pages
Once you get someone on your site you want to show them relevant content. With the custom-built landing pages from Unbounce, you will get more leads, sales, and signups as your visitors will see exactly what they are looking for.
You can easily create your own landing pages without going to a developer, Unbounce offers an easy drag-and-drop system and ready-to-go templates. Connect the tools you are already using to Unbounce to get the leads exactly where you need them, without any manual work.
Properly designed landing pages can mean the difference between high conversion rates or product failure. Creating landing pages can be very difficult, and the difficulty goes well beyond copywriting.
With Unbounce, you can enjoy:
Drag and drop functionality to create landing pages without any coding.
Desktop and mobile compatibility so that you never have to worry that a lead won't be able to view your page properly.
Access to 100+ templates that will allow you to create highly converting landing pages in seconds.
Publish to your domain directly through WordPress thanks to the landing page plugin.
Add custom functionality that allows you to add in HTML, CSS, and JavaScript to include tracking pixels or any custom functions that are not built into the platform.
When you use this platform, you can connect to 1000+ marketing tools so that you can automate the process from lead to CRM. You can even use Zapier to connect to the tools you already use. This allows you to reduce the workload of your sales team and automate a lot of the processes that are time-consuming and complex.
You'll also gain access to free images from Unsplash. There are over 850,000 professional images and all of them are copyright-free, so you can use them on your landing pages.
Popups and Sticky Bars
If you want to increase your sales, it's important to know that 96% of your visitors are there to browse your website and not make a purchase. You need to change your thought process to ensure that you can provide relevant offers and nudge visitors to become buyers in new and innovative ways.
Unbounce allows you to create popups and sticky bars that you can present to your readers with offers in a way that is not intrusive and unique.
You can use Unbounce to:
Create popups by dragging and dropping different elements and never having to write any code by hand. It takes just a few clicks to get started.
Target the users you really want with popups using dynamic keywords based on a visitor's search terms. If a visitor searches for a keyword that is a potential buyer keyword, you can target them specifically.
Test out new promotions and product announcements in seconds. You can use popups for lead generation and to provide limited-time deals or coupon codes to different visitors.
Popups can be used as a new way to engage with your audience by providing them with valuable content and then converting them into customers.
But you can also use sticky bars in the same way.
These mobile-friendly tools allow you to create and maintain a user-friendly experience while also offering seasonal offers or discounts.
For even more power, there is A/B testing built into the platform so that you can experiment with different messages and offers and find the one that converts best with your audience.
You can also refine who sees your offers by using trigger-based actions. These actions can mean that users were ready to leave your page, they clicked on a certain page or link, or you can opt to delay the popup so the reader is able to read your content and then see your promotion.
Conversion Intelligence
Conversion Intelligence is one of the leading features that you'll find on Unbounce. What this feature does is incorporates artificial intelligence insights into your campaign. Artificial intelligence will allow you to create the highest converting landing pages possible.
Using machine learning, you will be able to analyze the behavior of your leads and view valuable insights.
After you know these insights and behaviors, you can apply them to your marketing to increase your conversion rates.
When using Unbounce, you'll be able to:
Create landing pages that use benchmark reports to understand how to assemble pages for any audience.
Optimize your landing pages, so that you can improve conversions.
Shorten your testing cycles by turning the data you receive into actual actionable recommendations.
Conversion intelligence will allow you to continually optimize your pages to ensure that they're converting at the highest rate possible. These changes may not be the only changes that your landing pages need, but they will provide you with direction on how to increase conversions and enjoy higher revenue.
Smart Traffic
Once you have built more landing pages you always want to make sure that your visitor sees the most relevant one. With the Artificial Intelligence (AI) powered feature from Unbounce, you can send your visitor to the landing page which is most relevant to them. They already start optimizing after only 50 visits if needed, so it works for any size business. Get the best conversion rate possible on your landing pages by using the smart traffic feature. How does it works?
Create variants on the landing pages
Set your conversion goals
Turn on Smart Traffic
Optimize automagically
They can't make it easier to increase the conversion of your landing pages.
Unbounce Alternatives:
Leadpages (not listed)
ClickFunnels (not listed)
Lander (not listed)