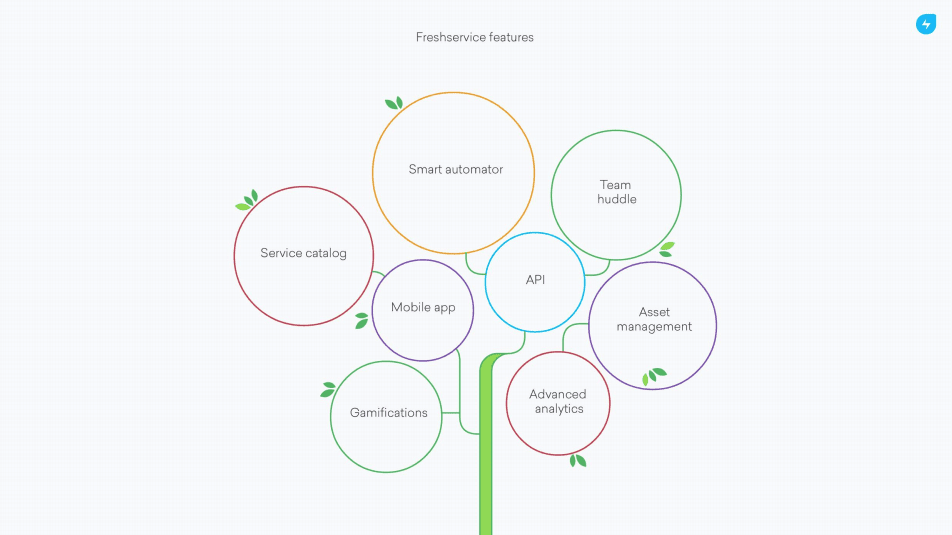 ---
Similar Tools
---
Freshservice Features
IT is an essential part of the 21st century business, and whatever market you are in your company will use a computer network system of some sort. The time-worn image of the lazy IT Department, with its 'turn it off and turn it on again' running joke, is not a reflection of the demands on a modern IT team no matter how large or small the team.
Instead, this is one of the hardest-working departments of all, with a requirement to keep on top of developments in what is a fast-moving industry, and keep your system updated, maintained and running perfectly constantly. Things will go wrong, and that's when you can take advantage of a proven IT solutions package such as Freshservice.
Below, we will look at the many features of Freshservice in detail, but first a quick look at what it's about and why you might need to upgrade your current IT helpdesk solution to Freshservice.
Pros
Part of the Freshworks suite
 Automation on It issues
Cons
Database query times could be optimized
How Freshservice Works
Freshservice is an IT Service Desk solution that is based in the cloud. The advantages of this are many, including no space taken up on your internal servers and the ability for remote operation. It's a neatly designed system that comes from the Freshworks family of business management solutions and is highly regarded by users in many different areas of commerce and industry.
For smaller, growing companies Freshservice represents an affordable way to use an up to date and fully functioning IT help desk solution that will make life easier for all involved. Is it for you? Let's have a look at some of the features and benefits of using Freshservice.
Multi-Channel Support
IT is not just about computers in the 21st century, as it's very likely your telephony system is linked with your network in some way. Freshservice can handle support via email and telephone and is able to automate simple tasks. It can be used to communicate issues to more than one person and is surprisingly easy to set up and use. Users require only a small amount of training, and teams will find it frees up time thanks to the automated functions that are designed to help productivity.
Incident Management
With detailed records and data collection, Freshservice can be used to handle any type of incident and keep all who need to know up to date with the status of a problem or request throughout. Simple notifications can be used to keep people in the loop, and it also includes a detailed database of all problems, their solutions and the time taken for reporting and analysis purposes.
Asset Management
Freshservice is not just about problems with the IT network as it also incorporates a comprehensive asset management solution. This is important in modern businesses where keeping track of the hardware and software involved in IT and telephony systems can be difficult when performed manually. With details of expiry and required update terms, your team will always be ahead of the curve in terms of necessary improvements and upgrades thanks to the cloud-based information storage of the Freshservice package.
Improved Employee Experience
Providing a comfortable and efficient working environment is part of getting the best out of your team, and with Freshservice they can attend to problems with computers and telephone systems quickly and easily, with improved responses from the appropriate team members. Freshservice can automate replies to standard and frequent questions with a template that you can tailor to your needs – great for when there is a known problem that people may or may not come across – and is also able to send group messages and more. You can also introduce fun into the helpdesk experience with elements of gamification available for further engagement.
Is Freshservice the IT helpdesk solution you are looking for?
Conclusion
Your IT helpdesk is a central element in the smooth operation of your business. Freshservice is designed to make things run as efficiently as possible in terms of attending to simple IT problems – the automated response feature helps a lot here – and where there are major problems allows all involved to be kept up to date where necessary. It's simple to use and effective and does not require great investment to bring an already operational help desk into the modern world.
There are many features that are IT-related and others – such as the databases – that can be used beyond the IT requirements, and it makes a sensible choice for any business that needs to improve the efficiency of the helpdesk experience for its employees.