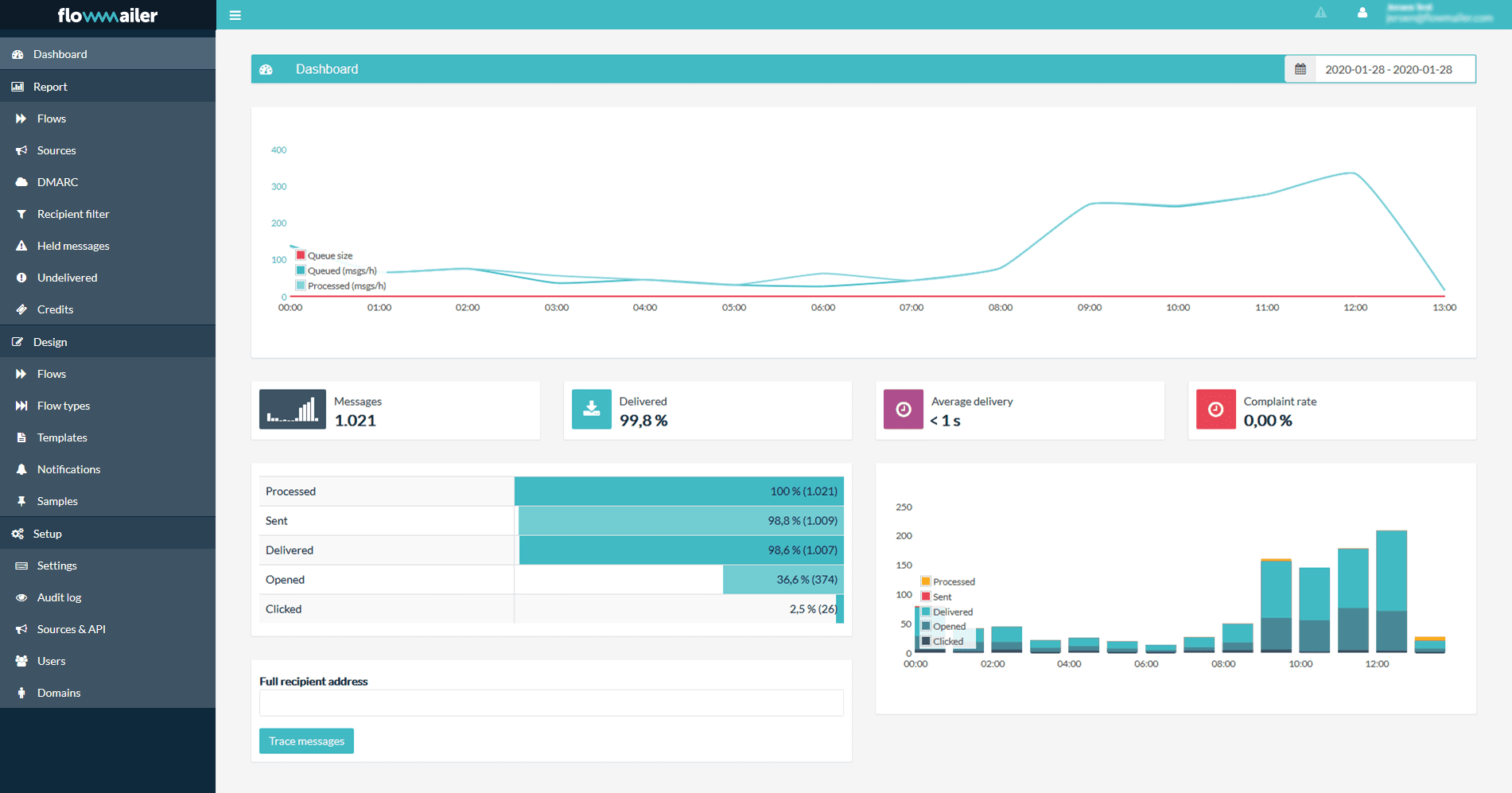 ---
Similar Tools
---
Flowmailer Features
Flowmailer is an email delivery platform with robust features to ensure that your messages reach the inboxes of your customers. Track emails, use advanced templates to craft professional emails and send messages with API and SMTP.
New customers can sign up for a free trial account, and two subscription plans are available to suit your email needs.
There are three main features that drive Flowmailer and make it the preferred choice for many brands:
Email Deliverability
Email Template Engine
Email Tracking
Pros
Domain reputation control
Template engine with endless personalisation possibilities
Easily connected to all source systems using SMTP / REST API
Cons
'Requires' a technical users (or Flowmailer support)
Less interesting for smaller businesses with low ROI
Pro tip: check out this blog on why you should care about email deliverability.
Email Deliverability
With Flowmailer, you never have to worry about email deliverability. They will help ensure that your emails meet the requirements for:
SPF (Sender Policy Framework): Prevents your emails from being labeled as spam by your recipient and ISPs.
DKIM (Domain Keys Identified Mail): Enriches emails with cryptographic signatures, which ensure that emails contain valid information from authorized senders. Flowmailer gives all emails unique DKIM signatures.
DMARC (Domain-based Message Authentication, Reporting and Conformance): A protocol senders should use. DMARC allows recipients to check whether messages are authorized by the named sender. Flowmailer offers support for DMARC and helps you with this protocol.
Flowmailer helps brands get their messages across, reducing the risk of being labeled as spam. More messages reach the inbox of targeted customers to increase conversions and keep you engaged with customers.
Template Engine
Crafting the perfect email is both an art and a science. Flowmailer makes it easy to craft effective emails by offering advanced email templates. Responsive emails ensure that your messages are readable on all devices and are displayed in a professional way.
Flowmailer also makes it easy to reuse content from other source systems, saving you time. You can also personalize, restructure and add conditional elements to emails.
Users have complete control over their templates, which can be edited using HTML or Flowmailer's WYSIWG (What You See Is What You Get) Quick editor. The Quick editor allows you to edit templates without having to worry about coding.
All templates are based on the Freemarker template engine, which allows conditional content, personalized content and more. Flowmailer has its own functions. In-memory orders can be converted to JSON, which can be imported into Flowmailer. Flowmailer will then send a confirmation to the customer.
The templates offered by Flowmailer can be personalized for increased engagement and also allow you to:
Include order details
Use conditional content
Generate PDF attachments
Flowmailer's templates are just a starting point. They can be customized to your needs and to be in line with your brand. This ensures that your emails are always recognizable by customers and on point with your message.
Email Tracking
Email is an effective marketing channel, but how can you tell if your strategy is working? Flowmailer's tracking tools will help ensure that your email campaign is getting the results you desire.
Are prospects even reading your emails? With Flowmailer, you can track each message to see if customers are reading or engaging with your messages. Are they clicking over to your landing page? Are they receiving your invoices?
Flowmailer's tracking allows you to watch your email's journey, so you can determine if your strategy is achieving your goals. If your emails aren't performing the way you want, you can take steps to tweak your strategy.
If necessary, you can use Flowmailer to resend archived messages, even to different email addresses. Flowmailer's Tracking features are designed to help ensure that your messages are landing in your customers' inboxes and that they're being opened.
To help you see your results clearly, Flowmailer generates reports. These reports provide clear and detailed information about each email you send, including the email client. This data provides you with important insight into your email journey, how customers are interacting with your messages and the devices they are using to access your messages.
All of this data can be used to improve your email strategies and achieve your desired results. It can also be used to better engage with your customers by creating messages tailor-made for their devices and platforms. Improving prospect engagement can improve conversions and customer relationships.
With Flowmailer, brands can improve their email delivery rates, quickly generate professional emails and track emails using one simple tool. Flowmailer has two subscription packages: Go! and Pro. The Pro plan is designed with larger enterprises in mind. It includes training, audit logs, unlimited server domains and more.
The cost of the subscription depends on how many emails are sent each month. Flowmailer offers a cost estimator and a free trial account, so you can gauge whether this service will be a good fit for your brand.
FlowMailer Alternatives