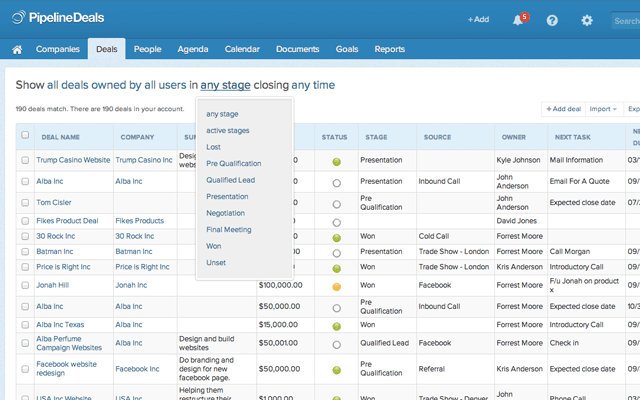 ---
Similar Tools
---
PipelineDeals Features
PipelineDeals helps sales teams close deals faster by offering easy deal management, communication tool integration and CRM tools. Spreadsheet-style organization offers a familiar setup, and customer support is top-notch.
PipelineDeals is used by teams across every industry, with some of their most notable customers being FujiFilm, Monograma, Reece Supply Company and Matific.
The platform offers a wide range of options, but three standout features include:
Pros
Built for and by Sales People
Focussed on closing deals (faster)
Good pricing
Cons
Unclear Layout of Contact Info
View and Manage Deals
PipelineDeals allows you to view and manage your deals at a glance from one centralized location. The platform gives you control over how you see your deals, from helicopter view to detailed customer profiles.
List view: View all of your deals in a customizable list, and use filters to find what you're looking for. In List View, you can see the customer's name, deal value, status, meeting dates and more. A quick call button makes it easy to contact any customer in your sales pipeline.
Deal profile: Get a more detailed look at your deals with in-depth profiles. See what stage the deal is at, the value of the deal, expected close date, contact information and more.
People: View all of your tasks and conversions for each deal from one centralized location.
To help you close deals faster and keep your operations organized, PipelineDeals has more than a dozen integrations. The platform works with the tools your brand is already using, including:
QuickBooks Online Plus
RightSignature
Outlook
PieSync
Excel
Google Chrome
Help Scout
Bitium, and more
Integrations help you collect data, so you can start creating and viewing reports through PipelineDeals.
Reading tip: The 10 best Sales Books of all time
Easy Customer Relationship Management
PipelineDeals simplifies customer relationship management (CRM). It's designed to organize your data like a spreadsheet, which is how many sales teams track leads and deals. The familiar design makes it easy for users to get started with this platform.
Integrations with tracking and communication tools automates the management of your spreadsheets, saving your sales team valuable time. PipelineDeals allows for team collaboration and easy deal management for all stages of sales.
When you first open an account with PipelineDeals, the platform will walk you through a number of steps to get you started and introduce you to their features. You'll learn how to add a person, deal and task as well as how to send an email and customize your settings.
The platform's interface is simple, straightforward and user-friendly. To help you better understand their platform, they pre-fill your account with sample data.
All of your data is organized in spreadsheet-style. Columns can be filtered, sorted and even saved as separate lists. Rows can be selected, and you can perform different actions for each one, such as deleting contacts, assigning tasks or sending emails. You can even reassign records to different team members.
Adding data is easy. Just press the plus sign at the top of the screen to add a new deal, contact, task, person, event or user. For a more automated approach, you can simply upload a CSV file or import your Vcards from Microsoft Outlook.
Each new entry has an unlimited number of custom fields that can be added as well as tags to make it easier to find what you need.
PipelineDeals set up their platform to offer different permission levels for data viewing.
Sales teams can only see their own data.
Managers can view all of the deals in their department.
Executives can see everything.
New users can be assigned different permissions, including the ability to export reports and delete records.
Connect Workflow Solution
PipelineDeals' Connect workflow solution allows for complete integration into email platforms. The platform's sales and account management features are available right through the user's inbox.
Any IMAP service can be integrated into PipelineDeals, including Microsoft Outlook and Gmail.
With PipelineDeals, you can even create professional email templates that save you time and boost productivity. When writing emails that you want to use in the future, simply click "Save as new template." Templates can be used when sending individual and mass emails. Merge tags will automatically insert the contact's name or other unique information for personalized messages. Merge tags can include first names, last names, company names and work emails.
PipelineDeals offers a 14-day free trial (no credit card required), and pricing is optimal for small- to mid-size businesses. During the free trial, you will test out the platform's most advanced service tier – Grow. The trial gives you an unlimited number of seats, process automation, advanced analytics, email solutions and more.
Reading tip: 10 best CRM systems for SMB's