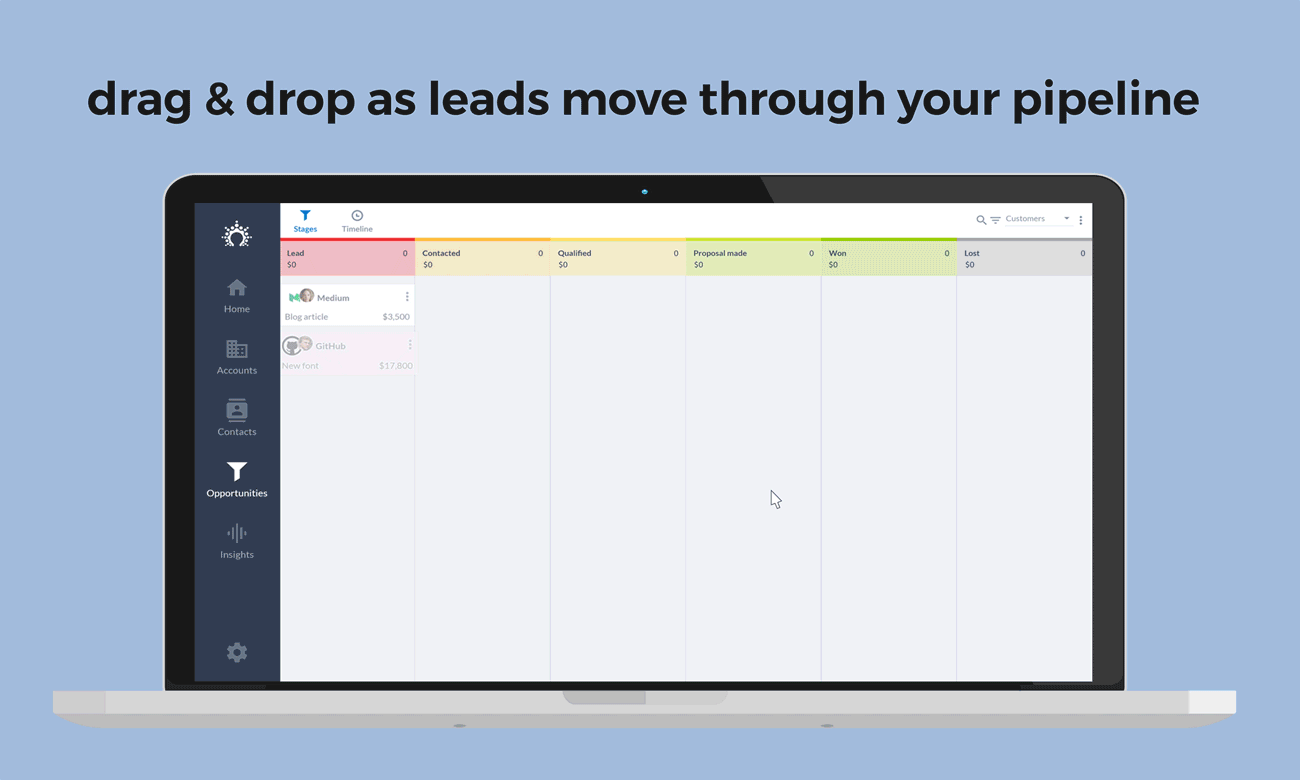 ---
Similar Tools
---
Salesflare CRM Features
Salesflare relies heavily on intelligent, automated systems to help enhance your business' operations and streamline your sales. Monthly and annual licenses are available, and you can use the free trial to see if Salesflare is a good choice for your business.
Less admin work and more sales are the key goals of this platform. You can achieve these goals with three main features:
Automated and intelligent information
Opportunity tracking
Integration with 400+ productivity tools
Pros
Easy interface and ready to use
Quick and responsive support
Better pricing than competitor CRM systems
Cons
Not too many native integrations (can be fixed with Zapier)
Automated and Intelligent Information
Automation saves your team time and your business money. Salesflare focuses heavily on intelligent automation with:
Automated contact and company info. The CRM does the heavy lifting that takes hours per week for sales teams to enter. The platform gathers information on leads using several avenues, including LinkedIn, emails, social profiles and email signatures. The information is instantly added to your address book.
Meeting and call logging. Reporting on meetings or calls is time-consuming. The platform connects your mobile phone to your calendar for basic logging. Advanced logging of both the meeting and call are available.
Customer folders. Every customer will have their own folder that allows for easy organization and tracking of files and documents.
Automation allows your sales team to save time performing mundane tasks and more time catering to potential leads.
Opportunity Tracking
Opportunities require quick, decisive action to be taken by you and your team. Leads need to be nurtured rapidly, provided with top-tier service and given the attention they need to move along in your sales process.
One smart overview allows you to keep track of potential leads, see what information you need to provide and take action on, and also see what action is due to move an opportunity forward.
The ability to see actions to take allows you to make smart decisions to convert more leads to sales. You can also decide that now is not the time to continue pursuing a lead. In this case, you can:
Set reminders to follow up with a lead in the future
Assign the task to someone else in the group
Customer reactions are logged and provided so that users can follow up based on the reaction of customers. You'll be able to track the opportunity, including:
Did the customer open the email you sent, or did it get lost in transit?
What pages the customer visited on your site to provide a more refined experience when calling.
Real-time notifications that alert teams when a potential lead has taken a certain action.
Following up in an informed manner increases the chances of being able to convert leads. The opportunity to know what customers may be interested in and what actions they have taken is a powerful way to customize your sales approach.
You can also call the lead and ask if you can assist with their needs or answer any questions pertaining to the last product or service that the lead visited.
A robust set of tracking options allows you to:
Track emails
Track link visits
Track website activity
Salesflare allows you to know your customers more intimately before you even pick up the phone or reach out to them.
Collaboration tools allow teams to split talking to a customer and closing leads. Team members can follow the customer conversation from all forms of communication and share the entire conversation if needed.
Integration with 400+ Productivity Tools
Your business likely has tools that you already use to stay productive and make sense of your customer data and information. You can integrate with 400+ productivity tools to keep your data where you want it when you need it most.
Salesflare CRM enables you to connect to tools, such as:
Gmail
iCloud
Exchange
Office 365
Piesync
Salesflare can integrate with additional, powerful tools, such as:
The tools your team works with allow for fast, streamline sales and customer service. Integrating these tools adds to their power so that you can continue using your favorite solutions alongside the power of Salesflare.
Ease-of-use and the ability to quickly integrate with your existing tools make Salesflare a good option for smaller businesses that want a new, exciting way to manage their customers. Intelligent automation propels sales forward by enabling a faster, more robust way to go from the initial call to the final sale.
Salesflare is also always improving their product, adding tools and features that users request.
If you do need to contact customer service at any time, the customer service is phenomenal and will help you through any problems that you have, making it worth supporting Salesflare even if it's just a trial run.
CRM and Sales related blogs:
Sales related blogs:
SalesFlare Alternatives