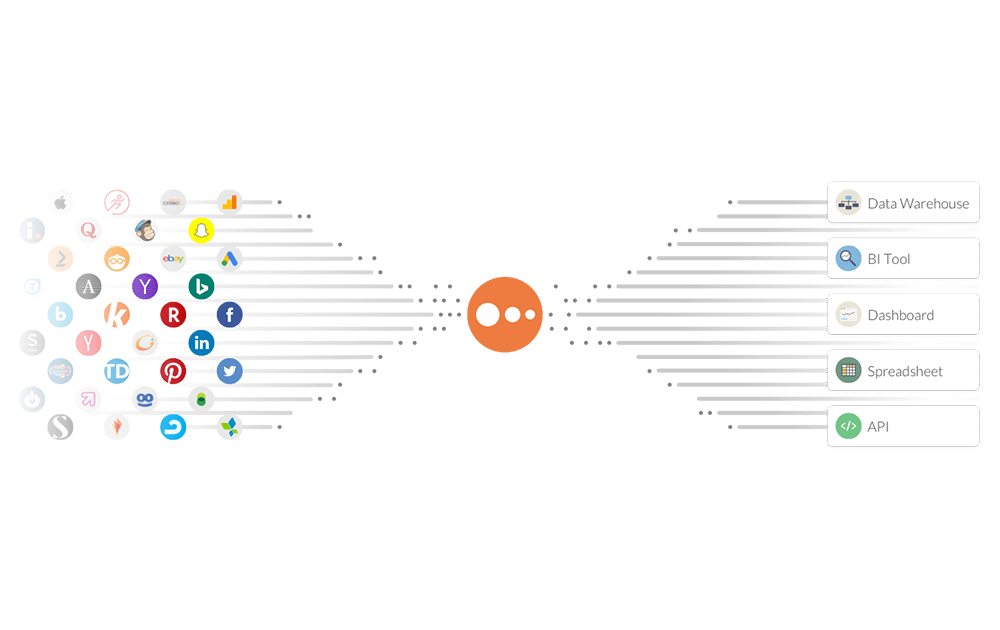 ---
Similar Tools
---
Funnel Features
The 'Digital Age' has brought with it a wealth of changes, not least in the way we do business. Commerce relies very much on digital marketing channels, and the market changes very quickly in terms of what is up to date and what might be outdated.
Automation is always a bonus, and with Funnel – a platform that is becoming increasingly popular due to its effective channeling of marketing data to wherever you want it when you want it – time can be saved in data acquisition across the board.
As a leading automated data collection platform, Funnel is designed to integrate with most of the majority of tools used in business analytics and marketing automation and comes with a variety of features that make it a very versatile package.
Pros
Combine over 500+ data sources
Use your favorite reporting tools 
Once set up it will keep updating your data
Cons
High pricing
It can be hard to get started
Processing time can sometimes be a bit slow
How Funnel Works
Like many data collection and analytics tools, Funnel works across a variety of features that are used to collect information from sources you specify and send them to locations you also specify. As it is comprehensive in the platforms it can be used with; Funnel is easy to use and highly effective.
How does it differ to other data acquisition and analysis tools? It is true that it offers similar benefits in terms of streamlined digital marketing and analytics tools, but it does bring everything together in a unique way that makes it attractive to users. Some of the unique and interesting features of Funnel are described below.
Features of Funnel
500+ Data Sources
Where Funnel wins many fans is in the amazing variety of platforms from which you can choose to 'funnel' your data. These include the major, well-known names such as Facebook, Google Ads, Instagram, Twitter and more, plus many more lesser-known and often specialized sources that your business may use. MailChimp, Salesforce, Manage, AdCash, and the likes of Gumtree are all potential sources of marketing data, and they are just some of the 500 and more sources you can specify. It's this sort of versatility that makes Funnel of interest to many different types of businesses.
‍Destinations
Where you can send your information to once you have harvested it from your chosen sources, and what you do with it, is equally comprehensive. The platform is developed to allow for full analytics and report generation as well as presentation, and the following are just some of the destinations you can use:
API and Data Warehouse – send your information to one integrated data warehouse location for use and display, easily and with effective results.
Business Intelligence – the data from your chosen sources can be channeled to the Business Intelligence Tools you use, such as Power Bi, Looker, Qlik and Tableau, thus allowing you efficient processing of data across a number of platforms.
Google Analytics – you can automatically upload the information from up to 500 data sources to Google Analytics – one of the most-used tools of all – in order to see how cost, click, and impressions performance is at all your data sources, social media, and otherwise.
Google Sheets – the ability to feed all the data into Google Sheets for processing and display is one of the most useful features of Funnel, as it is easy to use and versatile, and a great way of putting your data in a simple form for others to use.
The above are just a few of the destinations that can be chosen, and you are not limited to any when you use Funnel as your data acquisition and processing platform. The sheer variety of sources for data and destinations for processing with Funnel is simply unmatched elsewhere, and that makes this a very worthwhile tool.
Conclusion
Is Funnel a tool that you would use in your business? Given that it can channel data from more than 500 sources – and these are not limited to social media platforms but also use financial sources and more – it has a wide reach in terms of appeal, and is used by many household names as advertised on the website. It is easy to use and set up and is priced to suit depending upon your business's monthly spend, with the standard package designed to cater for those who have such an outlay at up to $80,000.
Where Funnel wins over some others is in its overall ability rather than being specialised in one area. It is used by everyone from major sportswear and fashion brands to tech outfits and online travel portals, and regularly gets particularly good reviews from users. It's not the cheapest tool on the market yet for this level of capability we believe Funnel is sensibly priced.