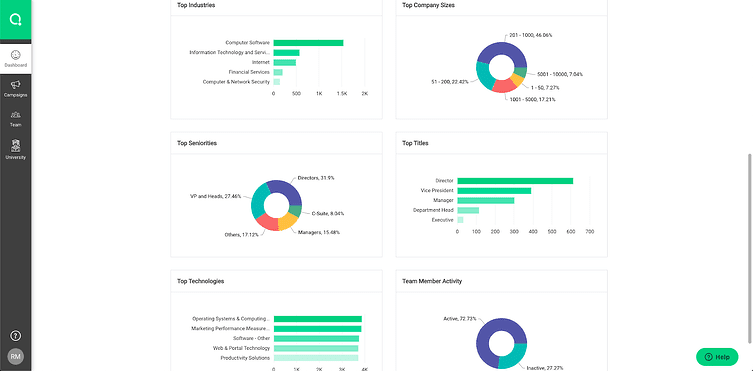 ---
Similar Tools
---
LeadIQ Review
Prospecting for clients is a time-consuming yet essential part of a growing business. You need to find the right leads at the right time, and to be able to engage with them so they will be more likely to convert. There are many tools and software packages that claim to vastly increase lead conversion. One prospecting tool that regularly gets impressive reviews from users is LeadIQ. A prospecting tool with a difference. In the following review we look at how LeadIQ works and whether it may be the right choice for your business.
Pros
Saves your Sales team time
Management insights
Integrations with your CRM‍
Cons
No free trial
Limited features in the starter package
What Is LeadIQ?
LeadIQ is one of many tools promising to increase your leads and ROI. However, it works in a slightly different way to most. Rather than prospecting from millions of potential clients using character analysis and data, LeadIQ starts with contacts you already have. This may appear to limit your potential prospects, but in fact, it is a clever way of streamlining your search and using your team's individual contacts too. How does it work? Let's have a look.
How LeadIQ Works
In the first instance, LeadIQ works as a Chrome Extension, which is a simple way of accessing a powerful tool. Once you have the LeadIQ tool set up you will see a dashboard that mirrors that of LinkedIn. Your list of contacts on LinkedIn is the ideal place to start prospecting, but you need to think wider.
Your team will also have LinkedIn contacts and as they will be given access to the LeadIQ dashboard they will also have a mirror list. You can start prospecting with your LinkedIn list straight away. Why is this useful? A good number of the contacts you have will be B2B contacts, and they are the first people to push your sales promotions to.
The clever bit with this initial role of LeadIQ is that you can then add those contacts to your preferred sales tool in a single click. The time saved in gathering a lot of potential leads is quite considerable, and LeadIQ takes things further with automated emails that are personalized for each contact.
Privacy Concerns
LeadIQ constantly updates and revises its contact data gathering and currently promises 90% verified email success rate. Privacy is also a major part of the LeadIQ tool and all contacts, when aware that a company has a LeadIQ profile on them, may 'claim' that profile.
This clever feature means the contact has full control over the information on the profile. This will only be business-related information and not personal. The contact will be able to amend the profile or request it be deleted. In many cases, the contact updates information and leaves the profile live. Contacts can see all data kept on the LeadIQ at all times.
Team Performance Data
In addition to giving team members the ability to prospect for leads, LeadIQ also features a detailed and useful management feature that gives managers insight into the performance of teams as a whole and of individuals. This clever data reporting feature shows the manager if a team member is already prospecting someone that another member is considering. Thus the problem of two or more people contacting the same potential lead is eliminated.
The tool can also show who is prospecting in a particular country or geographical area, what level of seniority they are concentrating on, and many more details as determined by the information in the contact's profile. It can also create a leaderboard of sorts. Allowing the manager to see who is prospecting most actively, what the individual's results have been and the relative performance of each. 
Such insight is essential in a fast-moving and growing company in order to ensure that sales and marketing teams are operating efficiently.
Pricing and Final Word
LeadIQ is available in three price packages, starting with the 'Starter' package. Ideal for smaller young businesses that are looking to boost leads, this package includes 250 verified emails, 25 phone numbers, saving to Google Sheets and contacts integrated to HubSpot. Price is $75 per user per month for up to 3 users.
The most popular package is 'Pro' which provides 500 verified emails and 50 mobile numbers plus the features in the Starter Pack. In addition, users can use Salesforce and Outreach integration, have access to the LeadIQ database, and also enrich columns up to 100 for greater detail. For use by medium-sized businesses that are already prospecting, this package starts at 7 users at a price of $10,080 per year. Should you need more features talk to the LeadIQ team about the Enterprise package which is the price of the application.
In summary, LeadIQ is a simple-to-use and useful lead generation and team management tool that will be useful to small and medium-sized businesses looking to add growth.