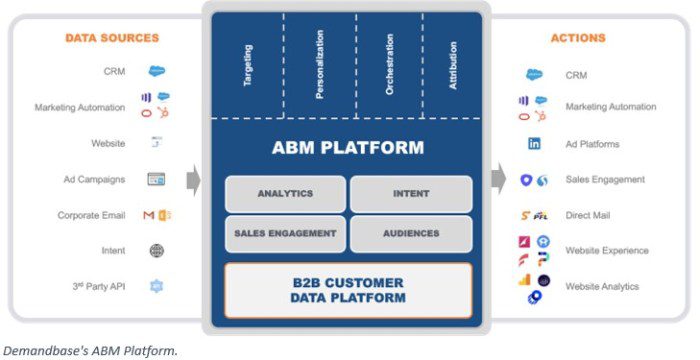 ---
Similar Tools
---
Demandbase
Personalization plays a large role in gaining leads for growing businesses. Consumers like to feel individual and important, and that applies on a B2B basis too. By engaging the potential lead via carefully considered communications and targeted ads, you can bring in more leads that are most likely to convert and improve your ROI. Demandbase is an account-based marketing (ABM) tool that uses cleverly designed features to help in your marketing and sales campaigns and is popular with small to medium sized businesses that are growth-orientated.
Pros
Great way to align Sales & Marketing
Target strategic accounts
Insights into the entire funnel
Cons
No transparent pricing
Not for smaller businesses
What is Demandbase?
Demandbase is a suite of tools that provide first class ABM ability to businesses looking at finding more leads, engaging with them and converting them into customers. It is popular with all types and sizes of business and especially those that are experiencing or searching for growth in their market.
Using a mixture of user-operated features and functions combined with up to the minute AI techniques, Demandbase has a strong standing in the market for business growth and lead generation tools and is easy to use, effective in many areas and affordable. The following brief description covers its use in Marketing and in Sales.
Tools; See all Lead Generation Tools
Demandbase for Marketing
Demandbase One is the marketing suite of tools that aims to help businesses and marketers find their leads, engage the leads and convert them into customers. It does so by way of cleverly automated functions that use both the user and AI in conjunction. With a broad reach across multiple channels, Demandbase is able to bring all marketing data into one place for use and analysis, making life easier for your marketing and sales teams.
The journey begins with the build routine, in which Demandbase brings together all the information about a potential target client and presents a comprehensive overall view of the data involved. BY way of automated systems it is able to measure engagement with your communications and analyse performance using account-metrics and data.
Demandbase One can identify potential clients that are in your target area by using its AI systems, and can send automated messages that are personalize to that client. It brings together website engagement and messaging as well as automating adds, interaction and further with likely leads.
With all the marketing and sales activity for individual contacts available for viewing and analysis in one place you are able to determine the point at which a contact is ready to convert and act on it. By prioritizing in this way you will increase your conversion rate.
Demandbase for Sales
For sales teams, Demandbase works in the same way as for marketing but also incorporates a powerful CRM. This can be used to monitor existing clients as well as pursuing new ones and offers a wide range of useful and versatile features.
Using a combination of AI technology and real time data gathering, the system looks at information from the CRM, emails, other communication methods and your website, as well as any mentions of your brand or product on other platforms. This comprehensive data gathering will then be used to notify your team of changes in behaviour either favourable or otherwise and enable them to get on to potential sales while they are live and fresh.
By coordinating these elements across the board and bringing together all the data on market movement from various platforms you are able to increase your sales and enhance your growth.
In short Demandbase is a clever tool that performs several important functions and keeps your teams in touch with what potential and existing clients are saying and doing in your market thus enabling you to act just in time and secure more business.
Pricing
Demandbase features a suite of tools that can be purchased together or as a selection of those that are applicable to your business. Some features may be surplus to requirements, so you do not have to buy them all. For this reason you need to contact the Demandbase team for a quote for your individual business needs and they will offer a tailored solution involving the elements that will be of use to you.
As the market for B2B ABM tools is a competitive one you will find that Demandbase prices in line with other popular brands from competitors, yet you may also find it more competitive as you are paying only for what you need. There is no free version of Demandbase but there are video demonstrations on demand at the website.