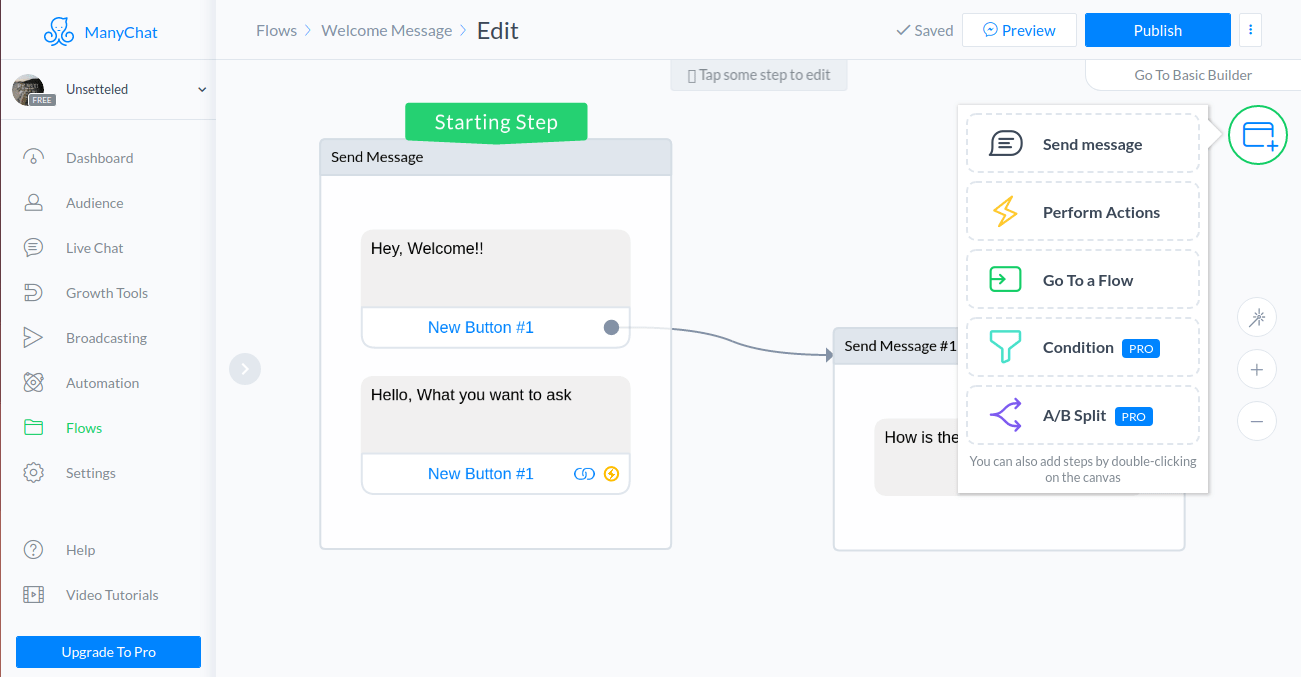 ---
Similar Tools
---
ManyChat Features
ManyChat offers a free and Pro platform that allows you to quickly get started with advanced bots. You can use bots to achieve your high growth goals using advanced quick start templates, drip sequences and other tools that allow you to market yourself on Facebook Messenger or SMS.
While there is a lot to love with this platform, the three main features that stand out the most are:
Drip sequences
Audience segmentation
A/B testing
Pros
Great for small teams
Based on a platform where your customers already are
Cons
The user interface is overly complex
Drip Sequences
One the most powerful ways to nurture leads is to create a drip sequence. Drip sequences allow you to send messages to leads over time. You can send messages a few minutes apart, or you can spread them out over weeks so that you can nurture lead without being too overwhelming or spammy.
Drip sequences will be one of your most powerful tools.
You can also use advanced quick start templates to speed up the process. These templates will allow you to create messages specific to your business faster and more efficiently. The templates have all been tested, and they work great for getting people to try your product or buy your service.
You'll also be able to leverage a flow builder that allows you to create custom messages and templates from scratch.
You don't need any coding to get started. Enjoy full customization to meet your business' needs and the needs of your consumers. There's also the option of broadcasting messages to the entirety of your subscriber list. This would be the same as an email blast, but they can be sent out to all of the people that are part of your Messenger subscribers.
When you send out broadcasts, the open rates are usually 200% to 1,000% higher than average, and they have extremely high clickthrough rates.
Add in a little bit of customization, and you'll be well on your way to marketing with great clickthrough rates.
Pro tip: Read our blog on drip marketing.
Audience Segmentation
Audience segmentation is extremely powerful and allows you to send different messages to different audiences throughout the buying cycle. When you properly segment your audience, you can further narrow down their needs and send messages that are highly targeted.
When you add subscribers to your Messenger list, you're able to track:
How these individuals opted into your bot
Which broadcasts they've received
What actions they took, such as clicking buttons
When you're able to segment your list of subscribers, you'll be able to send out more personalized emails to turn these potential leads into conversions.
You'll be able to leverage several other features, including connecting to Facebook ads, collecting subscriber data such as email of phone number, and using advanced automation tools.
There's also a buy button that you can add to your Messenger that will allow consumers to pay directly through Stripe or PayPal.
If members of your audience have subscribed to your email marketing through the platform, you're able to send each subscriber up to one email per month. You will also be able to send additional emails for a price of 0.003 cents per email.
And you can also send up to 50 text messages during your first month. If you would like to send additional text messages, you will be able to send them at a price of 0.01 cents per SMS.
A/B Testing
ManyChat knows and understands that subscribers may interact differently to different messages you send. You'll be able to use advanced A/B testing to test the click through rate and open rate of several different messages.
You'll be able to use this testing to increase the conversion rates of your campaign.
You're also able to send sponsored messages and use integrations with your:
Rich media conversions and additional growth tools will ensure that you're able to build a campaign that sets you and your company up for success. There are four main tools within this platform that also allow you to integrate with your website, Facebook ads, physical objects with QR codes, and also use advanced automation.
With the addition of landing pages and web widgets, you'll be able to start using ManyChat for all of your Facebook Messenger needs. Unlimited growth tools, drip sequences, audience segmentation and other features make this one of the strongest Messenger bots available.
You can create bots for many different Messenger campaigns. There are bots that will take reservations, send coupons code, qualify leads, collect data, sell products and even remarket to subscribers that have abandoned their shopping carts.
Building a bot is fun and easy with ManyChat.