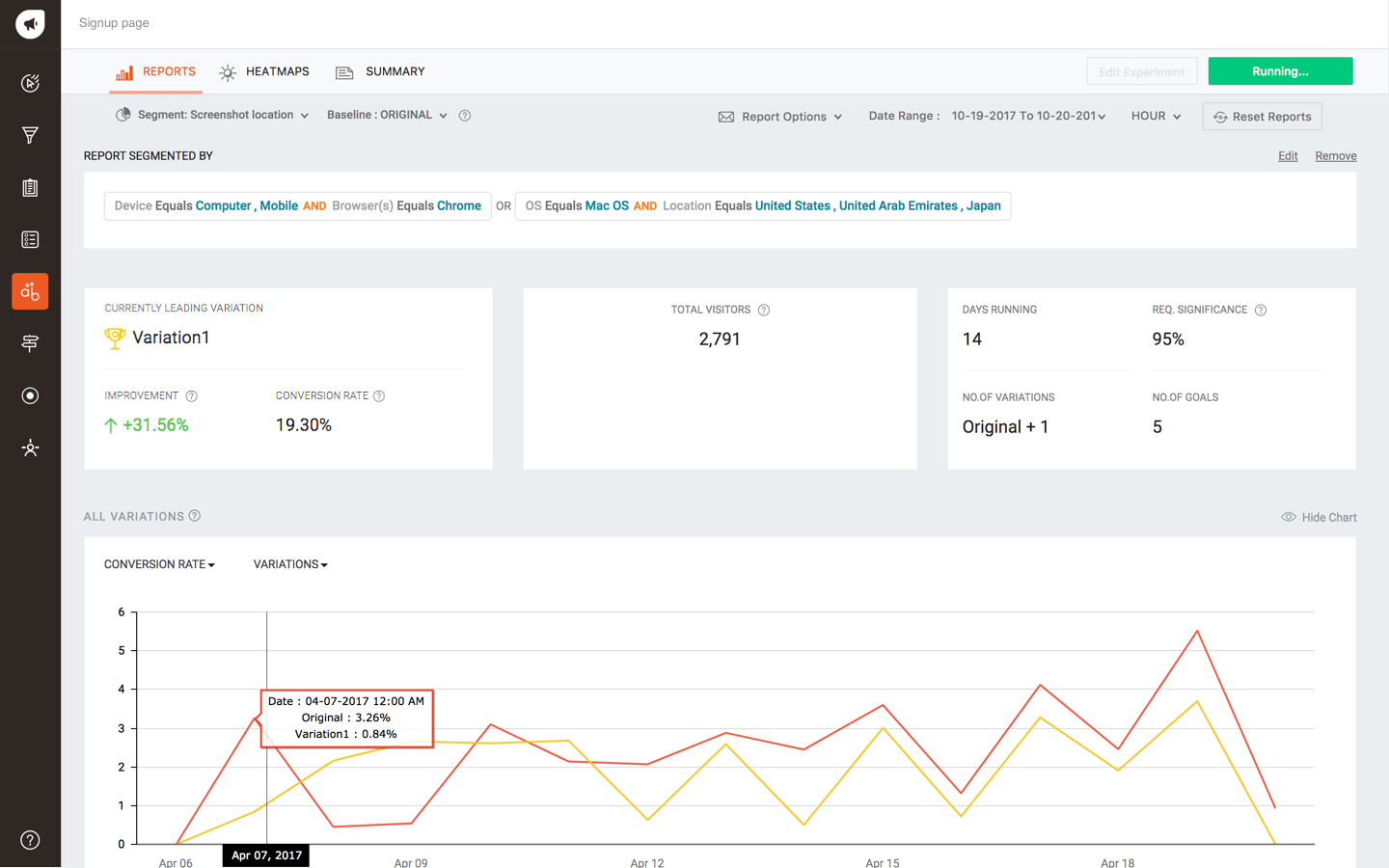 ---
Similar Tools
---
Freshmarketer Features
Online marketing is a vital part of any business, large or small. To grow a business requires exposure to many different platforms and efficient tools to help this happen. Many available marketing tools are cost-effective and proven, that will help you boost your online presence. 
Freshmarketer is one such tool that is aimed at digital marketers and agencies. It is used to optimize conversion rates by way of automated engagement and client interaction. Easy to use and with many features, Freshmarketer is worth a second look.
Used variously for marketing campaigns, for building custom and encouraging brand loyalty, Freshmarketer is also equipped with various analytical features that will also be of interest.
FreshMarketer is a part of the FreshWorks Suite which also contains FreshSales, FreshDesk, FreshChat ,FreshCaller, FreshTeam & FreshCaller.
Pros
Part of the Freshworks suite
Free plan where you have access to lots of tools already
Focussed on growing your business
Cons
Not all options in the free version
Pricing can become high if you grow fast and use multiple products
Technical knowledge is required for full advantage of advanced features
How Freshmarketer Works
Freshmarketer is available as a basic free version or a fully-featured paid option which requires a small fee. The latter is the better choice for serious business use. The tool includes various features that help with audience targeting, email marketing, marketing automation and more, each of which has been carefully designed to appeal to fast-paced marketing environments. 
The four main feature categories are neatly split so users can utilize them individually. Following are these main features.
AB Testing Tools
The Freshmarketer range of AB testing tools allows you to optimize different versions of your website and marketing campaign for specific audiences. Carefully designed to allow for excellent analysis and accuracy, the tools include the following:
Audience targeting
Heatmaps
Split tests
Test scheduling
Campaign segmentation
Landing pages
Statistical analysis
These are not all the tools available in this sector; there are many more. They are the features that a marketer or agency would want to use for directing their marketing campaign towards an audience – or audiences – that are relevant and likely to respond, and as such is an essential part of the Freshmarketer package.
Email Marketing Software
Email is one of the primary digital marketing tools and is used by companies who want to reach a broad range of clients quickly. It can be made more effective by way of automation, and the email features included with Freshmarketer include the following and more:
AB Testing
Event-triggered email
Mailing list management
Customer surveys
Subscriber management
Autoresponders
Optimized mobile email
Drip campaigns
Reporting and analytics
The above represents a comprehensive set of features that will be of interest to any business that needs to implement an efficient and versatile email automation solution, and the added features make Freshmarketer more attractive. 
Heatmap Tools
Among the most useful of Freshmarketer's tools are those among its Heatmap suite of tools. Marketers use heatmap information for analyzing the behaviour of consumers concerning how they respond to marketing, how they interact with websites, and more. Among the Freshmarketer heatmap tools are the following:
Website analytics
Dashboard
Behavioural mapping
Dynamic maps
Each of the above can be used alone or combined with other elements of the Freshmarketer package to provide accurate and useful information on consumer engagement and behaviour, to streamline marketing to the desired audience further.
Marketing Automation Software
Within the Marketing Automation Software elements of Freshmarketer, you will find several highly useful tools designed not only to improve your marketing efficiency but also to save time and therefore money. Automation is an essential element of any digital marketing campaign, yet it needs careful attention if it is to be carried out to the best effect. The tools available with Freshmarketer include:
AB testing
Drip campaigns
Lead scoring
Website visitor tracking
Sales intelligence
Dynamic content
Landing pages
Each of the above – and this is an abbreviated list of the comprehensive features within this section of the package – add to the effectiveness of Freshmarketer in its main intention, which is to enable greater control and automation of marketing campaigns for the online audience.
Conclusion
Offering a wide variety of automation tools, Freshmarketer should already be on the shortlist for any digital marketer or agency looking for an easy to use package that is suitable for use in fact-paced marketing and analytics. When you factor in the analysis ability and other features that come with what is a comprehensive and very usable tool, it becomes clear why Freshmarketer is fast becoming a very popular option with companies who need to get the word out to a targeted audience quickly, accurately and easily.