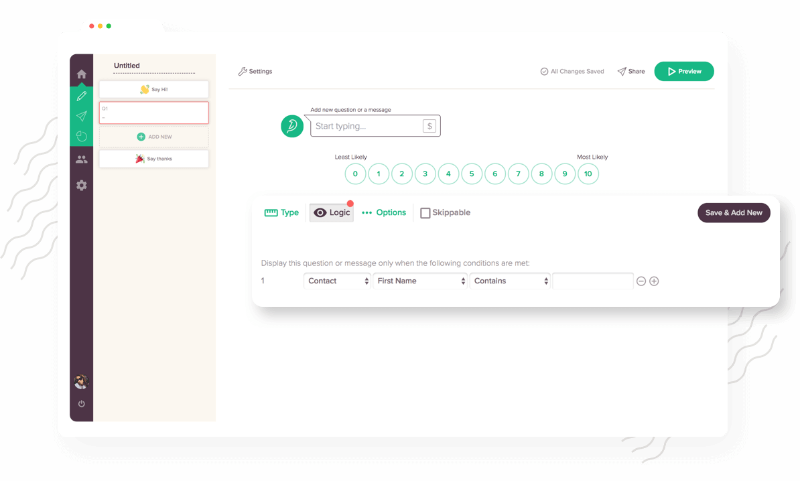 ---
Similar Tools
---
SurveySparrow Features
Online marketing is about engaging your customers, and also about keeping abreast of trends. Consumers like to partake of engaging pursuits during their retail journey, and engaging and fresh content should be at the forefront of your marketing campaign. You need to find a way of encouraging your customers to share their insights into the customer experience with your brand. This is not always easy, but there are some methods you can use to engage the customer more readily.
Surveys are a good starting point. Not all your customers will respond to a survey, but you can be assured that a useful proportion will and especially if there is an incentive. The most popular incentive is to offer entry into a prize draw for all who complete the survey. The main problem is that surveys take time to create.
SurveySparrow is a clever tool that allows you to not only develop and craft professional surveys but also to keep up with analytics on customer responses and engage the customer to the point of creating new leads. There are further functions that we will mention when we describe the main features of SurveySparrow below, but first let's consider how it works.
Pros
They offer a lot more than just surveys
Free plan & trial
Great for SMB & Enterprise
Cons
Pricing based on responses
How SurveySparrow Works
SurveySparrow offers the opportunity to create various types of survey using a simple tool and templates. It intuitively helps by way of understanding the type of questions you are asking, and you can include many different types of media from text to video. The surveys can be personalized according to customer type, you can add logos and images where you wish, and instant previews prior to publishing make it easy to see what you are doing.
In addition to creating surveys, SurveySparrow can be used to conduct employee assessments and group chats, offers a website chatbot tool, and can also be configured to accept payments through a safe and secure portal. The collection of templates is comprehensive and each can be customized, giving you more reach than you may have considered possible.
See here all the products they offer;
Enterprise Survey Software
NPS software
Offline Survey
360 employee assessment
Website Chatbot
Online panel software
Create a Survey
Creating surveys is the main purpose of SurveySparrow and it is a very useful feature. Surveys are an excellent method of getting consumers to give you information that might otherwise be difficult to come by. There are a few steps to setting up a survey that begin with choosing the question types you want to include and picking a template. You can also design it to reflect your brand and then use a variety of parameters to determine the information you wish to collect.
SurveySparrow can integrate with HubSpot, Google, Freshdesk and many more popular platforms for more scope in terms of analysis and data collection, and surveys can be created surprisingly quickly once you get the hang of the system. SurveySparrow claims it gains 40% more responses than other survey platforms.
Survey types you can create include recurring surveys – useful for catching new visitors to a website – and embedded surveys, while SurveySparrow also offers the opportunity to create conversational forums, video surveys and more. It's all about surveys, but it doesn't stop there.
Dashboard and Insights
What your surveys are really about is gaining insight into your viewers and customers behaviour and requirements. With the clever and easy to use Dashboard you can create reports and set up notifications giving you information on any trends that come about through the surveys, on recurring themes and see detailed information such as how long respondents took to answer or complete – or if they didn't complete the survey – and much more. You can compare responses by a variety of useful parameters and schedule reports for publication when beneficial.
Other features cover more information gathering methods as well as analysis and reporting, making SurveySparrow more than just a survey creation platform but also a marketing tool that is effective. What do we think of SurveySparrow overall?
Conclusion
Surveys are a useful and important part of marketing, and when devised and used correctly can be a source of information that you may otherwise find difficult to get. By analysing consumer responses you can see trends emerging and also spot anomalies, and with the in-depth analysis offered by SurveySparrow you will soon start to get to grips with the areas in which your marketing and day to day business operation is lacking, and repair those faults as a result.
SurveySparrow offers four pricing packages that are based around the number of responses per month – beginning at 10,000 and rising to a customized package for larger businesses – and each is sensibly priced given the overall capability of SurveySparrow as a platform.