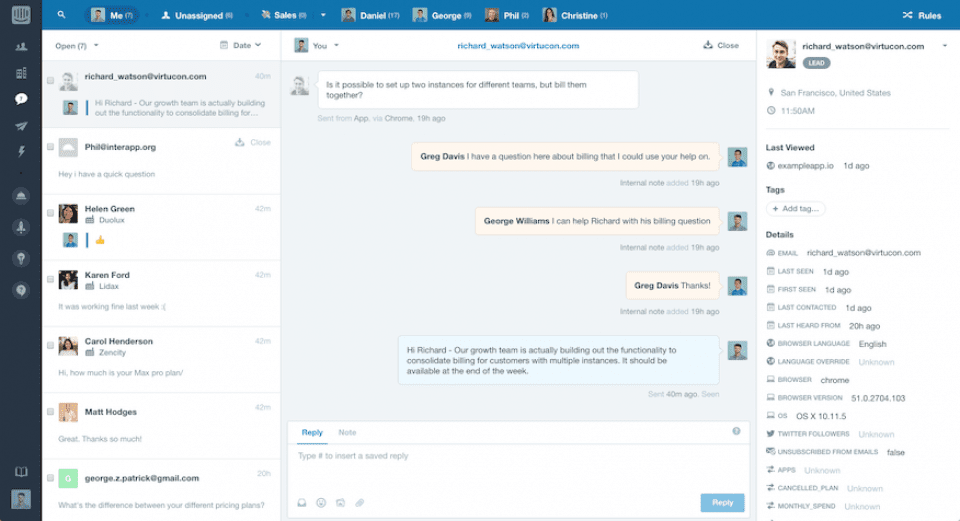 ---
Similar Tools
---
Product description Intercom
Intercom is known for its chat but it offers so much more than that. It has become their slogan "Come for our chat. Stay for our everything else". It makes sense as they offer a total messaging suite which will help you to drive growth and keep your customers engaged. There are endless possibilities and automations available so your sales person can jump in at the right time or the prospect can book their own meeting.
Pros
All in one platform for messaging
Highly reliable service
Will drive growth for you company
Cons
Advanced features can be complicated
Can be expensive if you go for all products
Messaging can become a beast after 2+ years
Intercom for lead generation
Set up message routing and lead qualification based on your own custom rules. This way the right rep will get in contact and can speed up the sales cycle right on the spot. As it integrates with most tools you already use you can sync the data and automate workflows even more.
Intercom for customer engagement
Create personalized messages from sign-up to success using the product tours & messages. Send emails, push, or in-app messages based on what your customers are doing. Set your clients up for success by sending them guided video's, tours, or any other content which will turn them into educated users and true fans.
‍
Intercom for customer support
Work together in one inbox and respond to customers on any channel they are interacting with you. Not enough support people yet? Setup a bot with smart automation and self service so your customers can fix problems themselves by sending them to the help centre.