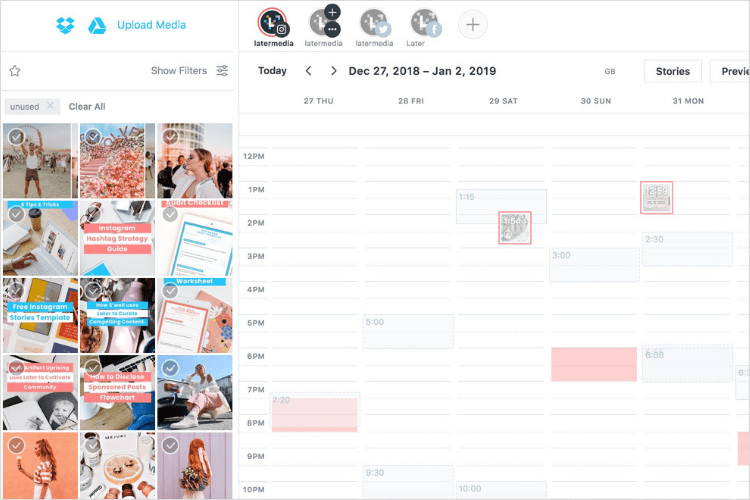 ---
Similar Tools
---
Later Features
Later is the leading marketing platform for Instagram, offering a robust suite of tools designed to grow your following, boost engagement and increase conversions.
More than three million brands, agencies and influencers use Later to schedule and manage their Instagram posts.
Three of Later's top features include:
Post and story scheduling
Linkin.bio
Instagram analytics
Pros
Free basic account
Get consistent in your social media
Great insight and analytics
Cons
Analytics may be enhanced
Later seems primarily focused on Instagram only
Post and Story Scheduling
With Later, you can plan and schedule photos, stories, videos, and carousel posts with just a few clicks.
Scheduling tools include:
Auto publishing for Instagram business profiles (excluding carousel posts).
Bulk scheduling for easy planning. Create weekly time slots for your posts, and then drag and drop your scheduled posts.
First comment posting for all of your Instagram posts.
Visual scheduling tools allow you to create and maintain an aesthetic for your Instagram profile. Add your photos to Later's Visual Planner to see what they'll look like in your feed. You can even preview your feed and rearrange or change photos to keep your profile on-brand.
Along with your feed posts, you can also plan and schedule your Instagram Stories quickly and easily. Later allows you to storyboard your stories, make edits to match your style and even resize your content to match the stories format. Scheduled posts are sent automatically to your phone when it's time to post.
Later makes Instagram post scheduling a breeze. View your calendar in weekly or monthly format. See when your audience is most active, and just drag your content into your allotted time slots on the calendar.
The platform has other tools that work synergistically with scheduling features to make account management simple and easy:
Bulk upload: Sync and store photos across devices for easy post scheduling.
Chrome extension: A free tool that allows you to find and curate photos from anywhere on the web. You can even schedule posts right from the web.
Labels: Organize your photos and videos with labels to find what you need quickly and easily.
Dropbox and Google Drive imports: Add media from Dropbox, Google Drive and your computer.
Linkin.bio
Drive traffic right from Instagram using Later's Linkin.bio tool. Add links to your bio and tag products in your posts to boost traffic, leads and sales.
Plus, Later provides you with valuable insights, like page views, clicks and sales from your posts.
With Linkin.bio, you can:
Share multiple links in your Instagram bio
Add more than one link to posts
Link to specific Instagram posts, websites, articles, videos and other content
Integrate with Shopify to tag products and get sales data
Later's Linkin.bio tool provides valuable analytics and insights, so you know exactly how much traffic your posts are generating, which posts are generating revenue (and how much), and how many page views and clicks your posts are receiving.
Lots of big brands use Later's Linkin.bio, including Showtime, USA Today, Swell, Hippeas and The Wall Street Journal.
Instagram Analytics
Later helps you grow your business with Instagram Analytics tools that give you powerful, valuable insights. With analytics data, you can optimize your content, find the best time to post, drive more traffic and boost engagement.
To increase engagement, Later helps you compare your posts to see which ones get the most attention from your followers. The platform will:
Automatically calculate the engage rates of your posts.
Display your best-performing posts at a glance.
Rank posts based on engagement rate to see which content works best for your brand.
One of the most valuable aspects of Later's Instagram Analytics is being able to optimize your posting times. The timing of your posts is key to getting more likes, views and comments.
The Best Time to Post tool will automatically calculate your top 7 posting times. Location data tells you your top time zones, and you can also see when your target audience is most active on Instagram.
With Later, you can even see how well your stories are performing. Track views and engagement for up to three months. You can even rank your stories by reach, impressions, reply count, completion rate and other metrics. Later provides detailed analytics for all of your stories.
Later offers a free basic account that allows you to create one profile per social platform and 30 posts for each platform each month. The free account gives you an opportunity to try out Later's service and see if it's a good fit for your brand. The only thing you can't do with the free plan is create carousel posts and video posts. A variety of paid plans are available for larger teams and agencies that offer more profile options and higher post limits.
Reading tip: Growth Hack Your Instagram Account