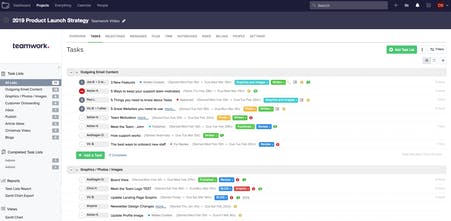 ---
Similar Tools
---
Teamwork features
Teamwork is a project management tool that is designed to streamline any project and bring it to fruition without problem and quickly. Easy to use and scalable, Teamwork can integrate with many software packages include Microsoft Office, Google packages and many more, so it can be seamlessly incorporated into a business network without concern.
Teamwork offers the following main features, which we will describe in more detail below:
Workload
Board View
Client Users
Templates
Time Tracking
Collaboration
Pros
Free plan & free trial
Ease of use
One platform for team collaboration
Cons
Pay per user
It has some technical issues sometimes
Designed for use by agencies and marketing teams, as well as businesses of all kinds, Teamwork is a handy tool that will meet with many satisfied customers.
Teamwork is available in four pricing plans – Free Forever, Pro, Premium and Enterprise – and we will outline these in the pricing section later on. Let's have a look at each of the main features of Teamwork.
Workload
‍The Workload feature offers an overview of the current state of play with all of your team in terms of tasks and available capacity. This allows for a clear understanding of where you can allocate new tasks while avoiding bottlenecks and over work, and also shows where work may need prioritizing or reallocating to a different team member.
Board View
‍This feature utilizes customizable Kanban boards to allow the user to see at a glance how a project is developing. It can also be used to automate triggers to speed up admin work, to optimize processes and to accurately plan where the project goes next.
Client Users
‍The Teamwork Client Users feature allows the user to build a better relationship with the client by giving them tailored access to the Teamwork software. This effectively brings the client on board as part of the team, enabling greater collaboration and faster decision making and approvals. You can choose the level of access the client has, so if you wish to allow them to add tasks or not, that is up to the user.
Templates
‍Teamwork is equipped with many ready-made templates that are cleverly designed, tried and tested. They cover everything from project management and marketing campaigns to event planning, employee onboarding, business goals and many more. As they are specifically designed for use with Teamwork, they save time and effort and allow the user to get straight into designing a project.
Time Tracking
‍This feature of the Teamwork platform gives the user real-time access to data regarding the amount of time spent on different areas of the project, by the whole team and by individual operatives. It can be used to allocate tasks more effectively, to see where time is lost and needs to be made up, and to revise schedules so as to meet deadlines.
Collaboration
By encouraging collaboration across the board, with the ability for all personnel to add input to a project, Teamwork enables faster problem solving and quicker delivery, as well as being a way of getting everyone to be a part of the process. With its easy and effective communication and messaging systems Teamwork brings everyone together and allows for interaction between teams and individuals throughout.
These are the six main features of Teamwork and there are others to consider – these include milestone and task reporting, project owner functions, notebook options and also custom fields that may come into play where necessary – and they each play a part in what is a cleverly thought-out project management solution.
Pricing
Teamwork is available in four price levels as follows:
Free Forever – this very basic version of the platform provides the user with enough features for a small start-up to begin with. It permits five users, 2 projects and limited other features, but it is free.
Pro – popular with smaller businesses, this package includes unlimited client users, most of the features of the full package and up to 300 projects. Cost is $10 per month.
Premium – with up to 600 projects and equipped with 50 templates plus all the necessary features, this is the package for medium sized companies at $18 per month.
Enterprise – featuring all the functions and abilities of the full Teamwork package, the Enterprise level is a tailored option and requires the buyer to work with Teamwork to come to an ideal price and package.
Summary
If you are looking for a project management tool there are several good ones to choose from, and Teamwork certainly ranks among them. We recommend the Premium option for great value for money, all the features you need and a workable and usable project management platform for medium sized businesses.