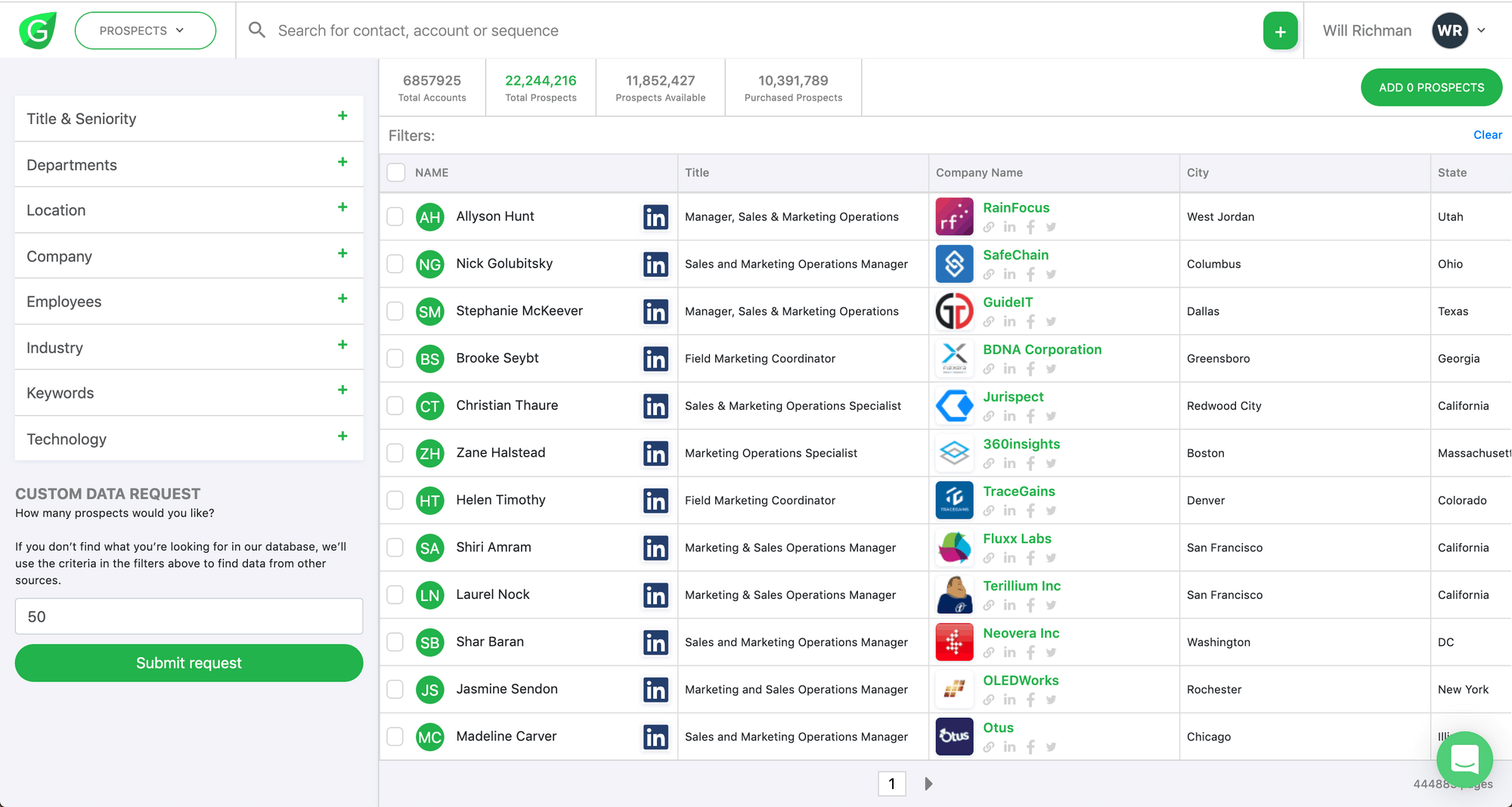 ---
Similar Tools
---
A tool with a difference, GrowthGenius is not a software package as such, but a service provided by an expert team aimed at accelerating the growth rate of a business. It's a lead generation solution that involves the GrowthGenius team working with you, the business owner or manager, to determine the correct way to drive your sales funnel.
GrowthGenius works with all sizes of business from smaller companies to major corporations. They work in a structured manner and achieve the required growth by optimizing your prospecting, thus targeting the right customers for your business. Here's a list of the stages involved before we look at each in more detail:
GrowthGenius Features
Analysis of Company, Industry and Customers
Devise Prospecting Strategy
Build Customer List
1 to 1 Messaging
Testing and Optimization
Automated Prospecting in Place
Pros
Great way to generate new leads
Huge database of potential prospects
Lots of flexibility in the system for testing
Cons
Steep pricing after 1+ user
No technical support in the smallest plan
GDPR compliancy
This is an in-depth process that intends to increase your return on investment by reducing expenditure targeting customers less likely to convert and optimizing those most likely to.
Analysis of Company, Industry and Customers
GrowthGenius begin by putting their team to work getting to know your company, the industry, and the customer base. This allows them to understand where your marketing funnel needs to start to grab the right leads, and how to streamline your marketing to achieve this.
Devise Prospecting Strategy
Once GrowthGenius understands who your customers are and how best to increase leads, they begin devising the right prospecting strategy for you. This will accomplish not only increased conversions but will also be largely automated to cut back o the time spent on prospecting manually. Each prospecting strategy is tailored to the business involved.
Build Customer List
Having uncovered the type of customer who is most likely to do business with you, the GrowthGenius team will put together an 'ideal customer list'. This will be drawn from more than 300million contacts that GrowthGenius has in its database, giving you access to a massive range of potential customers.
1 to 1 Messaging
One of the major advantages of the GrowthGenius is that they recognize the importance of the personal touch. The messages they send to the ideal customers will be personalized on an individual level. This enables greater communication with the customer and the ability to build a relationship. It's a proven method used by any reputable lead generation solution.
Testing and Optimization
The above are the four steps that lead to the ideal customer list getting your messages, and in addition the GrowthGenius team will thoroughly test every aspect of the prospecting route, ensuring it is optimized for the right results. This is an ongoing process that enables the prospecting plan to be tweaked and improved over time, thus keeping you on top of the game throughout. Scalable and built for future growth, the GrowthGenius is cleverly devised and has many satisfied clients.
Conversations into Your Inbox
Now that the prospecting plan has been perfected and is in use, the automation is such that you will start to see ideal customers in your inbox, and you can begin and build conversations and relationships that increase your lead conversion and grow your business. GrowthGenius will remain working with your sales and marketing team to keep things smooth and amend the marketing funnel as your business grows.
GrowthGenius Pricing
GrowthGenius is priced to appeal to individuals and entrepreneurs, to small and medium business, and also to bigger enterprises looking for a fully managed package. The pricing levels are:
Individual – with this level you get 1 user license and 250 new prospects per month at a cost of $.30 per prospect. Email and live chat are included as are many other basic features, and the monthly fee is $99.
Teams – this deal gives you two user licenses, 800 new prospects monthly, and all the features of the basic package. In addition, you also get help with initial campaign creation and full technical support. The monthly fee is $999 per month.
Fully Managed – priced on an individual basis, the Fully Managed level of service includes a dedicated growth manager from GrowthGenius working alongside your team. As each is a bespoke plan designed for the client, you need to contact GrowthGenius for a monthly cost.
Conclusion
The GrowthGenius team are expert in their field and have built a reputation for excellent service and for hitting the results promised. At the price, we believe this to be an attractive service that is not your usual lead generation tool, and it comes recommended by many satisfied clients.