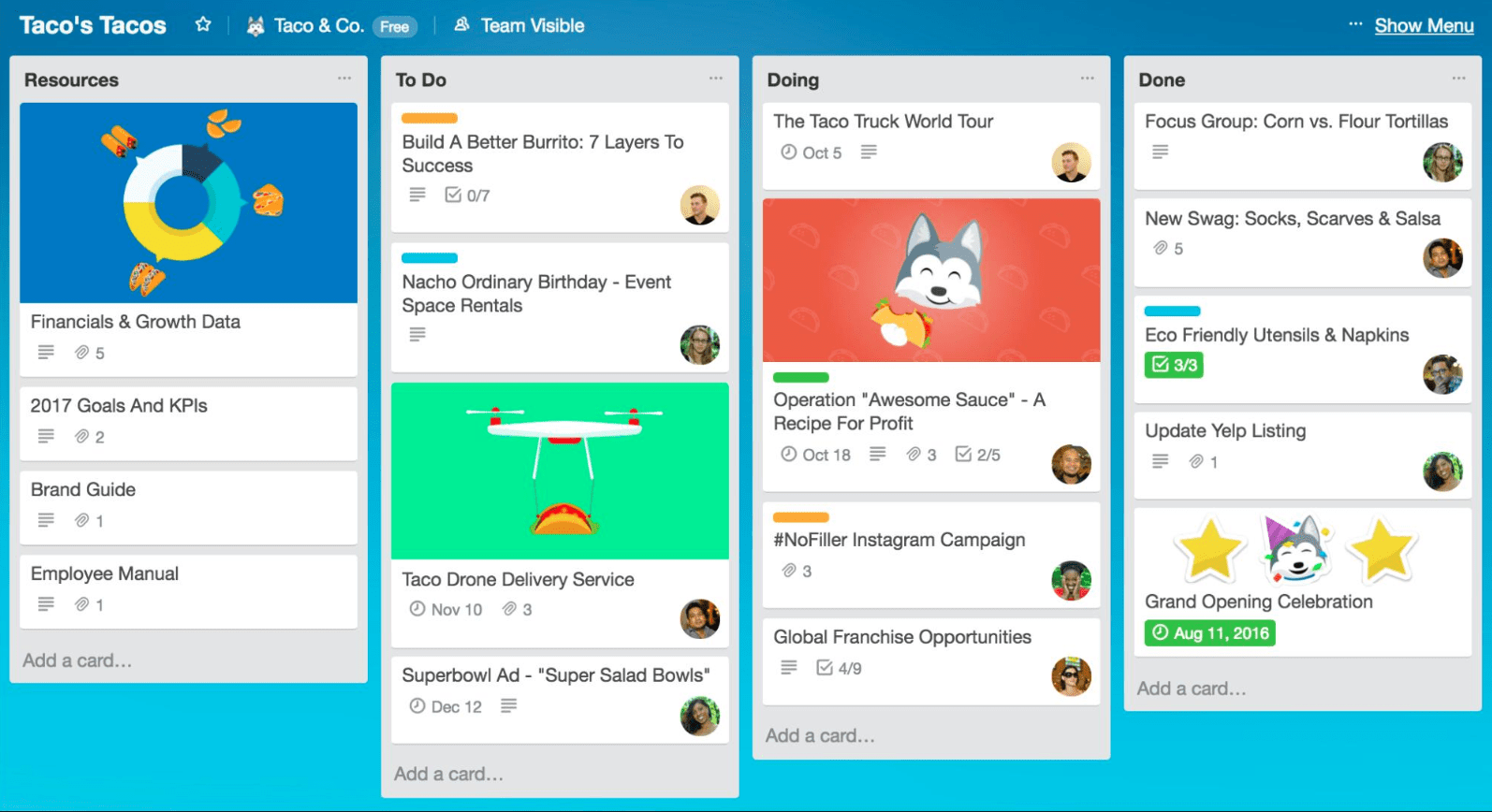 ---
Similar Tools
---
Trello Features
Organizing the day-to-day tasks and operations of a business – no matter how small it may be – can be a chore and one that takes up a lot of time better used elsewhere. This is especially true in the modern age where we lead busy lives at work as well as at home. A manual to-do list is a useful routine to follow, but with a package such as Trello, you can make life a lot easier.
Trello is one of many business management solutions aimed at streamlining the organizing of tasks. The purpose of such packages is to increase productivity by allocating time in a more efficient manner. This popular package is used by many well-known companies and is suitable for smaller businesses as well as established outfits.
Before we take a detailed look at the main functions that Trello offers, here's a brief look at how it works and why you may find it useful.
Pros
Powerful free version
Very easy to use
Will improve productivity within minutes
Cons
No build-in reporting
No time tracking on cards
How Trello Works
Trello splits tasks and workflows into a series of boards, lists and cards – the three main elements of the system. In doing so, users can see at a glance what needs to be done, what has been and is being done, and who is involved with what area of a workflow.
It can also be used to automate certain areas of the workload by way of the 'Butler', a clever AI automated organizer that is designed to cut wasted time even further.
Let's have a more detailed look at some of the main functions of Trello and see how they can be used to further your business.
Boards, Lists, and Cards
The most interesting aspect of Trello lies in its separating items into boards, lists and cards. These variously take different amounts of information in their own format, for display and action in a way that can be seen easily and at a glance.
Cards are designated, for example, to one task and can be added to and arranged as the user wishes. They can be shared with whoever needs to see that information, and comments and tasks can be added by those with permission for that particular task. They can also be used for personal, non-work organization of information by date or time.
Full collaboration is enabled in the use of all areas of Trello so that tasks can be delegated and acted upon, and all with an interest can keep up with progress and add anything from comments to attachments for the perusal of others. Easy to use and with clear and simple presentation, this is a clever concept that makes Trello something of a stand-out platform when it comes to organizational tools.
Tasks on cards can also be separated into 'Doing' and 'Done' categories and notifications of each delivered where necessary, and they are displayed in simple format so can be seen immediately the card is opened.
Workflow Automation
'Butler' is the name give to the workflow automation tool that is part of the Trello package, and it provides a variety of solutions. It can be triggered to act by way of set rules – these are devised by the user and take the form of 'when x happens do y' sort of rules – and also by calendar and date commands, which will be acted upon when the date or time occurs.
There are also custom buttons that can be built into cards for directing Butler, and further actions that can be taken using the automated system. Butler is a well-designed and easy to use automation tool that will cut down on time spent enacting simple tasks by users.
Trello can be synced with all devices so is usable on the move, can integrate with all the popular packages and tools that are widely used in business, and is easy to set up and use, with simple instructions as to how to get started. What do we think of Trello overall?
Conclusion
Trello is a proven and popular business management package – one that also has its uses out of the workplace – that is adept at helping organize tasks in an efficient and effective manner. Easy to use and with many impressive features, it is used by some well-known companies and service providers and is a sensibly priced product.
For a smaller, growing business in which the workforce is required to cover more than one role, there is room for Trello to improve productivity and enhance effective time usage, and we recommend that Trello is considered if a digital, interactive diary and organiser system would be of use.
See some Trello Alternatives