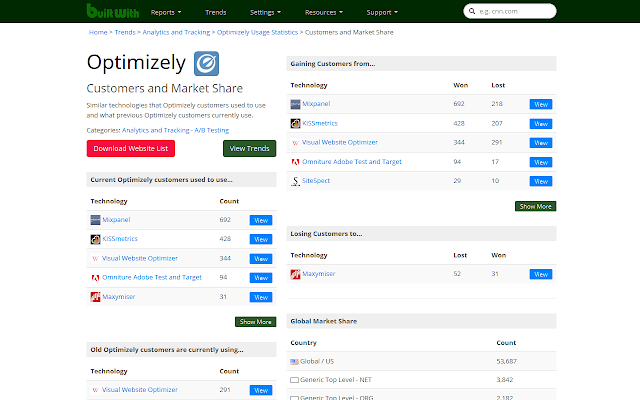 ---
Similar Tools
---
BuiltWith Features
BuiltWith helps brands understand technologies used by websites across the Internet. Understanding the technologies used by websites helps brands find more targeted leads and enter conversations armed with important knowledge about their technology spending.
BuiltWith has been used by MIT and Winton, the sixth largest hedge fund in the world. It's free to create an account, and paid plans can be paid either monthly or annually.
Lead generation
Market analysis
Sales intelligence
Pros
Great source of technical insight
Simple to use
Build a prospect list based on technology
Cons
Pricing fairly high
We couldn't find all tools
Lead Generation
BuiltWith helps you find new prospects and customers across the Internet. Over the last nine years, BuiltWith has tracked more than 42,226 technologies. Information is pulled quickly, and BuiltWith will create a consolidated list of customers. Find and categorize websites with low, medium and high technology spend budgets.
Advanced lead list filters allow you to get straight to the most relevant results. And BuiltWith will give insight into the technology used by your existing leads, including their technology history and spending.
Creating a list of websites who are using your competitor and start ABM campaigns on them. With Built With you can see exactly which software companies are using, this will open up great ways for lead generation for your business. You can filter the companies based on location, website traffic, verticals and more. Built With has information from more than 38k web technologies used and is tracking a billion websites.
Technology report filters include:
Individual technology use
Usage duration
Technology category usage
Keywords
Traffic ranking
Verticals
Along with finding leads and analyzing existing leads, you can also use BuiltWith to predict future leads based on their technology history. While you're researching a site, BuiltWith will also give you information on hundreds of other attributes attached to the site.
As part of the lead generation process, you can use BuiltWith to create lists of sites that have relevant keywords or phrases on their homepages.
BuiltWith Pro gives you access to data for millions of online stores to help you build a list of targeted leads. You can view BuiltWith's filtered retailer list, or you can create your own custom list.
Plus, you have the option of importing your own list of existing or potential customers. Upload your list and BuiltWith will give you information about your leads' technology usage history. When you're done, you can export all of this information and website attributes.
BuiltWith can even provide you with the names, titles and email addresses of people working at companies outside of the EU, so you can communicate with the right people.
Market Analysis
BuiltWith gives you access to their market analysis data and detailed reporting. The company tracks more than a quarter of a billion domains, so you get an accurate picture of your market. Their database contains more than 42,000 web technologies, and you can view usage history over the last decade.
Using their data, you can get a clear picture of technology trends and how technologies compare with competitors.
Market segments are tracked separately, so you can narrow your results to market share information for the entire Internet or only the biggest players. Segments are defined as: top 10,000, top 100,000, and top 1 million websites based on ratings from Quantcast and Alexa.
To help you further refine data, BuiltWith grouped its tracked technologies into categories and subcategories. At a glance, you can view each player in each category and see how trends have changed over time. You can also see how customers have changed their technology infrastructure over time.
Sales Intelligence
BultWith provides sales intelligence tools that help you make more persuasive offers and have more informed conversations with current customers.
Using these tools, you can:
Identify who to talk to and when to make the call
Profile an entire site in one click
Quickly compare competitors
All of this information helps you enter every conversation with armed with knowledge. You get a complete picture of a customer's technology usage. Some plans give you additional information when generating reports, including registered contact information for each website and a summary of technologies the website is paying for.
Market Share
Get access to market analysis data, including detailed reporting. As Built With is tracking soo many domains, they are able to give you accurate market share information.
Historical Usage trends. Track the rise and fall of specific technologies and compare it to competitors. You can track website technologies from the last 13+ years.
Track market changes and evolvement of technologies being used. Track movement of customers between web technologies.
Reports will give insight into how technologies are trending against each other, allowing you to see:
Whether technologies are gaining or losing their market share
Whether competitors are gaining a higher market share at a faster rate
The churn rate between technology competitors
Weekly updates show you what's changed in your reports.
Other helpful sales intelligence tools from BuiltWith include:
LeadsEye: Identify actual leads from your list in an efficient way.
LeadsDiscovery: Find new leads based on your existing customers. Just upload your list, pick keywords and get a list of leads.
BuiltWith integrates easily into your existing workflow and the applications you already use, including HubSpot, Salesforce, Marketo and Pardot. Customers also get access to the BuiltWith API, so their data can be used in JSON and XML formats.
BuiltWith gives you access to technology usage data for more than 370 million websites. Their tools integrate into many of the accounts you're already using, and having access to their data helps you have informed conversations.
BuiltWith Alternatives
Wappalyzer (not listed)
WhatRuns (not listed)
Similar Tech (not listed)
Let us know if you know more