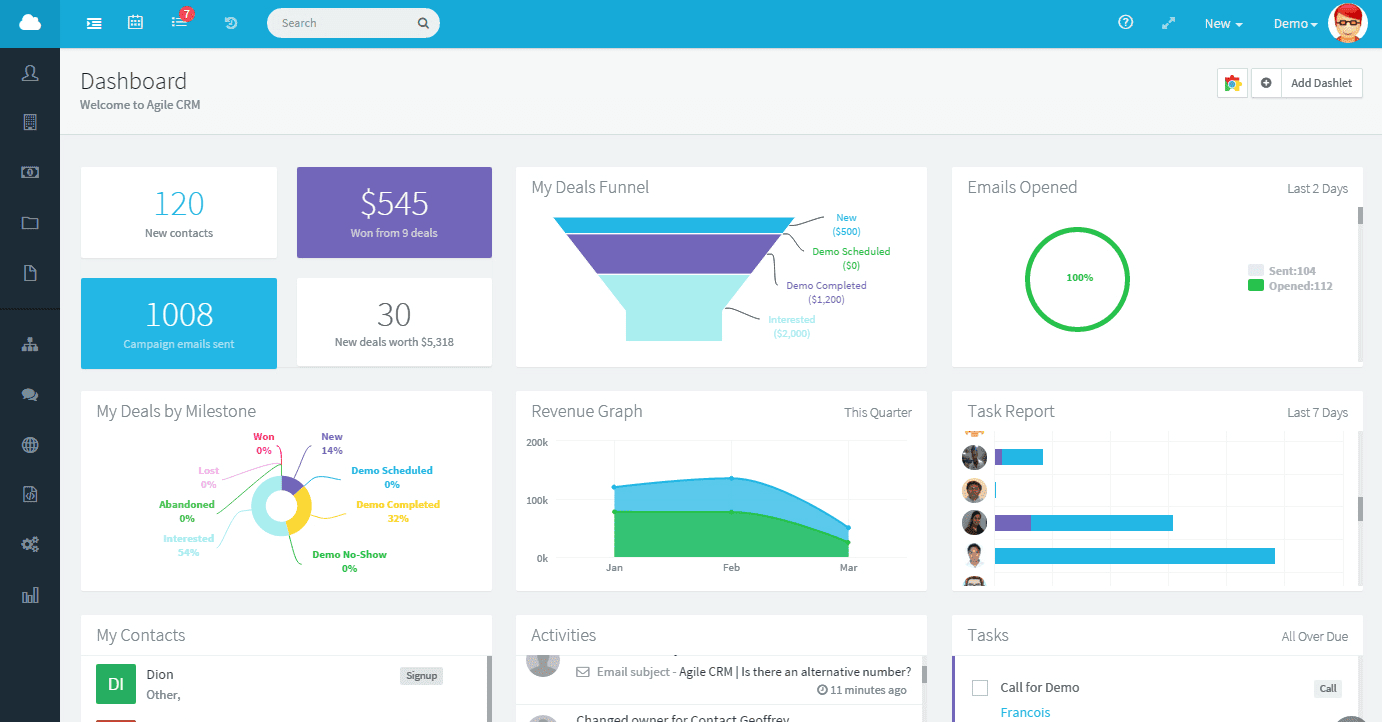 ---
Similar Tools
---
Agile CRM Features
Agile CRM is designed to help businesses sell and market their products like a Fortune 500 company. The platform is trusted by more than 15,000 customers, including The Next Web, Indeed, Fidelity Bank and more.
The AgileCRM has three main features that benefit all businesses:
Pros
Easy to use tool and limited skills required to get started
Marketing automation, Sales and Service platform in one
Automated features which will save you time and help you grow
Cons
Automation features are challenging to understand
Customization needs improvement
Sales
Agile's CRM features sales automation software to help you close more deals by streamlining tasks that eat up unnecessary time and resources. From appointment scheduling to email follow-ups, deal tracking and analytics, Agile has more than 50 sales tools to help teams get more done, including:
Lead Scoring: Automated lead scoring based on the system triggers you set. You control the scoring methodology and model. Agile lets sales reps know when leads are "sales ready," so they can follow up at just the right time.
Telephony: Make and receive calls right from Agile. View the caller's details and history with each call. Call recording and playback features ensure team members don't miss important information. Call scripts can be used to increase conversions, and automated voicemails save time. Agile even makes it easy to send follow-up emails after calls with contacts.
Gamification: Encourage friendly competition between sales team members through side-by-side comparisons of sales team members, including revenue generated, deals won, calls made and more. Other tools encourage collaboration and mentorship among sales reps. Custom leaderboards allow you to see who's leading the pack at a glance, and real-time data updates ensure the boards are always accurate. Advanced reporting allows you to track the results of gamification to see how it's affecting your team.
Appointment Scheduling: Publish your Agile or Google calendar online, and allow leads to schedule appointments automatically. Calendar invites can be sent automatically, and you have control over which dates and time slots you are available for. The scheduling tool also makes it easy to gather lead information and adds new contacts automatically. Group appointments can be made, and Agile works with multiple calendars.
Auto Dialer: Call multiple contacts automatically with Agile's power dialer. With Agile, you can place calls, receive calls and get notifications of missed calls. Other call features include call tags, call recording/playback, call muting, wrap-up, logs and reporting.
Lead Prospector: Find leads on social media and import them to Agile. Features include LinkedIn Capture, lead tagging, email finder and bulk lead acquisition.
Agile's robust sales CRM tools will save your sales team time that can be better focused on closing deals and nurturing leads.
Marketing automation
Automate the marketing process using the same strategies and processes as some of the most successful companies in the world. It takes just a few minutes to create automated marketing campaigns using a suite of tools.
Automate marketing using Agile's drag-and-drop designer. Tools help your team optimize customer relationships, nurture leads, close more deals and get actionable insights. Other features include autoresponders, social marketing campaigns, newsletters, email tracking and testing, drip marketing and more.
Web engagement tools to personalize visitor experiences. Show appropriate messages to visitors, create web forms, engage with known contacts, send timely messages to visitors and send personalized communication.
Email marketing features to create and send personalized emails and newsletters. Choose from custom and pre-built layouts to send customized, targeted messages. Email lead scoring, tracking, testing and a drag-and-drop builder help streamline your email marketing campaigns.
Analytics to view and analyze your data, so you can take actionable steps to improve performance.
Landing page builder using Agile's drag-and-drop designer. Add forms, choose from pre-made layouts and ensure that all pages have a responsive design.
Automate mobile marketing using autoresponders, drag-and-drop workflows and personalized SMS.
Exit intent popups to reduce your abandonment rate, interact with contacts, engage with your new leads and close more deals.
Social media marketing tools to keep your accounts, contacts and content in one easy-to-access platform.
The automated marketing tools from Agile save time and resources while improving conversion rates and the productivity of your team.
Service
Agile has help desk solutions within its CRM solution. Customer support plays an important role in customer relations management. With Agile, your support team can take advantage of several tools, including:
Ticketing
Groups
Service level agreements
Smart workflow creation
Canned responses to streamline email response times
Automated recommendations based on ticket labels and canned responses
Reporting to monitor response time and ensure the most important tickets are addressed first
Agile CRM is free for up to ten users. No credit card is required to use the free service, but paid options are available for larger operations.
Pro tip: Read our blog about the best CRM systems for SMB's