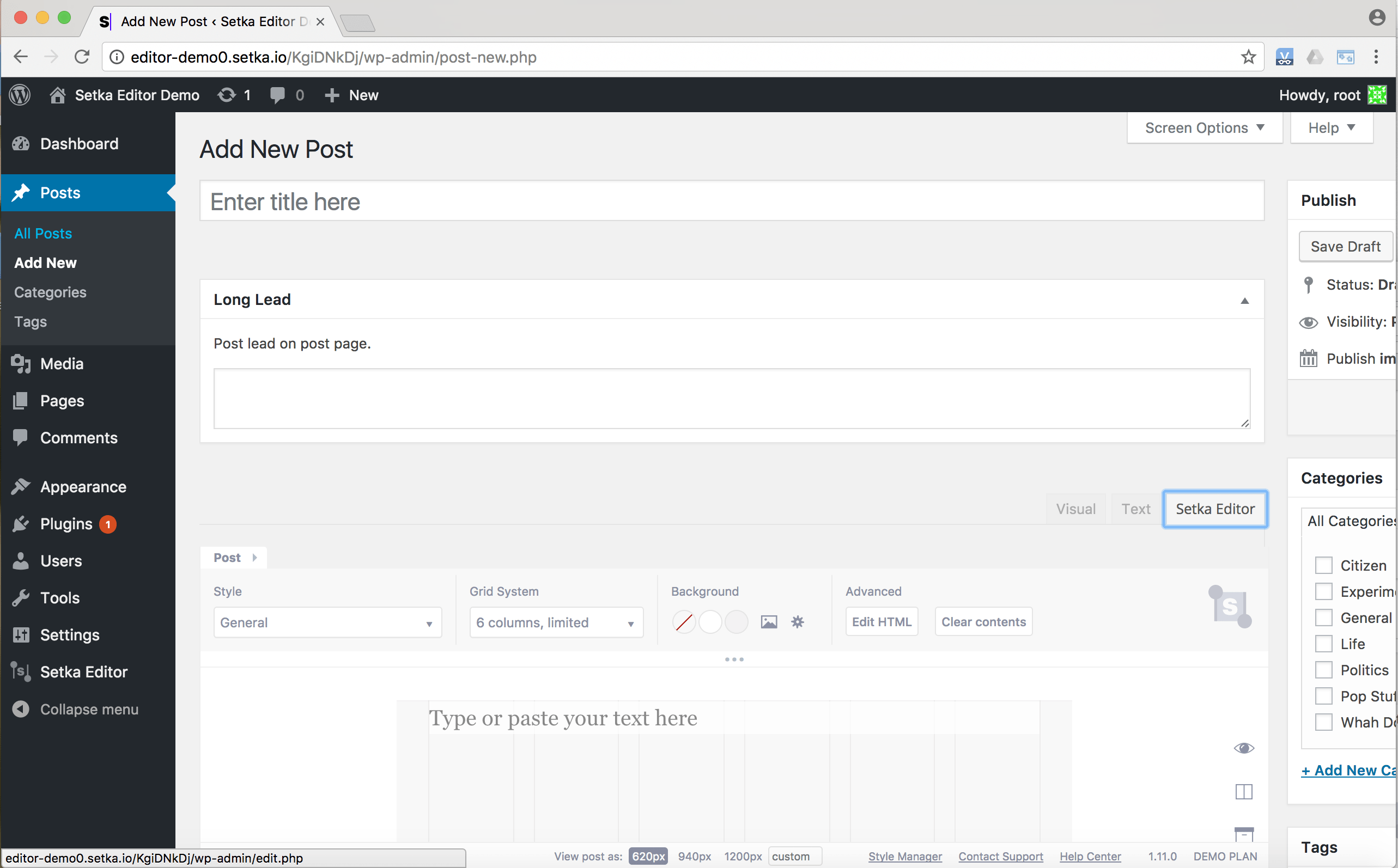 ---
Similar Tools
---
Setka
Setka is a content creation platform aimed at giving content creators and website editors a tool to easily engaging and visually impressive content for marketing and lead generation. Setka does not require the user to have experience of coding.
Setka offers a variety of functions, of which three are the main section of interest. These are:
Daily Blog Production
Branded Content
Engaging Long Reads
We will look at each in detail below. Setka is able to integrate with the popular platforms including Google, WordPress, Microsoft, Drupal and more. Setka is available in three price packages – Starter, Pro and Enterprise – each of which comes with a different set of features aimed at everyone from sole individual users to large business operators.
We will begin by taking a closer look at each of the main feature areas of the Setka platform.
Pros
Great platform for remote teams
Creating more branded content
Engaging possibilities with readers
Cons
Starts at $150 per month
No free version
Daily Blog Production
Setka is focused primarily on visual impact, and this is evident in the Daily Blog Production element which uses the Setka Editor. The user gets the benefit of a choice of templates, each with its own unique look, and by way of using snippets can imprint the brand and corporate style on everything that is produced and published.
The Blog Production feature is very simple to use and provides quality content fast, with a look that is always fresh and impactful. Used by business to business promoters, as well as business to consumer, eLearning and online media operators, the Setka Editor offers an excellent opportunity to enhance the impact of blog content with the aim of improving lead conversion.
Branded Content
The Setka Editor is ideal for producing content for new products or campaigns, enabling the production of fresh and attractive copy with interactive features for the consumer to enjoy. It can also be put to use to create dedicated sites for specific project promotion.
The way the Editor operates gives the user the ability to create engaging and informative content that encourages greater scroll depth and keeps the reader interested for longer. Users have seen the time spent on their pages increased and improved engagement with customers, leading to better conversion rates. As with the Blog Production feature, all of this is done without the need for coding experience.
Engaging Long-Reads
One of the most difficult acts to achieve with website content is to keep the reader interested to the end of along-read promotion piece. Setka makes this easier by way of easy to use animation features and unique and fresh visual presentation. This encourages the reader to continue to the end, giving plenty of opportunity for promoting a product or service in the most engaging fashion.
The above are the main features that Setka Editor enables, and the following are more that may be of interest:
Eye-Catching Copy – the Setka Editor can help create dedicated product copy and imagery that makes any brand stand out in the crowd. Publish to any e-commerce page without the need for complex coding.
Sponsored Stories – the use of branded snippets and corporate colours means users can enhance the impact of a brand on sponsored posts wherever they are published. Stamping the brand wherever the product is mentioned increases awareness.
Educational Resources – for webinars, tutorials, online training and any other visual teaching aids, the Setka Editor is able to present video, audio or a combination of both in an engaging and eye-catching fashion. Easy to use and effective, no coding is needed.
Setka Price Packages
Setka comes in a choice of three price packages, as follows:
Starter – aimed at smaller businesses, the Starter package includes all the basics including content branding, pre-set animations, custom backgrounds and flexible layouts. The cost is $150 per month.
Pro – the Pro package includes all that is found in the Starter, but with the addition of more flexible features such as custom animations, unlimited templates, a built-in image editor and more. Aimed at professional teams and studios, it is priced at $450 per month.
Enterprise – for larger enterprise users and publishers, the Enterprise package is an on-request bespoke platform that is tailored for each user in price and features.
The Starter and Pro packages are available for free 14-day trial.
Conclusion
Setka is good value for money for a content creation platform. While not teeming with innovative features, it stands ground against some of the competition by being surprisingly easy to use, needing no coding experience, and the interesting template package that comes with it. Recommended for small to medium businesses producing daily content and branded content.