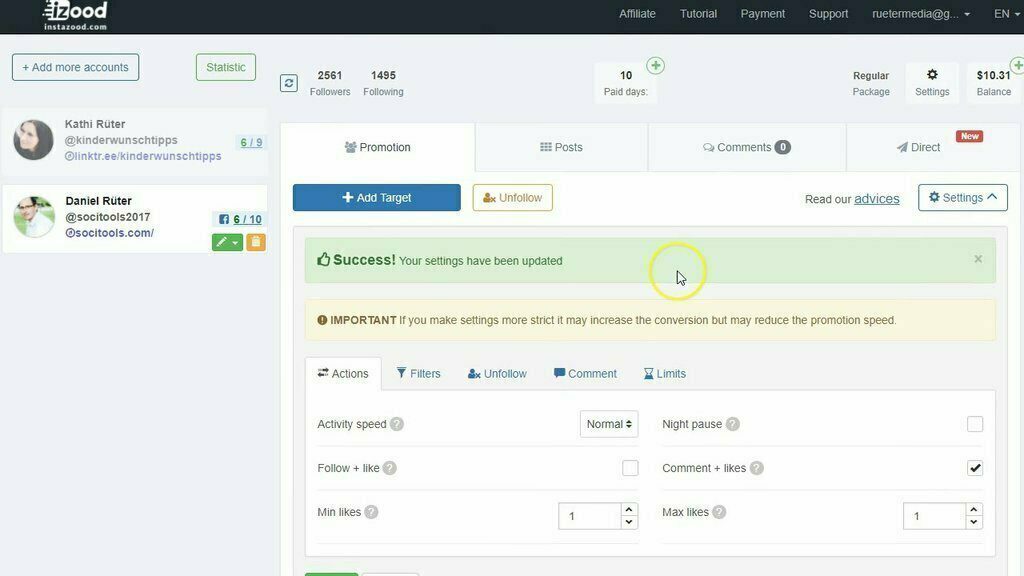 ---
Similar Tools
---
Instazood Features
Instazood is designed to help you automate your social media growth. This automation tool works on some of the world's biggest social media platforms, including Twitter, Instagram and TikTok.
You can try this platform out for free for three days.
The key features available include:
Instagram, Twitter and TikTok bots
Manual promotion
Manage and schedule posts
Pros
Get followers quickly on TikTok or Instagram
Automate your work on social media
Big following will give you new opportunities
Cons
In violation of the Terms & Conditions of the platform
Your account can be blocked
Instagram, Twitter and TikTok Bots
Instagram's and TikTok's bots are very similar and allow you to automate most of your growth. The platforms offer many of the same features, including:
Target users by hashtags and location (Instagram)
Automate likes
Automate follows
Automate comments
Automate unfollows
Filter bot actions
Instagram's bot also incorporates a lot of additional function:
Social Bridge Android app that allows you to connect through the dashboard and move all tasks up to Social Bridge. You'll be able to grow your following faster, block certain actions when needed and customize the speed of your account.
Target using accounts, hashtag owners, and location. You also have information higher conversion rates, so you know how your campaign is doing.
TikTok's bot offers:
Targeting a competitor's follow list so that you can build a similar following.
Target hashtag users to narrow down your potential followers.
Unique filtering option features to narrow your marketing strategy further.
Twitter's Welcome tool is not as robust as the other bots on this platform, but it does allow you to:
Send welcome messages to new followers
Use a robust anti-spam system to reduce your account's risk of being flagged for spam
Insert images into messages
Send 80 to 120 messages per day
Send multiple messages in one campaign
Bots help you automate your social media prospecting and outreach.
When you use Instazood properly, you can build up your major social media presence and form a strategy that allows you to confidently market on social media.
Manual Promotion
Manual promotion protects your social media profiles so that they are not detected. What happens is that a lot of people use automation tools, and this is against the terms of service of some of the platforms you're using.
If you have too much activity in too short of a time, this can lead to your account being temporarily or permanently banned.
With the manual promotion tool, you're guaranteed maximum safety and you have the ability to:
Target users
Target hashtags
Target locations
Recommends users to follow
Recommend posts for commenting on
Recommend posts for liking
You can also filter users and boost your conversion rate with manual promotion. The manual promotion tool is also part of the Instagram bot, so you'll be able to take full control of your social media promotion. There are robust search tools built into the platform that allow you to:
Search by hashtag
Filtered by language
Mark posts
Filter by engagement rate
Search for users by location
Instazood's manual and automatic promotion tools will enable you to constantly boost your social media presence and generate leads to your business.
Manage and Schedule Posts
Scheduling posts can help you save time and automate your social media profiles all in one day. Designed primarily for Instagram, you can automate the following:
Post scheduling helps you schedule posts and choose the best time for engagement
Schedule unlimited posts on the platform
Upload pictures and videos to the cloud to add to your posts
Schedule post deletion based on your own schedule
Watermark all of your images automatically to stop others from using your content without your permission
Schedule pictures and videos for your stories
Full post management that allows you to delete posts you have published, manage your comments and manage your posting schedule
If you want to be able to engage with your audience, you need to use the comment manager tool. The manager allows you to take full control of your comments and engagement. You'll be able to use this to:
Read new comments so that you never miss a comment and can always reply
Manage all of your comments directly in one device
Mark comments as important so that you can reply to them in the future
View your entire comment history for both incoming and replied comments for later reference
Delete comments that are nasty or that are going to push your audience away
Mark as resolved so that you know which comments not to reply to
With Instazood, you can turn your bot on and off any time that you like. This platform ensures that your social media marketing campaign has automation built into it.