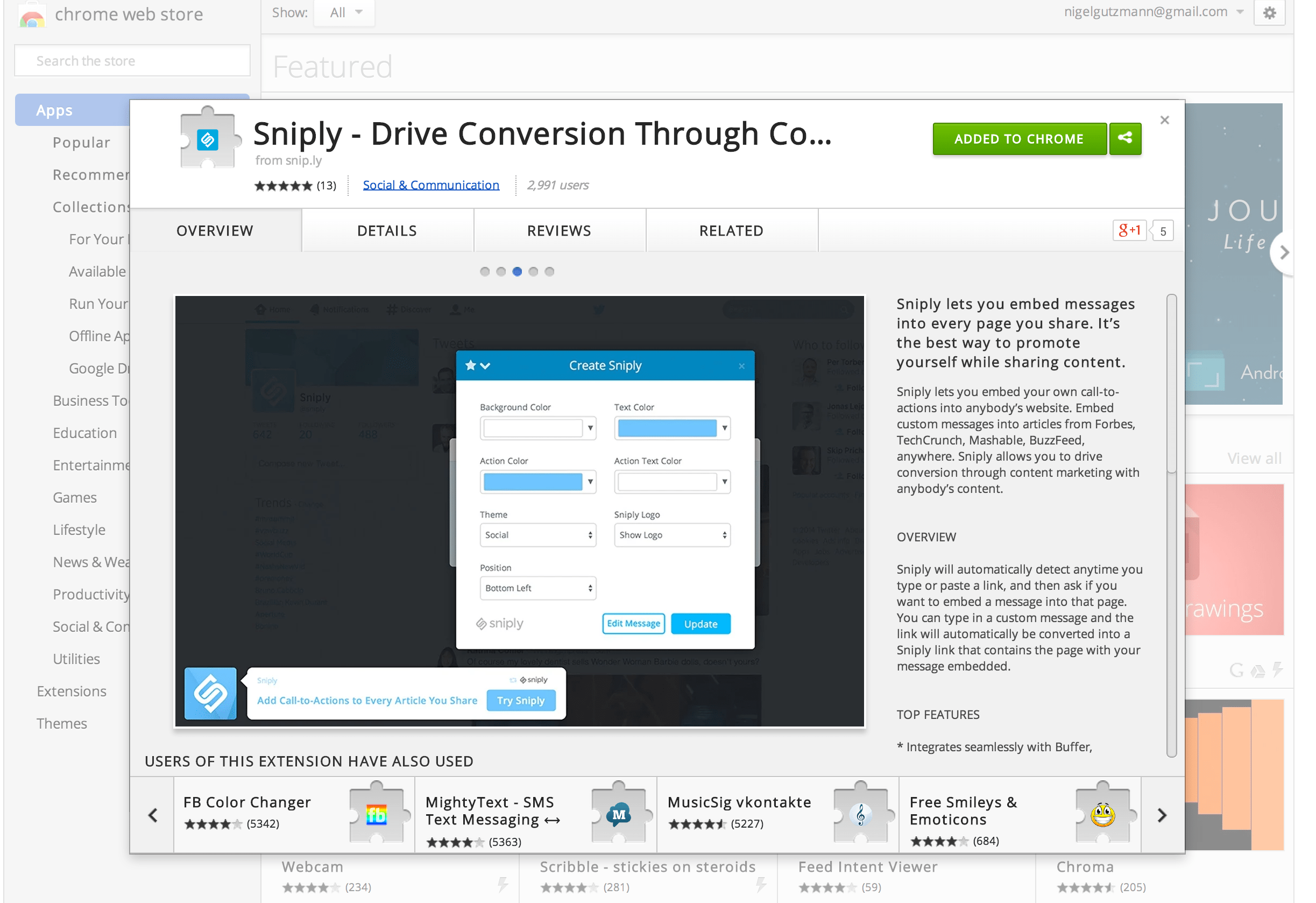 ---
Similar Tools
---
Sniply Features
How often do you share a link which is not to your own site? Quite often right, in your blogs on social or anywhere else. Normally you would lose this traffic as the chance of them coming back is very small. Withy Sniply you get to drive up your traffic through other people's content.
Sniply is a simple growth hacking tool that allows you to add custom call-to-action to any web page.
With Sniply, you can engage your followers every time you share a link. Sniply is trusted by Autodesk, Dropbox, Experian, Greenpeace, IBM, Accenture and other major brands. They have been featured in more than 300 marketing blogs, including Entrepreneur, Quicksprout and Buffer.
Sniply has three standout features for growth hacking:
Sniply types
Customization
Data gathering
Pros
Get traffic back to your site after they left
Lots of customization
Great way to generate leads
Cons
No free plan
Could be experienced annoying
Quite heavy pricing for such a tool
Sniply Types
Add different types of "Snips" to any link you share to either get people back to your own site or to drive lead generation by pushing a form. Again, this all happens on someone else his site if they went there via your link. See here the different type of Snips you can use.
Sniply offers a range of snips, or call-to-action types, to choose from, including:
Button Snip: Attractive buttons that visitors can click to navigate to your site.
Form Snip: Email capture form that allows visitors to sign up for your newsletter.
Image Snip: Custom banner image that visitors can click to navigate to your site.
Text Snip: Messages with links visitors can click to visit your site.
Hidden Snip: Allows you to hide the Sniply bar without sacrificing functionality.
Snips are designed to encourage visitors to take action. Eye-catching designs and easy integration allow you to attract targeted visitors to your pages.
Sniply also adds your retargeting pixels to shared links, allowing you to create custom audiences for your remarketing campaigns. Each Sniply link can include a retargeting pixel, custom domain and ROI reports.
With one Sniply account, you can manage multiple brands and team members from one centralized tool. Team members and profiles can be managed quickly and easily, with permission settings for each team member.
If you work with multiple clients, you can create individual profiles for each one to store analytics and campaign data individually.
Customization
Today, marketing is all about customization. The more personal your marketing, the better the conversion rates. With Sniply, you can customize your snips to match your brand and position your snips to maximize visibility and traffic generation.
Customization tools include:
Themes: Through the Sniply Creator, you can create customized snips that match your brand. Choose from a variety of pre-made themes to create attractive snips with the click of a button.
Custom Colors: Sniply makes it easy to customize the look and feel of your snips. While you're on the Sniply Creator tool, you can choose custom colors based on your brand's color palette. This allows you to stay on brand while getting your message across and generating more traffic to your site.
Custom Shortlinks: With Sniply, you can create custom shortlinks, so you control how your links appear. Custom shortlinks can also help with tracking to see how many visitors you receive from your snips.
Custom Positioning: Positioning is everything. With Sniply, you can choose where your snips appear on a page to maximize visibility and traffic generation.
Custom Domain: To further customize your link's appearance, you can connect your own custom domain.
Remove Branding: To help with brand-building, Sniply allows you to remove their branding from your snips. When in the Creator tool, just choose to hide the logo from the dropdown menu.
Custom Code: Sniply allows you to add your own CSS for a completely customized look and feel. You can even attach custom scripts for additional custom functionality.
Data Gathering
Data is power in the marketing world. Sniply has a variety of data gathering tools to help you collect, manage and maximize your data.
Analytics: Quickly and easily track and analyze all snip clicks and conversions. Tracking data can be integrated with KISSmetrics, Google Analytics and other analytics software. This allows for streamlined tracking and data analyzation.
A/B Testing: Testing is the best way to maximize conversions. With Sniply, you can experiment with different snip variations to optimize conversions.
Conversion Pixel: With Sniply, you can track specific actions taken on your site just by planting a conversion pixel.
Along with data gathering, you can also integrate Sniply into Buffer, Hootsuite, Mailchimp, Sendible, Zapier and more. The browser extension gives you access to Sniply and all of its functions right from your browser, whether you use Firefox, Chrome, Explorer or Safari.
Plus, Sniply allows you to build a custom workflow using their API.
Sniply offers a quick and easy way to add call-to-actions to any web page to generate more targeted traffic and increase conversions.
New users can get started with Sniply for free for 14 days. Monthly and annual plans are available, but each plan includes unlimited links. For personal branding, the Basic plan is ideal and offers up to 5,000 clicks per month. For growing brands, the Pro plan allows for up to 20,000 clicks per month, multiple brand profiles and team members. Business and Agency plans are also available for brands with more demanding needs.