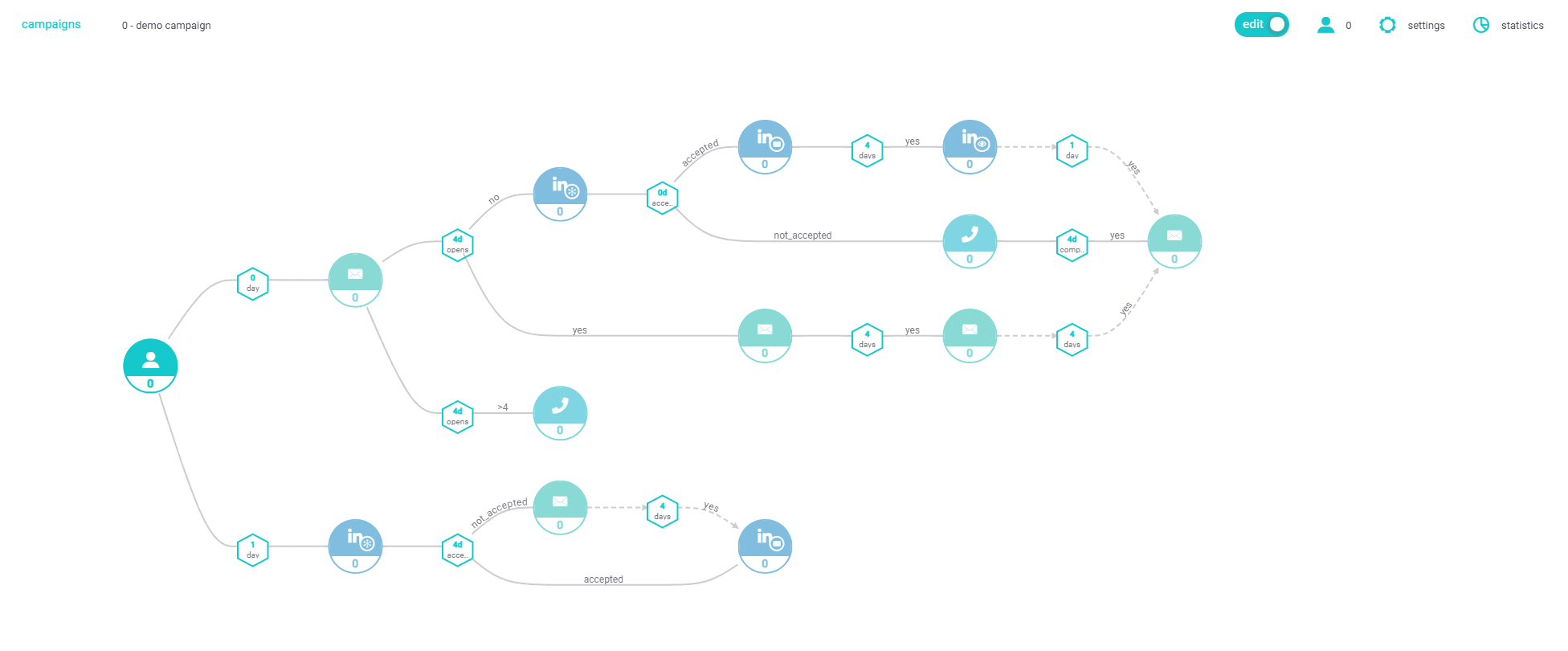 ---
Similar Tools
---
hubsell Review
Growing a business means being up to speed with the latest in online digital marketing techniques. There are many packages available that provide B2B lead generation solutions, each with its own unique attributes. Most major on bringing together elements of contact gathering and message delivery to streamline a campaign and hubsell is one. The following are descriptions of its main features.
Pros
Clear ROI on product
Integrates with your current tool stack
Get all your outreach in one place
What is hubsell? 
hubsell is a comprehensive sales automation tool that is proving popular with small to medium-sized businesses. It is designed to be easy to use and to integrate with popular CRM platforms, as well as being GDPR adherent and accurate. hubsell claims to be able to provide at least 95% data accuracy with on-demand contact gathering, which is an impressive achievement. The main functions are split into three areas – Contacts, Campaigns, and Integrations. Each is described below.
Contacts
hubsell Contacts focuses on data acquisition and does so in a manner that is impressively accurate and efficient. A team of trained researchers, each carefully vetted and selected, use the hubsell's proprietary technology and methods to gather contacts for you, ensuring that those provided are relevant to a high degree for your campaigns. This takes away the problem of bulk data that is largely unusable, difficult to sift through, and time-consuming to deal with at little benefit.
All contact information is GDPR adherent – usually it has been self-published by the contact and is freely available – so data gathering is kept within the law. A high level of personalization is built into each contact by way of as many as 20 variables for each one. These range from simple data such as name and title to more specific information such as seniority. This allows for fully personalized messages to be sent to potential leads.
The accuracy and level of data gathered means that contact information will not decay at the usual rate when hubsell is used.
Campaigns 
The Campaigns element of hubsell is designed to allow for successful campaigns that are streamlined and efficient. Rather than switching between channels to get a point out there, hubsell offers a dynamic multi-channel outbound sales facility that allows you to campaign across several channels (e.g. email, Social, and phone), putting the brand where it needs to be across the board.
Personalized messages and campaign content ensure greater success in gaining leads, with hubsell allowing for flexible and scalable campaigns designed to hit the target. Standard emails rarely elicit a response, so the personal touch enables greater reach and better returns.
Email and LinkedIn messages sent through hubsell are 100% personalized using technology that decides on an 'if this then' basis, making your messages auto-adjust to the ones that will read it. Despite being automated, a human-like message is guaranteed thanks to using your personal accounts information and goes directly to the contact's personal account for greater uptake.
Integrations
hubsell Integrations recognizes that any successful sales and marketing campaign necessitates the use of at least six separate tools. By bringing them all together under one umbrella, hubsell can reduce the workload and improve efficiency. 
hubsell automates updating of your CRM thus reducing the time spent on manual data input. All outbound tools come onto one dashboard for ease of use, and hubsell campaigns ensure all is updated in real-time so you have accurate information. hubsell can be used with all the major CRM solutions including HubSpot, Salesforce, Pipedrive, Freshsaless, and more, so is likely to be aligned with the CRM you already use.
hubsell also allows for you to sync your social media account along with your email enabling personalized messages across all relevant channels more easily. Further providing Click-To-Dial for seamless transitioning between automated and manual sales activities. This cuts down on time spent creating and sending messages and increases productivity in outreach.
The value of integrated packages cannot be overstated in terms of efficient management of a marketing and sales campaign; hence this sector is one of the most appreciated of the hubsell package.
Conclusion
hubsell is a fine example of a well-designed and carefully thought out sales and marketing automation tool, and one that is certainly worth a look. Combining on-demand generated data with multi-channel personalized automated outreach, hubsell provides more than your average sales automation package.
Pricing starts at €8500 per year however the vendor is known to make quotes for packages larger than the entry package.
We believe the use of genuine human-led data processing and outreach automation across email, social and phone gives hubsell a head start on many of the products in its vertical.