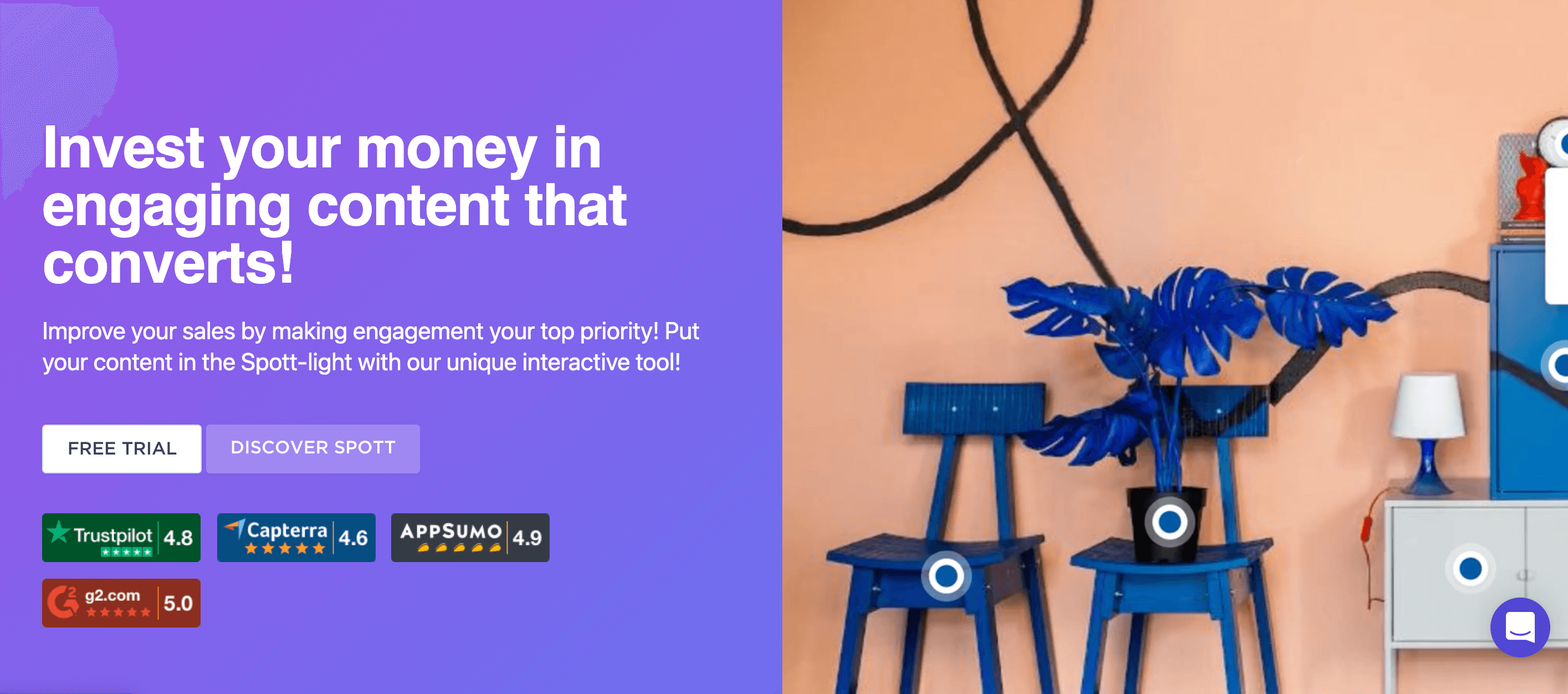 ---
Similar Tools
---
Spott Review 2022
Consumer engagement is a major part of any marketing and sales campaign. Consumers expect more than a simple view and buy when they are searching for products and services online. They are looking for engaging content that draws them in and enhances their trust for a brand. They are also expecting interaction with the brand. As there are so many platforms to optimize your content for the time taken to get your campaign right can be considerable and costly. That's where Spott can help. Below we take a look at what Spott is, how it can help grow your business, and the main features.
Pros
Price points for every sized business
Clear ROI of the tool
Reporting part of the tool
Cons
You will need images/videos already
Will need some editing skills
What is Spott?
Spott is an interactive online marketing tool that allows you to present engaging and innovative content that is exciting, enticing and persuasive. By creating interactive images and videos you can bring a consumer on board in just a few minutes with attractive content that also enhances your level of social trust.
Not only does Spott increase your lead conversion by way of making things more interesting for the consumer, but it also reduces the cost per click and increases your through traffic. Well thought-out and professionally presented video is a proven marketing tool. In addition, Spott also allows for full and accurate analysis of performance. Let's have a look at the main features.
Interactive Video and Images
The main selling point with Spott is the use of interactive video to promote and sell products. This is very easy to achieve using the tools provided. The routine involves using a simple dashboard to import your video to the Spott platform. Or, if you are creating a gallery of products, you can import stills. This is done by the familiar drag and drop routine with no need for expertise.
You can then add your assets – descriptions and titles for example – and tag your media with relevant links, press publish and go. It really is very simple, and many satisfied users have commented on the ease of use of the Spott tool. As products are tagged the consumer can complete the transaction very easily too. In fact, many users have reported search to buy times of around a couple of minutes, with greatly increased integration and lead conversion.
Spott allows for the content to be published on a range of popular platforms, so you can tackle audiences in different places at the same time. The Spott Media Engine allows for this feature and is a powerful function of the Spott package. Also innovative is the 'Offer Tower' feature which allows for changes to prices, language and descriptions quickly and easily when necessary.
Analytics and Reporting
Spott includes a full analytics package in which every transaction is tracked and measured. The measuring module gives you a range of data as you request so that accurate analysis of brand and item performance can be checked. You can learn about the ratio of clicks to purchases and much more, and produce information about customer performance and preferences.
Used by retailers in the main, Spott is also a useful tool for publishers and advertisers who will find the interactive and increased engagement results to be of great use. This is a useful tool that offers an opportunity for online retailers in particular to present images that are of a high quality, fully interactive and attractive, and videos that promote a product in an effective manner. Pricing information is below.
Conclusion and Pricing
Spott is available as three different packages. The 'Essential' package is the basic model and is priced at €49.99 per month. This allows for 500 interactions and unlimited interactive media, plus standard reporting. 'Professional' includes all that mentioned plus 4000 interactions, Google Display, custom styles and daily updates at €299.99 per month. The 'Business' package, at €499.99 per month, provides all of the Professional features plus a dedicated manager, 18,000 transactions, and advanced analytics.
Is the Spott.ai tool for you? For smaller businesses that need a simple to use and effective tool for building a retail shop with interactive images, the Essential package is a sensible choice at an affordable price. As the tool is scalable it can stay with you as your business grows, and many small online retailers have reported favourable improvements when using Spott. 
The two other packages may look costly on paper but when all is considered they offer an opportunity to improve your presentation and market reach as well as conversion rates, as well as being flexible and effective with proven results.