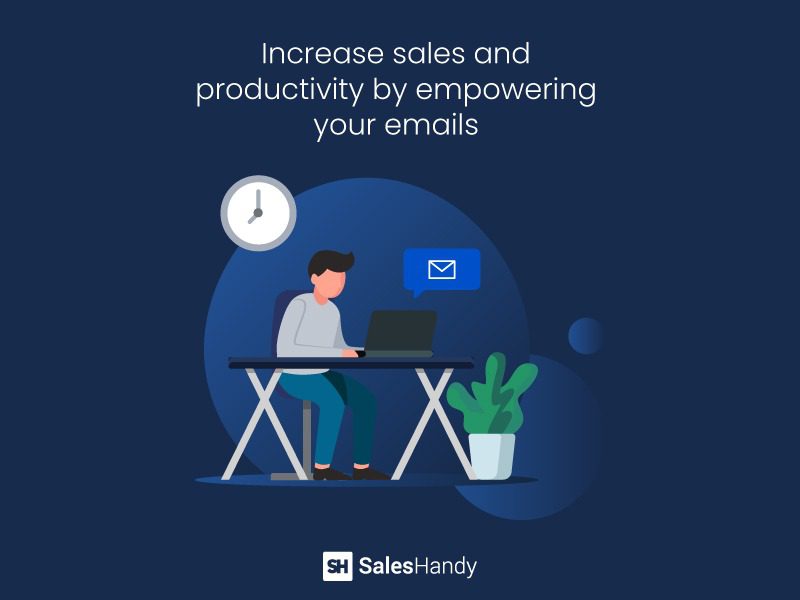 ---
Similar Tools
---
SalesHandy Features
Automating and tracking are two of the most effective ways to generate consistent leads and revenue for a business. SalesHandy is trusted by over 100,000 businesses to help them with their email outreach. The platform offers a suite of powerful tools and the ability to use all the tools without switching applications.
You can use a free plan to try out the product, or you can get even more power with several different plans designed for individuals, small businesses and enterprises.
A few of the many great features offered are:
Automated follow-up emails
Email tracking
Email scheduling
Pros
Free plan for tracking emails and more
Solid email campaign software
Easy to use and great customer support
Cons
SalesHandy only allows CSV files
Automated Follow-up Emails
A new, powerful feature offered by SalesHandy is ]automated follow up emails. You can ensure that you increase your response rate through this tool. What is impressive is that the platform has been shown to increase response rates by as much as 100%.
Through the platform's testing, they show that:
Initial emails receive a 10% response rate
The first follow-up email has a 30% response rate
The second follow-up email has a 50% response rate
The third follow-up email has a 70% response rate
And the 4th follow-up email has a 100% response rate
Your sales team can set up a multiple-stage automated system for a single email. You can create an email sequence along with templates in seconds. You can use these templates in the future for other emails that you may send to similar clients or potential clients.
Of course, there are a robust set of features available with automated follow-up emails. You can use these features to increase your open rate and hopefully your conversion rates as well. The additional features under this tool include:
Up to nine stages of emails with triggers for when people have not opened or replied to an email
Personalization of all messages, with up to nine custom mail merge fields
Send emails from your favorite email provider or any provider that uses SMTP
Set intervals between emails to reduce the risk of your emails ending up in someone's spam folder
Schedule your campaign so that you can send his emails later on the future
Send as a reply to increase the chance of the email being opened
Add emails into the CC or BCC fields
Review reports for each email, including in depth analytics
Track links to see if delete clicked on links in your email
Email Tracking
Track any mail you send to know if the recipient has opened your email. You can add email tracking to both:
Email tracking provides real-time tracking so that you know the moment a prospect opens your email. When you track email opening, you can use this to follow-up or even make a call to a potential prospect to increase your chances of converting the lead.
Statistics are provided for each email so that you can see how any email performs based on time sent and other detailed information.
You can also create templates within both of these great email clients and track attachments. You'll be able to learn when someone opened the attachment you sent. If you're trying to send an invoice or estimate to prospect, you'll know exactly when they open it.
SalesHandy also offers templates with shortcuts. You can create HTML templates and also templates inside of mail merge. Templates allow you to send emails rapidly.
Email Scheduling
Unlimited email scheduling is offered. You can schedule emails to directly inside of a plugin, and you don't have to wait until a time zone match to hit the send button. You simply select the date, time and time zone that matches your recipient's location.
Scheduling allows you to ensure that your email is not buried under other emails, increasing the odds of an email being seen by the recipient. There is a robust dashboard feed provided as well.
All email scheduling occurs in a nice calendar and will be added to the SalesHandy dashboard. The dashboard will keep your team updated on all emails sent and also displays all emails that are in the draft folder.
Scheduling emails provides an easy way to communicate with potential leads. You'll increase your response rate through scheduling. Even if the lead is across the world, you can schedule your email to arrive once they arrive in the office.
SalesHandy provides the tools and insights you really need to get going with an email marketing campaign. Feature-rich and a beautiful user interface make this one of the better tools for email marketing, especially for small businesses.
SalesHandy Alternatives