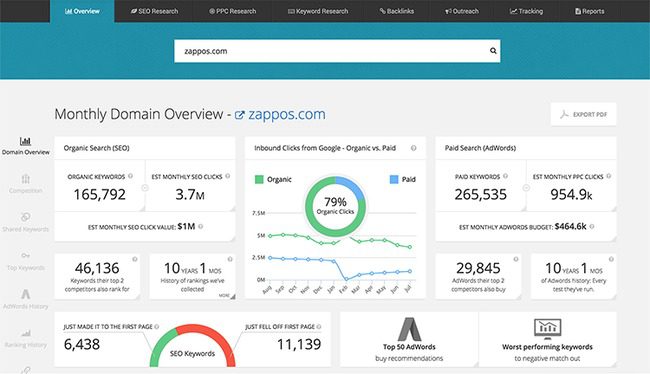 ---
Similar Tools
---
SpyFu Features
SpyFu is a PPC and SEO tool that looks at your competitors and helps you get a leg up on the competition. The tool, which received the PC Editors' Choice award, allows you to perform PPC and SEO research.
The platform offers a wide range of features, including:
SEO research
PPC research
Keyword research
Pros
Keyword research for PPC & SEO
Competitor insights
New keyword insights
Cons
Google ad buy recommendations are mixed
Estimates of keyword traffic and volume are imprecise.
SEO Research
SpyFu offers a comprehensive suite of SEO tools that help you analyse your competitors, see what they're doing and figure out what you can do better.
Using SpyFu, you can see what pages your competitors are linking to and find similar sites to add to your list for outreach. The platform also helps you avoid competitor flaws that have been exposed by Google.
Along with competitor analysis, SpyFu allows you to perform:
Keyword Research
See which keywords your competitors are targeting and create an extensive list of phrases and terms that you can use for content ideas.
With SpyFu, you can:
Get a full list of keywords a domain ranks for
Filter lists to focus on the most important keywords
Measure organic clicks in dollar terms
See a complete history of content that ranks
Competitor Backlink Analysis
Backlink analysis allows you to see inbound links to your competitors and find ones to target for your own backlink building. You can filter results by keyword to find pages that will help you rank for that search term.
SpyFu helps you find potential backlinks from pages that rank in the top 5 pages of Google's search results.
Reading tip: How to do keyword research
Domain Comparison
SpyFu's Kombat allows you to compare two domains to find effective keywords and rule out those that won't drive results.
Kombat allows you to see keywords:
Your competitors are ranking for, but you are not
You rank for, but your competitors do not
Three competitors rank for
With Kombat, you can figure out which keywords are a waste of time and which ones you should be going after but aren't.
Track Rankings
SpyFu allows you to track your rankings and receive weekly updates, so you can see whether your efforts are effective.
The platform will track every ad position and ranking in a chart so that you can see what's working and what's not.
PPC Research
SpyFu simplifies the PPC research process by spying on your competitors. Using this platform, you can:
View the paid keywords of any site and its ad spend history
Get detailed insight into ad copy and keyword groups
Focus on keyword strengths and weaknesses
View insights to help you determine where to focus your research
Use SpyFu to search your own site to find high-priority keywords that you're missing and ad copy that has been proven to be effective.
SpyFu also offers:
PPC Keyword Research
Use SpyFu to get new ideas for keywords and estimate costs for keywords that you aren't targeting.
See all of the keywords a domain has ever bought
Use filters to focus on certain keywords
View a domain's estimated monthly budget
See how long a domain has been advertising a specific keyword
You can even view the ad copy used for every ad group ever purchased by the domain. You can use this to improve your own ad copy and make your PPC ads more effective.
AdWords Advisor
SpyFu's AdWords Advisor gives insight and direction based on competitor success. The platform will give you recommendations for keywords that you should be targeting with your PPC campaigns.
All recommendations are made with your ROI in mind. SpyFu will give certain search terms priority over others to help you make smarter decisions with your PPC campaigns.
The AdWords Advisor tool offers personalized results tailored to your domain. It also offers flexibility in that you can switch competitor names whenever you want, filter your keywords and make updates and searches whenever you want.
Create and Export Google Ad Groups
SpyFu allows you to quickly and easily create Google Ad groups based on the platform's suggestions. You can export your groups through CSV to share them with your clients and team. You can also filter keywords to create more targeted ad groups and sort lists by cost per click.
Keyword Research
SpyFu's dedicated keyword research tool allows you to find search terms to target that will drive quality, targeted traffic to your website.
Each search includes a screenshot of every SERP, so you know that you can trust the results.
The tool is easy to use. Just enter your keyword in the search bar and get a list of the top domains, how they ranked over time and the links that helped the domain achieve that ranking.
SpyFu membership plans are affordable for operations of all sizes. Each plan offers unlimited downloads and searches as well as a 30-day money-back guarantee.