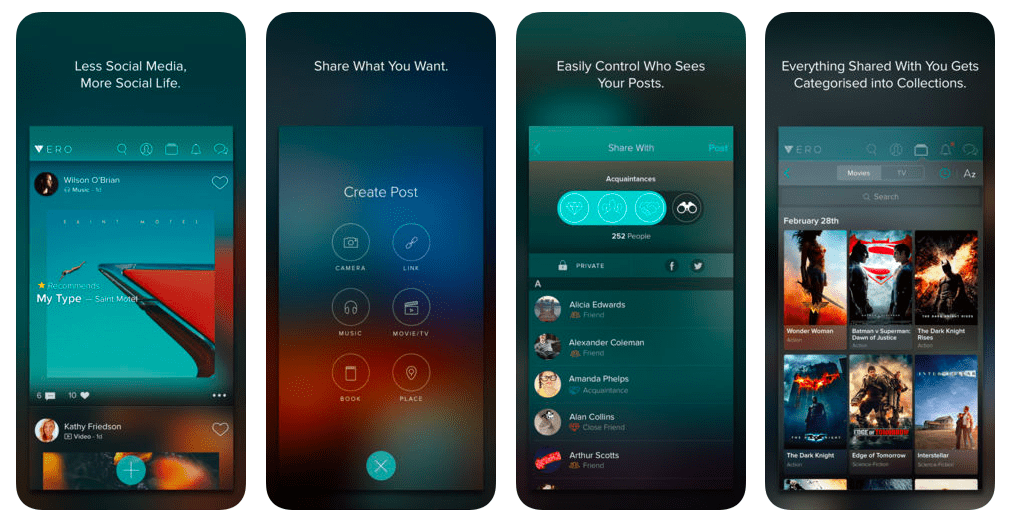 ---
Similar Tools
---
Vero
Vero is a social networking and communications app that promises to do things differently. The main emphasis of the app is in sharing content – pictures, music, video and more – yet unlike many such apps, Vero operates without algorithms and promises zero data mining. It is also advert free, which will appeal to many users.
The benefit of not using algorithms is mainly that unlike Facebook, for example, recommended places, content and contacts will be genuine recommendations rather than generated by an algorithm. This eliminates unwanted recommendations. The lack of adverts is a welcome bonus, and with no data mining Vero can push the privacy element too.
Vero is a free app that is aiming to secure a proportion of the social media market and is gaining users rapidly. Here is a look at the main features and uses of Vero.
Pros
No data mining or algorithms
No ads
New tool so the potential for businesses to stand out
Cons
Can take you longer to see benefits
Privacy
Vero is big on privacy – hence the no data mining and lack of algorithms – and is cleverly designed with further privacy features built in. For example, the user can control who sees each post individually. You may post a family-related picture, and not want anyone outside the family to see it, and it's very simple to pick the relevant parties. Contacts can be spilt into Close Friends, Friends, and Acquaintances, and are labelled as such. Selecting one group means only those labelled will see the post.
Sharing Content
Vero is about sharing content, and the designers have gone to great lengths to make it easy to use and to allow a wide variety of content. Following are the six main areas of sharing options:
Photos and Videos – with Vero users can share photos and videos from their own collection or elsewhere, in high resolution and with a full-screen feature that enhances the image.
Music – share your own music from your library or search through more than 50 million songs in the Vero library.
Books – Vero provides access to millions of titles, while users can also share their own finds using the share books function.
Links – it is surprisingly simple to link out to articles, features, videos and websites using the Vero share links function, one that we believe will be very popular with users.
Movies and TV – recommend or otherwise TV series and movies for those on your contacts list to watch and remember you can select who the recommendation goes to.
Places – create a catalogue of places you want to visit or add those you have been to, to share with your friends or as your own personal 'to do' list.
In addition to the above, Vero also allows for music tracks to be previewed and added to your lists, or if you have an Apple Music account you can hear the entire track using Vero.
Recommend or Don't Recommend
Perhaps the main talking point regards the Vero app is this one, the ability to recommend or not places, people and all content available on Vero and in your own libraries. The feature works by way of a simple 'recommend/don't recommend' button. When you share, you choose which one you want to advise. This differs greatly from other social media apps whereby the algorithm does the choosing, and users end up with recommendations that bear no relation to their interests or needs.
Collections
The collections function allows the user to access everything that has been shared with them in one place. This becomes a personal library of events, places, music, movies and more, and is an ever-changing resource once it starts to be added to. This is a great feature for when travelling, whereby contacts can share with you their own personal recommendations.
Buy Now and Donate Now
The Buy Now function allows for online shopping but, unlike with other shopping portals, no feed of your information will be left. This is a further example of the lengths Vero goes to in order to protect its user's privacy.
The Donate Now feature allows users to charities and encourages charitable organisations to sign up and start receiving donations.
Conclusion
It may seem as though there are enough social media networks already, but Vero is one that does offer a different approach. We like the fact that it is heavy on privacy, and we appreciate both the lack of algorithms that make up the users mind for them, and a complete lack of adverts. It's clean, easy to use, beautifully presented and is a welcome breath of fresh air, and we expect it to grow in popularity as more people discover its benefits