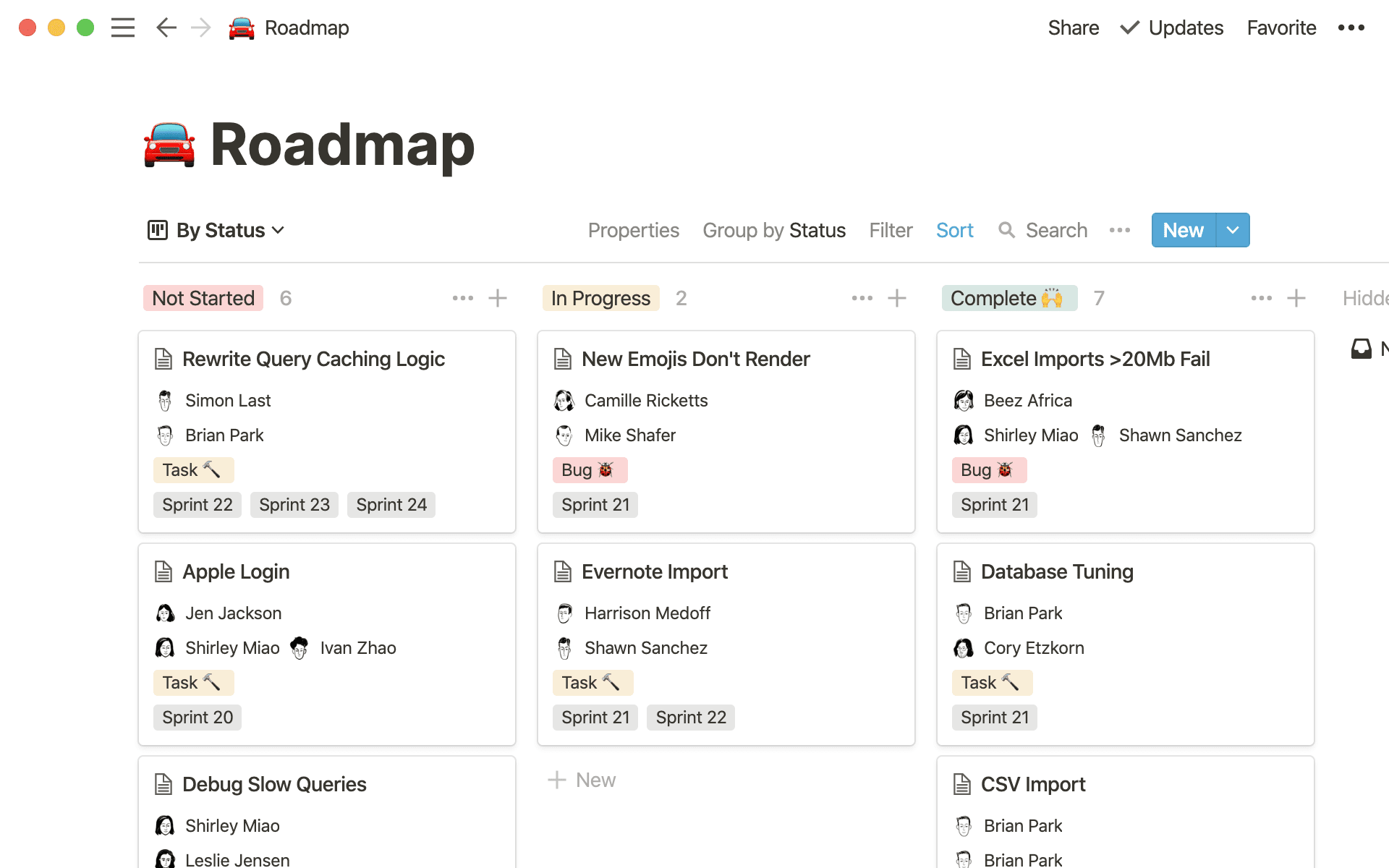 ---
Similar Tools
---
Notion Features
Notion offers an all-in-one workspace for the entire team. You can use Notion for writing, planning and organizing your tasks. Built to empower, some of the largest companies in the world use the tool for everything from product creation to engineering, including Pixar, Verizon, Nike and IBM.
Three key features behind this tool, include:
Pros
Get your team & company organized
Lots of Integrations
One 'go to' app
Cons
Search and navigation needs improvement
Team Wiki
Team wikis are one of the most powerful, robust offerings from Notion. The team wiki aims to put your central knowledge base in one tool. The wiki acts as a workspace with headers and sections that team members can quickly access.
Managers can create multiple workspaces that are controlled with Notion's drag and drop design. You can drag and drop elements into the wiki and rearrange it in a way that best makes sense for your team.
Simple to edit, you can add elements with ease, including:
Images
Lists
Headers
Texts
Embeds
Nested pages allow for wikis to be put into categories that make logical sense to teams. While a lot of wiki platforms do not allow collaboration, Notion is designed to invite engagement.
Advanced permissions are available that allow teams to grow with the platform. Permissions can include:
Setting up teams
Assigning teams to wikis
Inviting team members to wikis
Controlling access to the wiki
Set the level of access to the wiki when inviting others to view the pages. Comments and mentions can be added to the wiki to notify users of changes or to ask them to clarify the information that you've added or edited.
Project and Tasks
Wikis are part of the powerful tools being offered, but projects and tasks offer even more control. You can use projects and tasks to:
You can set up tasks and set statuses for each tab. You can create lists for items that you have not started yet or set statuses for work that is in progress. Add members to these tasks and set tasks for each project using roadmaps.
Drag and drop functionality, filtering, grouping and sorting are available. It's quick and easy to add or remove tasks on your roadmap.
Customize the entire roadmap with the ability to add your own property, too. Roadmaps can also include several settings, such as:
Type
Status
Priority
Assignee
Multiple database views are present, allowing you to filter by properties or view data as:
Team leaders and managers can further track tasks using in-depth filter options. Toggle tasks quickly to keep track of your team's progress.
Smart notifications and real-time collaboration keep everyone on your team or in your company on the same page.
All databases are safe and secure due to SSL technology. The databases you create are all encrypted, and any data stored on the cloud is behind a VPC. Audits on the tool's security are conducted every quarter by independent companies.
Notes and Docs
Collaboration relies heavily on the notes and documents that teams make. The Notion platform allows for rapid note taking with an editor that focuses on keeping the concentration of the user.
Simply just start typing and the rest of the elements fade away for amplified concentration.
Multiple tools and features, include:
Drag-and-drop any content that you want and rearrange it as needed
Insert multiple types of content to stay in your workflow, including bookmarks, images, code and video
Comment and collaborate right inside notes and docs
Collaboration allows teams to work on documents together to accomplish more. Notes can be personal and kept only to the user. You also have the option to share notes with others and create inline comments, too. Notes can be shared with team members or anyone online.
Publish notes to the web to keep people interested in your product or service. The drag-and-drop function allows you to make full posts or pages and publish with the tap of a button.
Meeting notes can also be captured with robust tagging that makes referring to the notes in the future simple and easy. With notes and documents built into the platform, it's possible for teams to get more done on one simple platform.
Notion pages become even more powerful with the embedding options available. You can embed 50+ other apps right into your Notion pages. These apps include Google Docs and Sheets, Twitter, Github Gist, CodePen, Typeform and dozens of others.
You can use this tool on numerous platforms, including:
Startups, students, educators, teams and enterprises can use Notion as a powerful tool to stay organized, map out projects and collaborate with others.