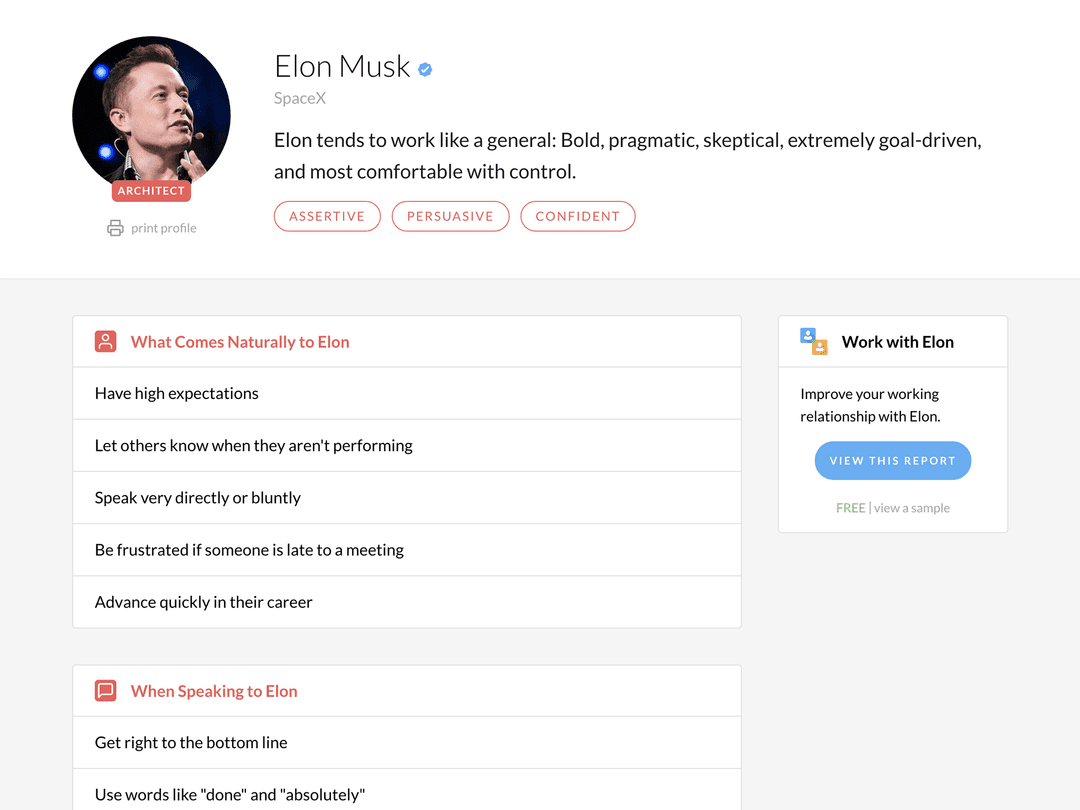 ---
Similar Tools
---
Crystal Features
A marketing campaign can only be successful if you know and understand your target audience. Crystal helps you understand anyone's personality. The platform is the leader in personality AI, analyzing millions of data points to identify personalities with precision accuracy.
Crystal is used by brands big and small, including JBarrows, Flywheel, SalesInsider.io and more. Anyone can try the service for free.
Three of Crystal's best features include:
Personality tests
Personality predictions
Personalized communication advice
Pros
Free personality test

Great insights about prospects

 
Cons
We have some GDPR questions about this tool
Personality Tests
Crystal offers multiple personality tests to help you better understand your target audience. The more you understand your target audience's behaviors and personalities, the better you can personalize your marketing messages to increase conversions.
Crystal's personality tests include:
DISC
Backed by more than 50 years of research, the DISC personality assessment is what Crystal uses for all of its tools. DISC is an excellent tool for measuring and predicting behaviors.
DISC centers on four factors:
(D)ominance
(I)nfluence
(S)teadiness
(C)onscientiousness
The DISC assessment will tell you more about people's temperament and communication styles.
16-Personality
Based on the famous Jung, Myers & Briggs personality types, the 16-Personality assessment will give you insight into how your target audience acts and behaves. You'll learn more about why they do what they do so that you can customize your messages to suit their personalities.
Learn whether your target audience is introverted or extroverted, their communication style, career choices and more.
Enneagram
The Enneagram test can help you understand the motivations of different personality types, so you can better communicate with your leads. There are nine different types of personalities, each giving you insight into:
Behavior tendencies
Desires
Motivations
Stress levels
Maturity level
Big 5
The Big 5 test is based on the belief that everyone has five overarching personality traits, known as O.C.E.A.N.:
Openness
Conscientiousness
Extroversion
Agreeableness
Neuroticism
The Big 5 helps you learn more about a target's career choices and communication style to better communicate with your leads.
Personality Predictions
With Crystal, you can identify anyone's personality quickly and accurately – no need to even ask them to take a personality test. Crystal uses AI personality to predict personalities with precision accuracy from resumes, LinkedIn profiles, Facebook, Twitter and other social media sites.
Each prediction will tell you:
Details about how the target works and thinks
Personality type
Likes
Aversions
Personality graphs
You can also view personality profiles with Crystals' app and website, or on Slack.
On average, Crystal's personality predictions are 80% accurate. How do they predict personalities? By analyzing:
Assessment responses
Text samples
Other attributes
Crystal takes this information and uses it to help you engage in more effective communication, better nurture leads, improve customer relationships and make smarter business decisions.
Crystal's personality prediction tool can help you:
Improve calls and messages
Write more effective emails
Earn trust among customers and leads
Make a good impression
The Crystal Chrome Extension makes it easy to get your personality predictions without having to leave the page.
Personalized Communication Advice
Crystal provides personalized and situation-specific advice to help you better communicate and be more persuasive.
Communication advice includes:
Dos, like "be positive" or "tell engaging stores."
Don'ts, like "don't rely too much on your credentials."
Examples of what to say.
The recommendations given by Crystal will help you deliver more effective communication to increase conversions and generate more leads.
Crystal can be integrated into Slack for easy communication coaching. Here, you can get situation-specific advice for any target from within a direct message or the Crystal Channel. Advice can be given for calls, emails or meetings.
With communication coaching, you can learn how to communicate in certain scenarios, like:
Collaboration
Brainstorming
Giving instructions
Giving feedback
Sharing bad news
Asking for a raise
Discussing pricing
Hiring
Making a good impression
Negotiating
Resolving conflict
Taking action
Sales pitch
Scheduling meetings
You can also get advice quickly and easily right from a personality profile using the Chrome Extension. Dropdown menus allow you to choose how you want to communicate with the target (call, email or meeting) and the purpose of your communication to provide precise advice.
Crystal takes communication advice a step further by helping you create Playbooks. A Playbook is a web page that gives you insight into the personalities of a group of people and advice on how to communicate with these individuals for a specific situation. Playbooks can be used to successfully navigate a meeting or to better communicate with a group of people.
Crystal can help you better understand your clients, employees, leads and customers. It's free to get started, and a basic account will give you access to personality tests. Premium tiers are available that give you more tools, insights and other ways to take advantage of Crystal's personality AI.