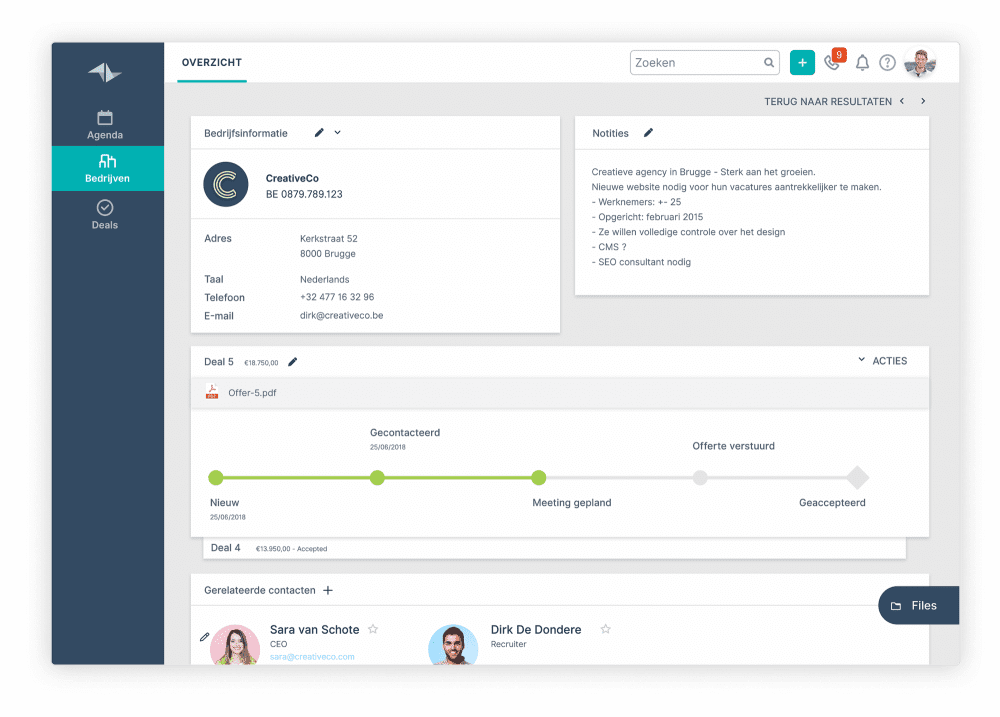 ---
Similar Tools
---
Teamleader CRM
Teamleader is used by more than 11,000 SMEs and offers customer management and project management in one tool. Invoicing is also included as part of Teamleader, making it faster to go from nurturing and closing a lead to payment.
Teamleader's robust features are strengthened by 200+ apps and programs, allowing for no cutting and pasting. You can use the same tools your team is trained in and working with to improve sales and productivity.
The CRM features:
Customer management
Project management
Invoicing
Read also our blog about the best CRM systems for SMB's.
Pros
Multiple systems at once
Great support
Software made for Small Medium Businesses
Cons
With an overall rating of 4.2 there aren't that many
If you are going to use all tools you will need training
Customer Management
Customer management is a key feature of every CRM. Teamleader breaks its platform into modules, with customer management offering:
Add contacts by filling in the VAT number and allowing Teamleader to automatically retrieve all company data and fill it in. Sales reps no longer have to waste vital time filling in company information, allowing them to do what they do best: make sales.
Track, all communication with every customer, added to your CRM. You can link your Outlook or Gmail account and stay updated on all communications with a prospect.
Custom fields allow you to work in a way that makes sense for you and your team. Fields also allow you to upload and save files right to the customer's record, including documents, photos and files.
Shared calendar allows you to organize all of your work in one central location. You can add calls, appointments and tasks to your calendar. If you need to share the calendar with someone else in the team, it only takes a click. Team members can quickly track each other's schedule in a fast, intuitive way.
Central inbox allows you to manage customer enquiries with advanced ticketing. You can set automatic replies for incoming emails that further allow prospects to know that you've received their message and will be responding shortly.
When you manage all of your customers in one easy platform, it's much easier to manage your projects, too. 
Project Management
Projects are quick to create and go right until the invoice stage of the project. When you create a project, you're able to define deadlines, group tasks and deliver projects on time. The project module includes:
Create projects right from the original quotation you provided. Templates can be made for rapid project management, or you can create an entire project from scratch.
Budget with colour-coded systems that allow you to predict your project's progress with easy-to-view colors. The entire project can be assigned its own colors, or you can opt to add colors only to certain phases. Details on a budget are included, and allow managers and team members to intervene when necessary.
Reporting is provided through internal and external reports. Generate rates with the click of a bottom. You can create reports on time spent on the project, details of the project, costs or even reports on certain groups or tasks.
Profits are what keep the lights on. You can quickly view all profit data in Teamleader with estimates, turnover, profit and costs for all projects.
Invoice right from the CRM and even create milestones or phases to send invoices for partial payment. You can create a fixed invoice or base the invoice on time spent on the project and the materials used.
In-depth project management allows team leaders and members to have more control over the sales process. Save time, stay organized and send out an invoice when the project is finished. 
See more project management and productivity tools here.
Invoicing
Invoicing can be done right inside of the platform. You can send one-time or recurring invoices quickly from inside of Teamleader. There are also options to create bulk invoices, request money in multiple currencies and even link up to your accounting software.
Flexible invoicing can be based on project quotations.
You can add rates for each employee and task, too. Credit notes can be attached to the invoice for a better understanding of how a client's credit is and what terms to offer.
The entire sales process can be created in Teamleader, including the ability to draw up quotations. Users can:
View the pipeline with smart filters and overviews.
Forecast revenue for the quarter or month.
Automate the sales process by telling users what actions to take if an opportunity goes from one stage to the next.
Quickly create quotations that are fully customizable with branding either from scratch or using one of the various layouts provided.
Receive notification when a client opens the quote signs the document online or provides feedback.
Teamleader comes with a two-week free trial that allows you to give the platform a try before committing.
CRM and Sales related blogs: