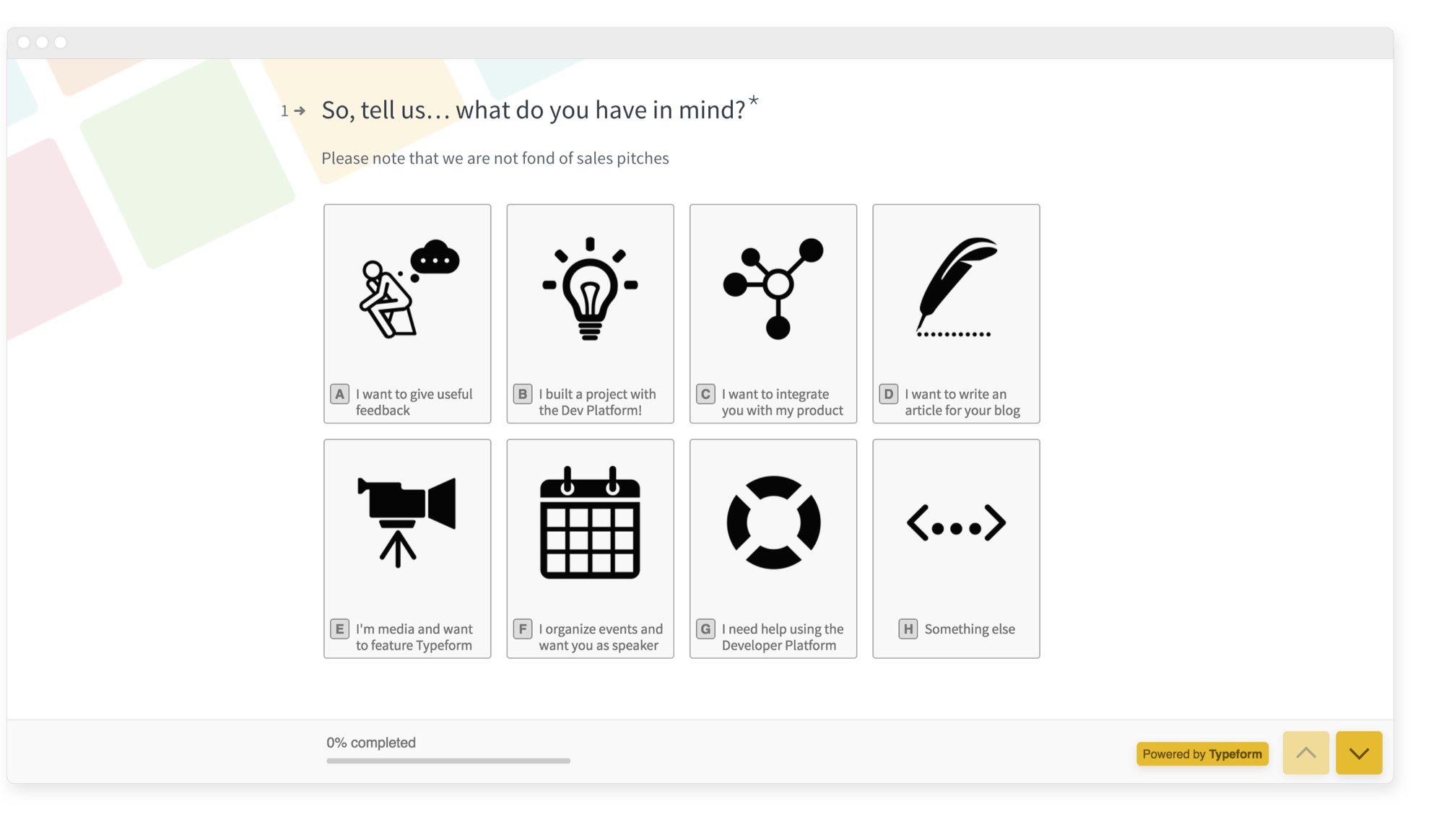 ---
Similar Tools
---
Typeform Features
Typeform is designed to help you turn your data collection into an experience. You'll be able to do this by engaging with your audience using a set of different tools, like forms and surveys, to gather more data that your business can use to strengthen its product.
But Typeform also offers an intuitive design that allows you to make more out of your forms than ever before. You'll be able to use different editors that allow you to automatically create questions to add to your survey or contact form automatically.
There are multiple tiers of pricing:
Essentials – offering 1,000 responses a month and three logic jobs
Professional – offering 5,000 responses a month and unlimited logic jobs
Premium – offering 10,000 responses a month an unlimited logic jobs
You can also request a custom plan if you need more data to be collected. Key features in this platform include:
Pros
Free version available
Turn your forms into something fun
Add logic and integrations
Cons
Salesforce integration only with highest Tier
Logic Jumps, Typeforms and Questions
Creating forms or surveys can take a lot of time, but the built-in features allow you to quickly and easily start collecting data. There are multiple ways that you'll be able to collect data, and it first starts with typing into a standard form that will detect your questions and add them to a survey or contact form for you.
You don't need to know any advanced HTML or CSS to get your forms up and running.
Using logic jumps, you're able to collect different data based on how people answer questions. These are personalized question paths that will change depending on the answer to a specific question. This allows you to gather more in-depth data from the people that are taking your survey or filling out your forms.
You're also able to create unlimited questions and create as many typeforms as you need.
If you're requesting that someone upload a file, the standard file storage size is up to two gigabytes. When you're on the premium tier of service, will have up to 4 gigabytes of file storage available for you.
Payment Collection
When you collect data, you may also be using the data when a purchase is being made. The platform allows you to collect payments directly through the platform so that if you sell products, take bookings or accept donations, you're able to collect payments automatically through your form.
There are calculators for payments and quizzes, and there are multiple "thank you" screens available.
if you want to create your own "thank you" screens, you can do so through the custom "thank you" screen creator. This allows you to add your own personal touch and copy to your screen. Going a step further, you can also schedule a close day, personalized hidden fields on certain tiers and have responded email notifications sent directly to you.
Oftentimes, you'll want to integrate into other tools to add your contact forms or surveys. This is possible directly through the Typeform product.
Typeform Integrations
Integration is going to allow you to use many of the same great products your team uses today alongside Typeform. The two main integrations that are available include:
MailChimp: One of the leading platforms offering an all-in-one email marketing platform that is designed to grow as your needs grow. The platform is responsible for sending over a billion mails per day. Integrate your Typeform designs right into MailChimp to gather data.
Airtable: The Airtable product is one of the most unique products on the market. When you use Airtable, you're able to create databases to organize all of your data in a fun, intuitive manner. Templates are also available to make the most out of Airtable with as little effort as possible.
Integrations may not be the platform's most powerful feature, but they certainly strengthen what Typeform offers. You'll be able to utilize email marketing or spreadsheets to further promote the data collection forms and surveys that are available with Typeform.
The highest product tier does allow integration into Salesforce along with a team collaboration add-on. Redirects and numerous other features are available for the highest service tier.
When you first start out with Typeform, on the lowest tier, you'll be able to collect up to 1,000 responses.
Typeform allows for up to 100,000 responses per month on their highest tier, but this may not be sufficient for large entities. If you need more responses from the platform, there is a custom solution option that can allow you to scale your data collection even further.